Midsumma Pride March 2020 Maps
Pride March 2019 - image by Suzanne Balding
Marchers' Assembly: The Ian Johnson Oval on the corner of Lakeside Drive and Fitzroy Street.
Vehicle Assembly: Lakeside Drive (next to the Ian Johnson Oval).
Marching Route: Proceeds down Fitzroy Street and ends in Catani Gardens, St Kilda.
End of March: Marchers will turn right and enter Catani Gardens via the pedestrian crossing. Vehicles will turn right onto Beaconsfield Parade.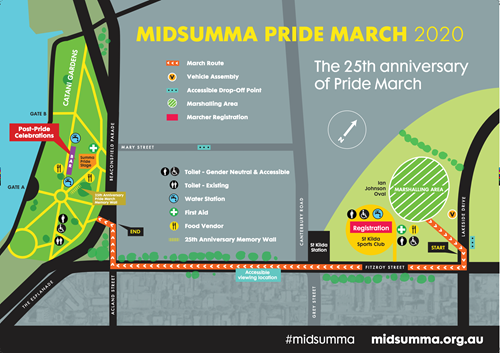 Download the Midsumma Pride March 2020 map (PDF 1.04 MB) >>
Trams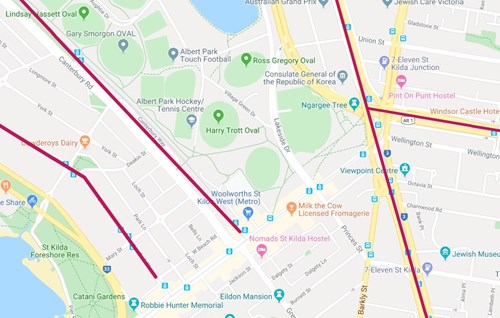 The red lines indicate where trams will be running throughout the event, even while Fitzroy Street is closed for the March. Open larger Tram Access Map >>
Buses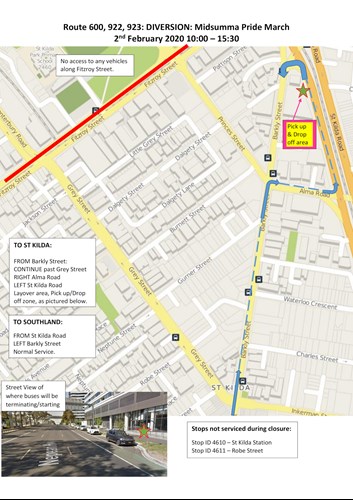 Bus Diversions: routes 600, 922 & 923 (PDF 521 KB) >>
Cycling
Map of Cycling Routes during Midsumma Pride March >>
The Bayside Trail will be unaffected by Midsumma Pride March. The easiest and safest alternative to the Fitzroy St route is via Cowderoy St, which links the Bayside Trail (at Pier Rd) to Canterbury Rd and the Western Bike Path.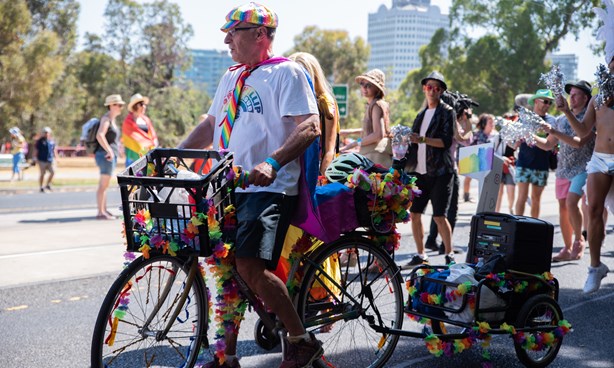 Names and website links for the groups that are marching, and their position within the march
2020 Marching Order