Midsumma Pride March Accessibility
Midsumma Pride March 2019 - Photo by Suzanne Balding
Midsumma Pride March is a community celebration where our many communities, and our allies, can all come together to celebrate who we are and what we've achieved. 
Getting There
There are accessible drop-off areas for both marchers and those watching - see below for details. Note though that the accessible drop-off area for those watching is only available until 10:30am, and there will be extensive road closures in the precinct - see Midsumma Pride March - Getting There for details of the road closures.
Accessible Viewing Area
The accessible viewing area will be located at tram stop 134 - no trams will be servicing that stop during the march, and volunteer marshals will be on hand to keep sight lines to the parade as clear as possible. Registration required via the form below.
Wheelchair Access within the Precinct
Fitzroy Street and Catani Gardens are wheelchair accessible. The Ian Johnson Oval marshalling area has some accessibility challenges, so a special Accessibility Marquee will be provided beside the starting point of the parade. People with personal mobility devices can assemble there and join their group as the group commences marching.
The grass will be cut low for easier wheelchair access and low-hanging tree branches removed in these parks, but take extra care to avoid any temporary obstacles on the day in these busy public spaces. 
Specific wheelchair facilities provided are:
Accessible Drop-off Point for WATCHING (this is close to the Accessible Viewing area): Park Lane and West Beach Road until 10:30am.

Enter via Park Lane and turn left into West Beach Rd.
Note that no parking is available - this is a drop-off zone only.
Volunteers will be available to assist.

Accessible Drop-off Point for MARCHERS: Canterbury Rd near Mary St.
Accessible Assembly Point: beside the start of the parade route, between Fitzroy Street and Ian Johnson Oval.
Accessible Viewing Platform: located at tram stop 134 on Fitzroy Street, between Park Lane and Loch Street. Registration required via the form below.
Wheelchair Lift: available at the stage.
Accessible Toilets: all toilet blocks at the Ian Johnson Oval and in Catani Gardens include accessible toilets. 
Hearing Access
Introductory Guides: an audio introduction, audio maps and audio tours will be available shortly.
Accessible Viewing Platform: Description Victoria will be on hand to assist as needed.
Volunteer Briefing: the briefing will be Auslan interpreted.
Catani Gardens Stage: all official proceedings will be Auslan interpreted. 
For information about accessibility facilities across the festival, see Access Information.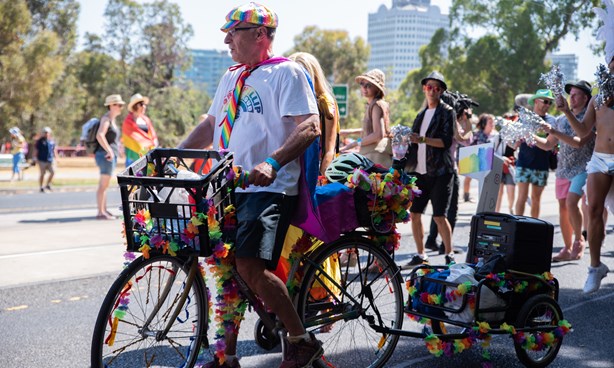 Names and website links for the groups that are marching, and their position within the march
2020 Marching Order