Midsumma Pride March - Getting There
Midsumma Pride March 2019 - Photo by Dean Arcuri
Midsumma Pride March is a big event with road closures, limited parking and changes in public transport.
Parking
Due to the congestion caused by Midsumma Pride March, and the size of the event, there will be less parking than what is normally available in the precinct. Midsumma highly recommends taking public transport or cycling to the event. If you are unable to catch public transport, surrounding options for parking include:
Palais Theatre Parking - Jacka Boulevard, St Kilda (via Carlisle/Acland Street only)
Luna Park - 23 Shakespeare Grove, St Kilda (via Carlisle/Acland Street only)
Acland Court - 158 Acland Street, St Kilda
Road Closures
There will be extensive road closures throughout the area.
Beaconsfield Parade, Marine Parade and Jacka Boulevard will be closed from Elwood to Port Melbourne between 6am and 2.30pm approximately.
Fitzroy Street and adjoining side streets will be closed to traffic between 8am and 4.30pm approximately.
Public Transport Options
Tram
Trams will not be traveling down Fitzroy Street between 10.30am and 2.30pm, but can still be used to get you close to the March (see map below).
Route 96 tram to Stop 132 (St Kilda Station)
Route 12 to Stop 143 (Park Street/Fitzroy Street)
Any St Kilda Rd tram to Stop 30 (St Kilda Junction)
Bus
Bus routes 922, 923, 606 and 600 will be affected by the event, however will be diverted to nearby temporary stops. Bus options during the Fitzroy Street closure period are:
Route 246 (Elsternwick to Clifton Hill) to St Kilda Road/Barkly Street (running as normal)
Route 623 (Glen Waverley to St Kilda) to Luna Park/The Esplanade via Carlisle Street (running as normal)
Route 606 (Fishermans Bend to Elsternwick Station) will terminate at Mary St (during the closure, no service between Mary St and Elsternwick Station)
Route 600/922/923 (Southland Shopping Centre to St Kilda via Sandringham) will run as normal but will not service the last two stops (St Kilda Station or Robe/Grey St).
See Bus Diversions: routes 600, 922 & 923 (PDF 414 KB).
Getting there from Train Stations
From Balaclava Station: Tram 3/3a or 16 to Stop 30 (St Kilda Junction)
From Caulfield Station: Tram 3/3a to Stop 30 (St Kilda Junction)
From Elsternwick Station: Tram 67 to Stop 30 (St Kilda Junction) or Route 246 bus to St Kilda Rd/Barkly St
From Flinders Street Station: Tram 3/3a, 5, 16, 64 or 67 to Stop 30 (St Kilda Junction)
From Southern Cross Station: Tram 96 or 12 to Fitzroy Street
From Windsor Station: Tram 5 or 64 from Stop 32 (Dandenong Rd) to Stop 30 (St Kilda Junction), or walk (15-20 minutes).
Cycling
The Fitzroy Street cycling path will be closed during Midsumma Pride March, but the Bayside Trail will be unaffected. The best alternatives to the Fitzroy Street path are shown on the Cycling During Midsumma Pride March map. The easiest and safest route is via Cowderoy St which links the Bayside Trail (at Pier Rd) to Canterbury Rd and the Western Bike Path. Alternatively, follow Cavell, Carlisle and Barkly Streets, which link the Bayside Trail to St Kilda Rd.
Maps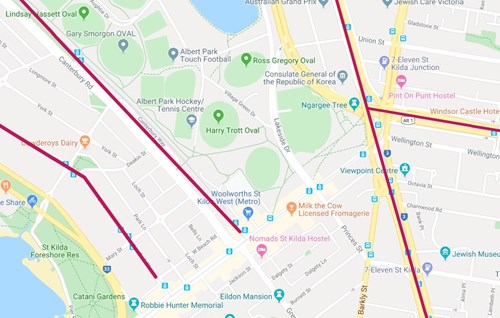 The red lines indicate where trams will be running throughout the event, even while Fitzroy Street is closed for the March. Open larger Tram Access Map >>
Bus Diversions: routes 600, 922 & 923 (PDF 414 KB) >>
Cycling During Midsumma Pride March >>