Midsumma Pride March Watch Parties
Midsumma Pride March 2020 - Image by Tanya McCulloch
Midsumma is encouraging venues and groups to organise watch parties as a COVIDSafe way to enjoy the Midsumma Festival Pride March Livestream on 23 May. If you're organising a watch party, please send us the details plus images (1:1 and 16:9 ratio are ideal) so we can list it here and promote it on our social media.
If you're wanting to watch Midsumma Pride March, book in to one of the venues listed on our Midsumma Pride March - Viewing Venues page.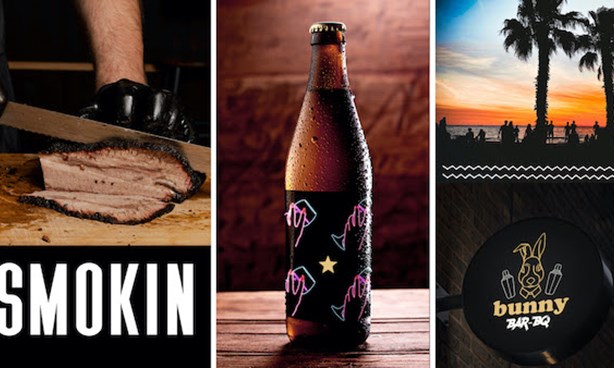 Bunny Bar, 109 Fitzroy St
Bunny Bar will be open and running a lunch/viewing party right beside the parade at 109 Fitzroy St. There will be parade-view seating outside and they'll be streaming the event. Open from 10am Sunday for lunch service during the parade and an after-party well into the next day.
Bunny Bar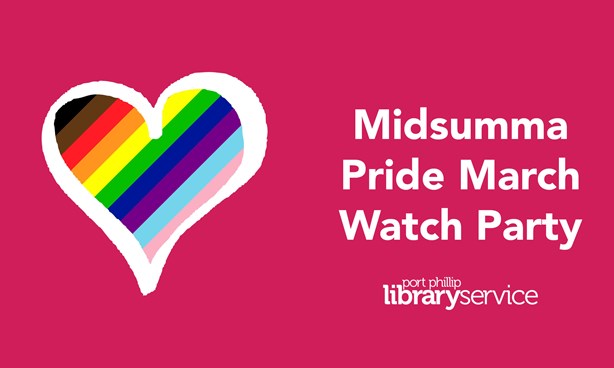 St Kilda Library – 150 Carlisle Street, St Kilda. 10.45am to 2pm
Join us as we wave our rainbow flags in a demonstration of pride and solidarity. The Midsumma Festival Pride March livestream will be on display at the St Kilda Library. Accessible building - if you have accessibility requirements or need an adjustment to participate in this event, please contact St Kilda Library.
St Kilda Library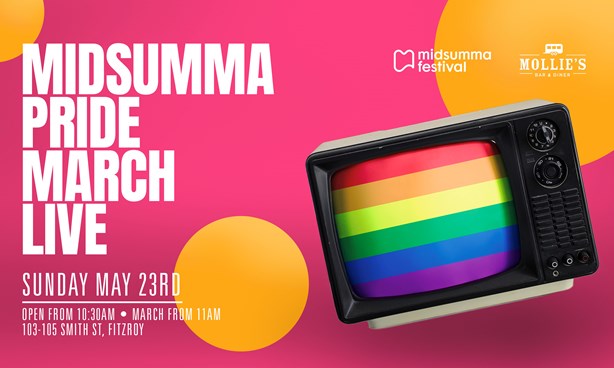 Mollie's Bar and Diner (Fitzroy)
MOLLIE'S BAR & DINER, 103-105 Smith St, Fitzroy: 10:30am till late. Mollie's will be opening from 10:30am with entertainment into the evening after the conclusion of the Pride March, followed by the Super Sundays Pride March Afterparty downstairs at Sircuit from 9pm. Free inclusive entry all day long. Mollie's is unfortunately not wheelchair accessible. $15 Espresso Martinis, $15 French Martinis, $15 Fired Apples, $15 Jugs on Tap and $10 Pizzas from 3pm.
Mollie's Bar & Diner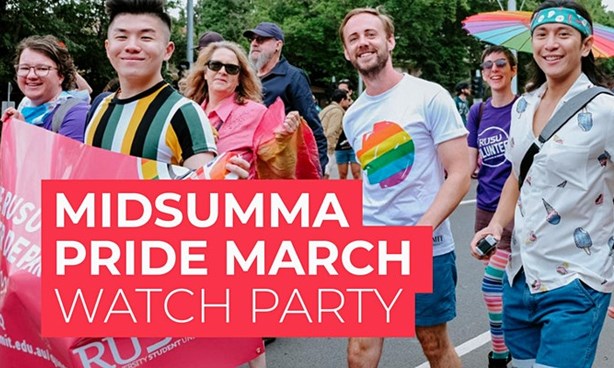 RUSU Watch Party (Carlton)
KATHLEEN SYME LIBRARY, 251 Faraday St, Carlton: Sunday 23 May 10am to 3pm. Pride March is BACK! Watch the livestream along with RUSU: RMIT University Student Union. Chill, hangout, and watch the Midsumma Pride March in comfort. Food and drinks provided by RUSU.
Book RUSU Ticket
You might also be interested in ...