Design the next pride tram
Design the next pride #AllAboard tram
Submissions have now closed. Check back on the 7th October 2022 for information on casting your vote.
For the third consecutive year we're partnering with Yarra Trams to rainbow up one of their trams to celebrate Melbourne's diverse communities, get the word out about Midsumma Festival and support Yarra Trams #AllAboard project - which welcomes everyone from all walks of life aboard trams and the network.
In 2021 and 2022 the #AllAboard tram was wrapped in the colours of the pride flags, and these expressions of joy and inclusion were cheered enthusiastically as they travelled down Fitzroy Street for Midsumma Pride March, as well as spreading the message of inclusion across all of Melbourne. 
For 2023 we're looking to go a step further and ask our LGBTQIA+ artistic communities of Victoria to design the next #AllAboard tram. 
Until the end of September we are encouraging all Victorians to submit their designs for the 2023 #AllAboard tram and tram shelter wrap via the Yarra Trams website and will be reviewed by a panel of six judges, including the Minister for Public Transport, Ben Carroll MP. The finalists will be presented to Melbourne for a public vote to decide the winner. Voting will be open between October 8th and the 23rd.  
The winning artist will receive $5,000 and have their tram design applied to the 2023 #AllAboard tram, with the runner up receiving $3,000 and their tram shelter design applied to a tram stop shelter on the Midsumma Pride March parade route. Yarra Tram's Terms and conditions as well as their Privacy Policy apply, so make sure you review them before submitting your designs.
This project is in partnership with Yarra Trams and Joy Media.
How to submit your design
You will need to submit a design for both the tram (first prize) and the tram shelter (second prize) so that we can see how your design works across both assets, using the following design templates:
Submissions should be of high quality to support scaling up to a 20-meter tram, be family friendly, and reflect our commitment to making sure everybody feels welcome on board a tram. Please bear in mind that if your artwork is chosen we will likely need to work with you to refine your design to meet safe zones and other positioning restraints (such as doors and windows). We recommend you maintain layered files even after submitting flattened designs for review.
Designs will be selected based on the following criteria:
Their expression of the #AllAboard message; that Yarra Trams welcomes the rainbow community all aboard our services and strives to represent the diversity of our People and the community we serve
The wording '#AllAboard' must be incorporated legibly and visibly in the design
Strength of the creative vision
Originality of response to the creative brief
Technical feasibility
How the artwork responds to its context (ie. riding the network each day)
Design considerations:
Imagery should not be offensive
Be aware that the artwork needs to be appropriate for display on a moving vehicle, most impressions of trams are 3—5 seconds
Note that there are reflective yellow strips at the base of each door for accessibility
Artwork graphics are not to be applied on shaded areas on the tram wrap template, these areas are kept clear for safety. Sections of windows that are covered by the artwork will be printed on a semi-transparent material
Perforated vinyl is used on windows, at night this becomes more transparent with the interior lights on
Artworks which are reflective, are predominantly black or red, or which resemble streetscapes would be a road hazard when applied to a tram and will not be able to be selected for safety reasons
Tram ends should remain visible for safety reasons (avoiding black)
Designs that include black and dark colours are possible, particularly when featuring high contrast
Artwork can be different on each side of the tram
No artwork will be placed on the front/back of the tram
Other design restrictions such as use of copyright protected images or logos are outlined in the terms and conditions.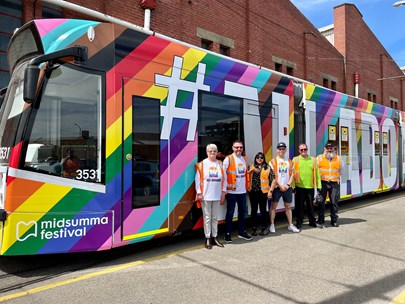 The selection process
Between 30 September and 7 October submissions will be reviewed, with the final five finalists' designs determined by a panel of judges from Yarra Trams, Midsumma, Joy Media, and the Department of Transport. These five finalists' designs will then be voted on by the public from 7 to 28 October, with the winning designs refined with the artist in November before being applied to a modern D1-class tram from December 2022.
The design that finishes with the second most votes will be applied to a tram stop shelter located near the Victorian Pride Centre on Fitzroy Street, St Kilda, on the parade route for Midsumma Pride March.