Midsumma Pride March - Livestream
Midsumma Pride March 2021 returned to Fitzroy St, St Kilda on Sunday 23 May 2021 with over 5000 marchers, and the event was live-streamed.
Australia's LGBTQIA+ arts and cultural experience, Midsumma Festival, brought Midsumma Pride March to Fitzroy Street, St Kilda on Sunday 23 May, in a display of pride and solidarity. Pride March 2021 premiered a livestream of the march on YouTube, showcasing exclusive performances and never before seen footage of the first ever Pride March in Victoria.
Midsumma Pride March Award Categories
Peter Dewildt Award for Most Significant Message - awarded to the group with a timely and well-conveyed message of pride. This award honours the memory of Peter Dewildt (1953-2019) who was the first president of Pride March Victoria (now known as Midsumma Pride March). See below for more information about Peter Dewildt.
Most Fabulous Award for Fantastically Frocked Group - awarded to a group who are fabulously dressed up, adorned and decorated for Midsumma Pride March.
Most Innovative Award for the Cleverest Float, Props or Theme - awarded to a group with an exciting and innovative float, props or theming for their marching group.
2021 Midsumma Pride March Award Winners
★ Peter Dewildt Award - Most Significant Message - awarded to the group with a timely and well-conveyed message: LAHRC - Latin American & Hispanic Rainbow Community
HONOURABLE MENTIONS:
Indigenous Pride
Home Style Aged Care Services 
Coburg High School 
POW (Performing Older Women's) Circus
★ Most Fabulous - awarded to the most fantastically-frocked group: Samba Energia
HONOURABLE MENTIONS:
O'Ziriguidum Escola de Samba and friends 
PacifiqueX 
Melbourne Front Runners 
★ Most Innovative - awarded to the cleverest group in the march: VICPaH - Victorian Pups and Handlers
HONOURABLE MENTIONS:
Melbourne Argonauts Rowing Club 
City of Port Phillip 
Motafrenz Car Club 
Bisexual Alliance Victoria 
More About the 2021 Midsumma Pride March Event
To ensure the event could proceed in a COVIDsafe capacity, meeting the Victorian Government's requirements, in 2021 Midsumma encouraged audiences to attend and view the march in one of three ways – either by booking into a hospitality venue on Fitzroy Street, St Kilda to watch the parade from 11am, or by viewing the parade from a registered viewing party venue or from the comfort of their own home via the livestream of Midsumma Pride March available from the Midsumma Facebook page or YouTube page from 10:45am.
The march itself was led by Boon Wurrung Elders and a beautiful Rainbow Aboriginal contingent and followed by 240 separate marching groups made up of diverse communities, pride organisations and allies.
The live stream was hosted by Sarah Ward, the multi-award winning, powerhouse and performer (known as Yana Alana), and Community Darling and busy homosexual Dean Arcuri; plus our on-ground commentator was comedian, radio host, actor and celebrant - Annie Louey. The livestream also showcased performances by drag performer Olympia Bukkakis; He's Every Woman stars Justin and Jamie performing ABBAlicious; Georgie Munroe who was performing an original composition; Elvin Lam: Performing 'I Am What I Am' with support from Marc Ethan, Auslan Interpreter; and Variation Three performing a dance composition to activate Catani Gardens. To pay homage to our histories, Midsumma Pride March Livestream also showed exclusive video footage of the first-ever Pride March in Victoria in 1996.
The ways to view Midsumma Pride March were:
Book into a Fitzroy Street, St Kilda venue to watch the parade from 10:45am.
Watch the parade at a registered Watch Party venue.
The livestream is available at: facebook.com/midsumma
Midsumma has also provided an Audio Described version of the livestream. This AUDIO DESCRIPTION was presented by Midsumma and Description Victoria. 
Midsumma held a private event for pre-registered marchers in Catani Gardens after the March. This was not accessible for the general public to attend (as per our COVIDSafe event plan).
This event operated in accordance with the Victorian Government COVIDSafe guidance to make sure we were doing our part to be COVIDSafe. We wanted everyone to be able to enjoy Midsumma Festival 2021 and keep themselves safe at all of our events. 
Please follow Victoria's COVIDSafe practices while attending Midsumma Festival events.
Midsumma Festival 2021 was delivered under a COVIDSafe plan. Our COVIDSafe plan was reviewed and updated to align with the changing situation, and attendees were updated with information as it evolved.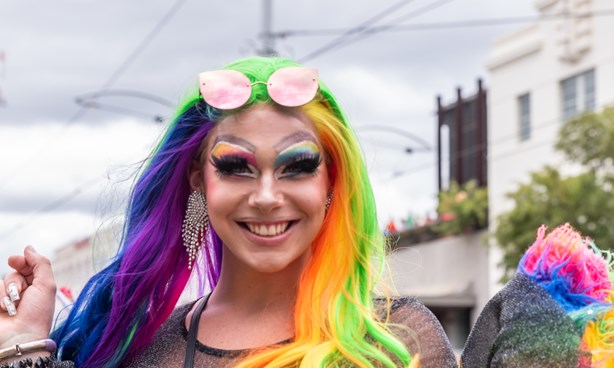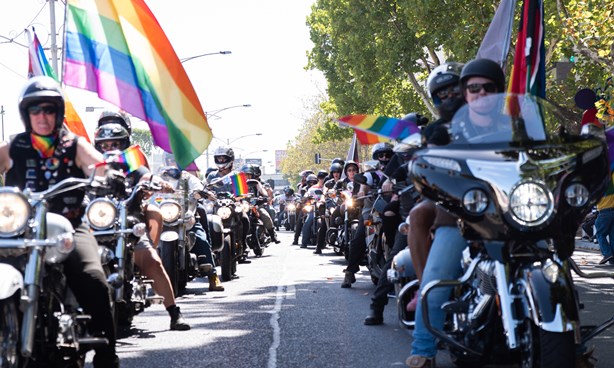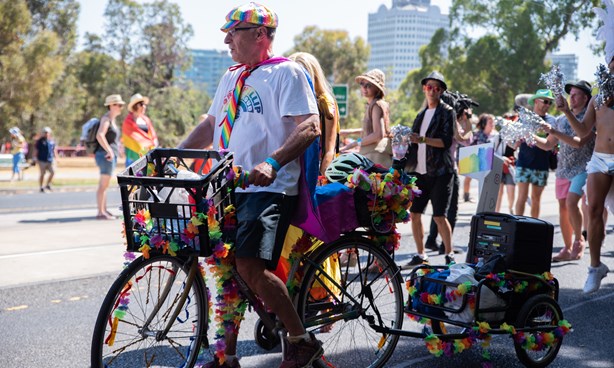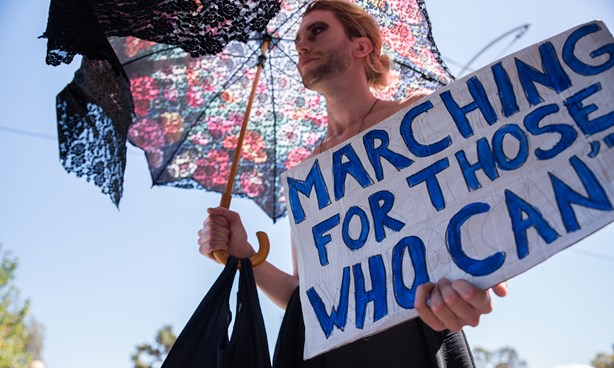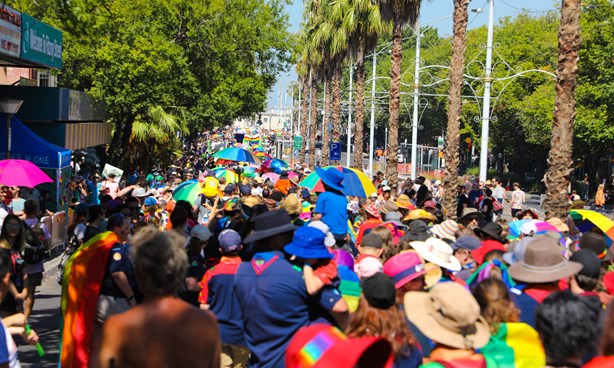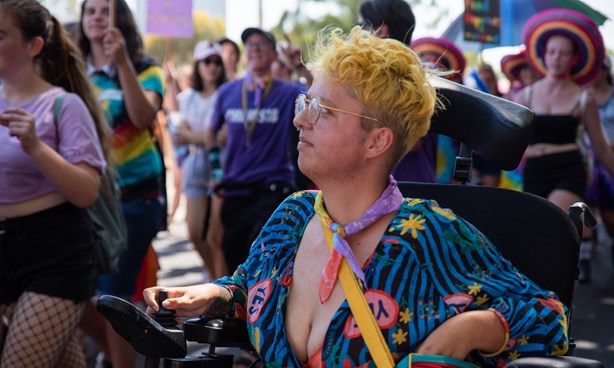 Event & ticketing details
Accessibility
Dates & Times
| | |
| --- | --- |
| WHEN | Sun 23 May 10:45am |
| DURATION | 3.15 hrs |
Location
Fitzroy Street, St Kilda
Fitzroy St and Catani Gardens, St Kilda
Get directions
Tram
12 to stop 143 | tram 96 to stop 132 | any St Kilda Rd tram to St Kilda Junction
You might also be interested in...