A curatorial program of solo and group exhibitions at Incinerator Gallery celebrating LGBTQIA+ communities within and beyond Melbourne's inner Western suburbs
Collaborating with Midsumma Festival, Incinerator Gallery presents a curatorial program of solo and group exhibitions that celebrate and champion diverse LGBTQIA+ communities within and beyond Melbourne's inner western suburbs. The program features a plethora of visual arts practices with accompanying performances, workshops and artist talks.
For more information visit the gallery's website.
---
Altogether there will be three exhibitions across Incinerator Gallery that explore queer themes, all running from Friday, 3 February—Thursday, 6 April.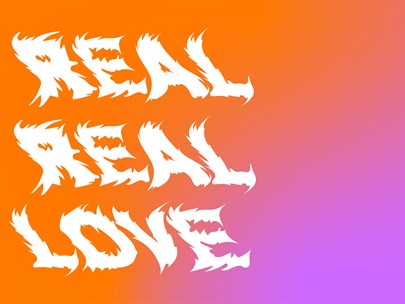 Infinite Pleasures
Kieran Butler, Real Real Love, 2023, design for wall mural
Infinite Pleasures explores the arcs, beats and spaces that house LGBTQIA+ communities. Through architecture, art, design, fashion, and music, this group exhibition brings together polyphonic textures and pluralistic structures that revel in the armatures we feel and embrace our queer selves. Infinite Pleasures considers how a culmination of civic, domestic and digital platforms can offer sensual, sensory, and experimental space for convalescence, play, and pleasure. The creative practitioners presented within this exhibition each consider the boundaries, limitations and futurities of queer spaces through sonic, virtual, and visual conveyance. Ranging from avatars and armour, furniture and text, sirens and dance, they altogether build upon the past whilst imagining futures to yield pulsing portals of ecstasy and transformation.
Infinite Pleasures is presented through Midsumma Festival's keynote program, Safe (R) Spaces.
The Sentimentality of Something Unseen
J Davies, My Bed, After, 2020, analogue photograph
The Sentimentality of Something Unseen is a photographic exhibition of new and archival works by artist J Davies exploring both the sensual and the sensuous experiences of queerness. From erotic embraces of candid couples; to lived-in and loved-in beds; to cinematic sunsets; to heaving, hazy dancefloors; and images of decay and destruction, J Davies invites their audience to experience the world through their eyes—reminding us of the perpetual longing for life, and being precious with what you keep hold of, but not too precious. With a fly-on-the-wall, voyeuristic approach, these analogue photographs provide spaces and glimmers for viewers to re-experience the intimate and vulnerable moments shared by the artist and the people depicted within these images. J's work seeks to share these queer, safe spaces through the sentimentality of photography, re-encountered as romantic remnants, or left-over lust. Like the nostalgic glow of golden hour re-igniting faint feelings shared with friends and whānau, The Sentimentality of Something Unseen is an exhibition that celebrates holding on to the lingers of love in whatever form feels appropriate.
Knot Locked
Debris Facility, CVIC-LEVEL (detail), 2022, plaster, cyanotype, chainmail, steel, perfume, and lasers.
Knot Locked is an installation entangling the processes and history of waste management (within the Debris Facility and at the site of Incinerator Gallery) with 'knit lock' bricks as designed by Marion Mahoney and Walter Burley Griffin, the architects of the Essendon Incinerator. Debris Facility draws from queer architectural theory alongside industrial waste research to make installation, sculpture, and print works. For this exhibition, Debris Facility works with Incinerator Gallery for its historical contours of occult modernist architecture, and disused waste infrastructure, turned into cultural asset. These elements resonate strongly with the agenda of the Debris Facility, which looks towards practices of im/material waste, aesthetics and spatial practices of industry, and ways in which cultural production works within and beyond those categories.
Event & ticketing details
Accessibility
Dates & Times
| | |
| --- | --- |
| WHEN | 3-5 Feb, 7-12 Feb | Tue-Sun 11am-4pm |
| AUSLAN | Via advance request |
| AUDIO DESC | Via advance request |
Location
Incinerator Gallery
180 Holmes Rd, Aberfeldie
Get directions
Tram
57, 82 to stop 41 plus 10 minute walk along Maribyrnong River
You might also be interested in...