Today is International Trans Day of Visibility!
What is Transgender Day of Visibility (TDOV)?
TDOV is an annual day, held on 31 March, to celebrate and show support for trans communites. It brings attention to the accomplishments of trans people around the globe while fighting cissexism and transphobia by spreading knowledge of all trans communities. This is a day of empowerment and getting, AND GIVING recognition.
How can you celebrate in Melbourne today?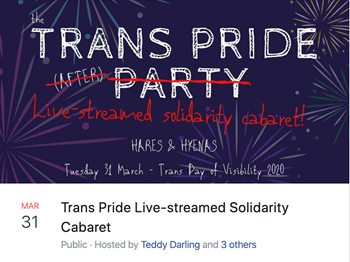 A chill party (FROM HOME!) for trans, gender diverse, and nonbinary folk to celebrate with friends and allies on Trans Day of Visibility! Now FULLY live-streamed ♥

💙 Free Tickets HERE with optional donation!
Please donate to support the performers whose gigs have been cancelled - surplus funds donated to Switchboard Victoria to support LGBTQIA+ people in crisis.

💙 All donations enter the draw to win sweet prizes!

💙 Hosted by Artemis Munoz & Teddy Darling featuring trans and gender diverse performers from Melbourne AND BEYOND!
Today at 7 PM – 10:30 PM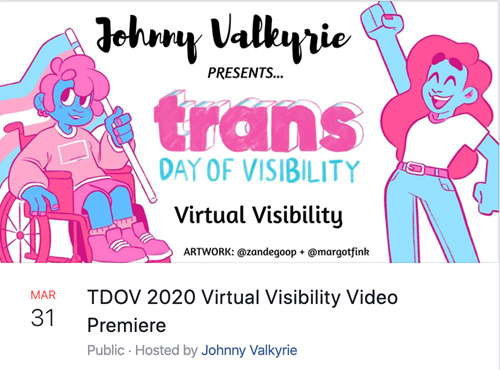 This community video will premiere on 31 March, Midday.

Please tune in on Tuesday 31 March for this community project of social connection in this time of distance.
How can you contribute today?
Don't out your Trans friends
It may be Transgender Day of Visibility but sometimes trans folks don't want to be or aren't safe being visible. Always ask first!
Know the Differences Between Gender Identity, Gender Expression, Sex Assigned at Birth, Sexuality, and Emotional Attraction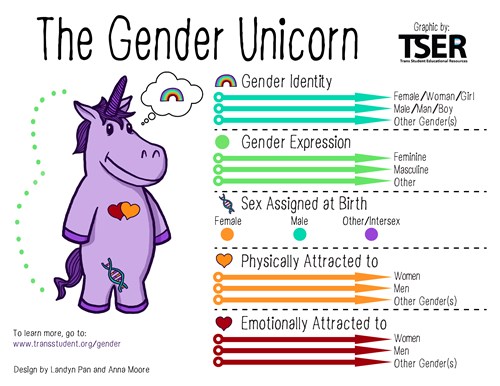 Also know to ALWAYS refer to a trans person by their gender identity and not their sex assigned at birth. Gender is also much more complicated than the sex/gender/sexuality distinction. Learn more here.
Trans Student Educational Resources.
Make women's spaces encompassing of Trans Women/ALL Women
If you have access to women's spaces, try making sure it is not exclusionary of trans women. Take time to recognise that trans women may need more than just inclusion in these spaces; the space could need to be rethought in how it perpetuates transmisogyny.
Tell People When They Say Something Transphobic or Cissexist
This may be calling out, or a different form of recognition. Accountability and safety is vital for all of our communities.
Celebrate – and Fight for – Trans Lives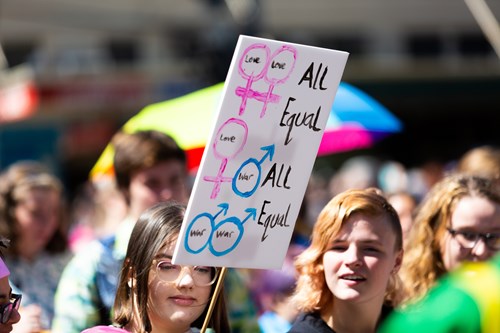 This is Transgender Day of Visibility, it's the time for education, empowerment, and action. You can join the celebration.
Image: Midsumma Pride March 2020 by J Forsyth
If you would like more information on our Transgender commintuies, information or assistance, please speak with Transgender Victoria: the leading body for trans and gender diverse advocacy, training, and resource development in Victoria. 
If you are experiencing distress and would like to chat with someone please contact a support network from this list here. Or, The Support Act Wellbeing Helpline is a free, confidential counseling service open to anyone working in Australian music or the performing arts - 1800 959 500.
*Top Image: Midsumma Pride March 2020 by J Forsyth