Midsumma Pride March. Photo by Suzanne Balding
Your Midsumma team is​ now in full swing with exciting preparations for the 2024 festival, but we need help to bridge shortfalls in our finances to enable us to meet the costs for delivery of what we know will ​be the best Midsumma Festival that we can make it.​
Did you know?
Midsumma Festival relies on your generous donations to produce our three-week festival and year-round community development work, celebrating the vibrant and diverse LGBTQIA+ arts, culture and community contribution to Victoria.
Delivery: delivering the festival takes year-round planning and some events require even longer to plan.
Staff: Year-round Midsumma has four full-time and one part-time employee and is made possible by over to 300 volunteers each year.
Budget: Every year Midsumma has to raise 70% of our budget ourselves through private donations and business sponsorship, outside of Government funding.
For 36 years, Midsumma has been able to provide the community with a range of programs and events throughout our three-week festival and all year round. There are significant hard costs to produce events, our mentorship programs, our program guide, the website and to keep these events and programs as accessible as possible. We truly appreciate the generosity of so many Midsumma sponsors, supporters, and allies, who often provide time, money and even help to spread the word.

Your private and company contributions are vital to us, so we can continue to bring you this vivacious world-class festival.
We need YOU!
By becoming a Midsumma Patron you not only get the VIP treatment at our signature events but you also receive regular behind-the-scenes updates on Midusmma's activity as the festival develops and invitations to attend VIP events throughout the festival. Our Patron Program is your opportunity to really show your passion for LGBTQIA+ arts and cultures, and to contribute to its future. Join a special group that understands the importance of queer arts and cultures. 
The benefits?
Your tax-deductible support will help our diverse communities to share their stories, have a voice, and experience all that Midsumma has to offer.
Our Patrons tell us that the most important benefit is feeling that you really are making a difference to the lives of those within our LGBTQIA+ communities by supporting Midsumma Festival. Not only that, but each Patron donation is fully tax-deductible. Patron donations are acknowledged on our website (midsumma.org.au), within the Midsumma Festival printed program guide for the year (if signed up in time, typically by late October) and in our annual report.
Festival Patrons also receive additional behind-the-scenes updates, an invitation to attend our upcoming Festival Program Launch in November and special invitations during the festival itself. All Patrons are signed up to our eNews and receive updates direct from our CEO, Karen Bryant.
Your patronage also goes a long way to help us empower others. Patrons directly support our access and development programs. This means your donations directly help new and emerging artists develop and showcase their work and access and engagement programs to support members of the LGBTQIA+ communities who are further challenged by disability or other types of cultural discrimination. Help all of our communities' voices to be heard, and their stories told. Your donations ensure that your Midsumma exists well into the future. It will directly support new and emerging artists and cultural event producers who wish to showcase their work, members of the LGBTQIA+ communities who are further disadvantaged by intersectional identities such as queer people with disability and/or those who face other types of cultural discrimination as well as being LGBTQIA+.
Midsumma Festival provides an important platform for their stories to be heard. But Midsumma needs your patronage to continue.
Patronage Types
Midsumma has four levels of patron:
  o Diamond Patron: $5,000+
  o Gold Patron: $2,000 – $4,999
  o Silver Patron: $1,000 – $1,999
  o Rainbow Patron: $500 – $999
In 2017, through donations, we created Midsumma Futures, a 9-month mentoring and skills development workshop program for up to 12 early career LGBTQIA+ artists. One mentoree film-maker Parisa La says: 
"As an emerging artist, Midsumma Futures was the best thing that could have happened to me at this point in my career. Through incredibly well-planned workshops, all with very pertinent goals, I felt grounded, energised and focused. The artists that spoke at these sessions were always generous and honest with sharing their own personal experiences getting established in the industry. They not only shone a light on the obstacles that we may face on our journey forward but provided us with useful tools to overcome them. Thanks to the industry-based mentorship program, I was able to get the guidance and support I desperately sought to improve my skills as a filmmaker. Further, the value of the relationships I have built because of Midsumma Futures is priceless."
Subsequently, in 2018 we also initiated the ongoing Midsumma Pathways, a partner program to Midsumma Futures, but especially for LGBTQIA+ artists with disability. 
Midsumma would like to thank the wonderful and generous patrons of the 2023/24 financial year:
Diamond Patron ($5,000+)
Anonymous
Jason May
---
Gold Patrons ($2,000 – $4,999)
Tony Egan
Paul Gonzalez
Leigh Johns OAM
James Mitchell
Michael Parry
Tim Smyth
Michael Trovato
Ant Jarvis & Mark Matthews
---
Silver Patrons ($1,000 – $1,999)
Craig Amundsen & Jason Forde
Liz Austin
Susanne Dahn
Brad Danaher
Jamal Hakim
David Marantelli
Mark Meierjohann
David Sellin
Judy Small AM
The APS Foundation
Gail Veal
Marcus Williams


---
Rainbow Patrons ($500 – $1,000)
Dennis Altman
Rohan Astley
Jaclyn Booton
Alyson Campbell
Helen Donnard
Thomas Fraser
David Imber
Nick Johnson
David Johnston-Bell
Brett Lane
Mattie Marantelli
Stephen Masterman
Jason Murphy
Carol Nichols
Garry Oliver
Beau Webb and Rhys Cranney
Sam Szwed
Jo Whyte
Howell Williams
Robert Morrison
Henry Ruge-Rojas & David Owen
Or donate what you can, your contribution really counts.
Thank you! We couldn't put on a three-week festival, or continue our mentor programs, without our Patrons – valued Festival Sponsors, Partners, and Providers who help us to continue to work year-round, and to produce our world-class festival each year.
Other ways you can donate:
Corporate Workplace Giving via Good Company Midsumma Festival 
Are you looking for new ways to reward your staff and attract new employees? There are some great ways to reward your team members with Charity Gift Vouchers, Paid Volunteering days and Workplace giving and payroll giving options.
So what is Workplace giving? Workplace Giving allows you to support Midsumma directly from your payroll plus you receive an immediate pre-tax benefit and Midsumma receives the full donation amount.
For example, if you donate $20 per pay cycle, it will only cost you $12.60* but Midsumma will receive the full $20.
This can help you to build corporate culture and drive workplace giving easily. Visit Good Company or get in touch with us to find out how you can set up Corporate Workplace Giving with Midsumma Festival.
Support Midsumma in GiveOut Day Australia
GiveOUT (formerly known as The Channel Giving Circle) is an LGBTIQ+ organisation based in Melbourne, Australia. Established in 2016, in their short history they have distributed more than $150,000 in grants to LGBTIQ+ community projects, supported more than 50 LGBTIQ+ community organisations, and released the first ever Australian report on the state of LGBTIQ+ funding.
Donate to Midsumma
Midsumma is a non-profit organisation staffed by a small team of committed professionals, governed by a voluntary Board of Management, and supported by hundreds of generous and passionate volunteers every year.
Donate to Midsumma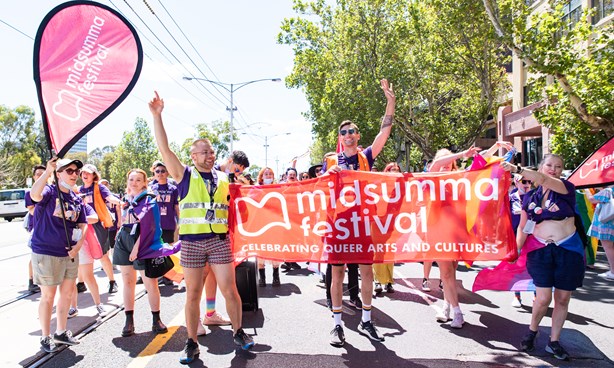 Volunteer With Us
Midsumma Festival is a volunteer-fuelled organisation that wouldn't exist without the contribution from individuals within our community. Every volunteer is an ambassador for Midsumma Festival: enthusiastic, friendly, helpful and professional.
Volunteer With Us
Looking for something else?