The Defiant, Midsumma Festival 2022 by Suzanne Balding
Event registrations for Midsumma Festival 2024 will open in early June 2023.
Early Bird Discount: All events finalised within four weeks of registrations opening (providing the allocation hasn't been exhausted) will receive a 20% discount off the registration fee.
Register your event for Midsumma Festival 2024
Midsumma Festival is open access, which means that anyone can register to be part of the celebration! Registrations will open in early June 2023.
Do you want to be part of Midsumma Festival 2024? There are five steps to registering an event with us, and we're here to assist you EVERY step of the way:
READ the information below for everything you need to know about using our registration system, Eventotron. 
TALK to us. A conversation is the best way for us to help. Call 03 9296 6600, email

[email protected]

or fill out the Contact Us form for the best results. Midsumma is also National Relay Service ready! 
GET high-resolution promotional images that represent your event. You will need to submit this before you can finalise your registration. 
LOCK IN a venue. Be sure to start these conversations early, search our Venue Database on Eventotron, or chat to us.
REGISTER online using Eventotron
How to register your event (Auslan). Presented by Danni Wright.
ESSENTIALS
Read on for everything you need to know about presenting an event as part of a future Midsumma Festival.
TICKETING
The information listed below refers to ticketing fees and conditions for the 2023 festival. These details may change for Midsumma Festival 2024.
Midsumma Festival is again working with Eventfinda as the ticketing system portal for the 2023 festival. All ticketed Midsumma Festival events (free and priced) must have 100% of their event capacity sold through the Midsumma Festival ticketing system (unless otherwise approved by Midsumma).
Free-ticketed events
"Free-ticketed events" are events that are free of charge but require audiences to register or book. If this is your event, it needs to be ticketed through Midsumma Festival's ticketing system so that festival audiences are able to book for all Midsumma events from the one central location. This comes at no extra cost to you or your audience. There are no "Booking" fees for "Free-ticketed events".
Allocated Seating
There is no charge for allocated seating. However, we will need to work with you to build a seating plan in the ticketing system. Speak to us to discuss via [email protected]. But seriously, general admission is always easier for you to manage and for audiences to book, so we would only recommend allocated seating if you think it is definitely required.
The information listed below refers to ticketing fees for the 2023 festival. These details may change for Midsumma Festival 2024.
Ticketing Fees

Ticketing fees are paid for by audiences and it is their contribution to making Midsumma Festival possible. Midsumma charges two different fees, a "per ticket" fee and a "transaction" fee.
The "per ticket" fee is included inside the ticket price you advertise for your event, but the "transaction" fee is not. The "transaction" fee applies per transaction, not on each individual ticket.

"Per Ticket" or "Inside" Fee:
As part of the online ticketing service Midsumma Festival will retain the following amounts per ticket sold through our ticketing system:
Inside Fee = $0 for free-ticketed events 
Inside Fee = $3 for tickets that are priced between $5 – $15.99*
Inside Fee = $3.50 for tickets that are priced between $16 – $35.99
Inside Fee = $4 for tickets that are priced between $36 - $65.99
Inside Fee = $4.50 for tickets that are priced $66 +
*The minimum ticket price is $5 (standard $3 ticket fee to Midsumma + $2 per ticket to you).
Example Ticketing Fees
Here's an example of the ticketing fees:
If you require $15 from your ticket for your budgeted sales income, your advertised ticket price should be $18.50 ($15 to you and $3.50 commission to Midsumma Festival).
The prices you nominate during registration, and advertise to the general public, must include the inside 'per ticket' fee. As this is scaled, it is important to allow for concession prices or other variants. For example, your full price ticket may be $25 ($3.50 to Midsumma / $21.50 to you) but your concession price might be $15 ($3 to Midsumma / $12 to you).
Transaction Fee
Midsumma charges a $5.25 transaction fee per purchase, regardless of the number of tickets in the transaction. The ticket purchaser, not the Producer, pays this. This covers the administration of the ticketing system.
Ticketing Matrix
Use this Ticketing Matrix to work out ticketing fees, costs and profit.
GST
All Midsumma booking fees, transaction fees and tickets sold include GST unless stated otherwise.
Ticketing Remittance
Your event's ticketing will be remitted within five working days of the completion of your event / season or after any refund issues are resolved (for example if you have had to cancel a session of your season and customers have already purchased tickets).
Door Sales
If you would like to have door sales, you'll need to arrange your own box office at the venue. Tickets will go off-sale through the Midsumma Festival website one hour before your event start time, ready for you to start selling tickets at your venue. You keep the "Per Ticket" fee for any tickets sold at the venue.
Please keep a record of how many tickets you sell on the door, as we request this information at the close of your event.
Complimentary Tickets
A complimentary ticket is a free ticket. These are usually offered to VIPs, cast, crew, etc. There are three types of complimentary tickets: Midsumma comps, Producer comps and Companion Card tickets.
Midsumma comps: These are tickets booked and used by Midsumma Festival. Midsumma requires 4% of your total capacity (or a minimum of at least 6 tickets, whichever is larger) to be made available as complimentary tickets across the season. This is 4% across the event's season to be used for Midsumma sponsors, board members, management, producing partners and patrons.
Producer comps: You can allocate up to 10% of your total Midsumma ticket allocation as comps for your cast, crew, media reviewers and anyone else you want to attend your event. You may be charged additional fees for any amount over this 10%.
Companion Card tickets. Companion Cards provide carers with a complimentary ticket to an event and, like with all concession cards, Companion Cardholders must show their card at the venue. All Midsumma Festival events must accept Companion Cards.
YOUR EVENT LISTING
Your event will be listed in the Official Festival Program Guide and on midsumma.org.au. Your event title, image and description are important components to make your event stand out from the crowd.
Event title
You can call your event almost anything you like, but we recommend you consider the following:
Really long titles will eat into your space in the printed program guide, will make it hard to promote on social media, and could affect the opportunity to feature your event on Midsumma's website home page.
Coarse language in titles or copy may reduce your chances of getting approval for social media boosted promotion. In addition, Midsumma Festival collateral (including the guide) will have coarse language censored (i.e. F*ck, Sh*t, etc.).
You can't use "Midsumma" in the title of your event. Only events produced by Midsumma can use this as it indicates to the general public that events are produced in-house by Midsumma. However, we do encourage you to use the words 'As part of Midsumma Festival' and use the Midsumma logo on your own promotional material.
Event promotional copy
You will need to provide two versions of the event copy, one for the official Midsumma Festival Program Guide (approx. 40 words) and a slightly longer version for the website (approx. 200 - 300 words).
We have set out some tips below for writing compelling copy:
Think simple and clear. It's important to remember that although your show might hold a complex message or be super-edgy, the primary purpose of your event copy is to get audiences to your show. Cause some intrigue, but try not to alienate audiences. The best advice is to check out Midsumma Program Guides from previous years and see what resonates with you. 
Which tense is best? In the Midsumma Festival official guide and website, we refer to Midsumma general information 'pages' in the first person, from the 'voice' of Midsumma. For instance, 'We hope you enjoy your experience with us in 2022'. For this reason, we highly recommend that your event copy is written from a third person perspective. For instance, 'Goddess Grooves celebrates and showcases local female musicians', rather than 'Come celebrate local female musicians with us at Goddess Grooves'.
Show your copy to someone else first. It's best to get feedback from family or friends who you think might enjoy the event, but who are not already too familiar with the content. From what they have read, can they work out what to expect to experience at your event?
It's a free Program Guide, available to all. That includes children and young people so even if your event is pitched as Adult Only, your copy should not be.
Image
Your promotional image is one of the most vital tools in attracting an audience or reviewer's attention. It should be striking, represent your event truthfully, and be taken by a skilled photographer to optimise your chances for promoting your event.
There are some guidelines that you will need to follow (otherwise, we may request an alternative image). Please:
Avoid including any words/text (not even the title) on your image.
Avoid including any logos on your image.
Avoid providing a low-resolution image or screenshots. We recommend getting your image professionally taken. 
Avoid providing a highly detailed image. Avoid images with lots of content. The program guide images are small, so simplicity works best. 
Avoid adding a border to your image. 
Promotional Video
Your event listing can include a Promotional Video. This is a great way to give audiences a visual taste of your show.
Midsumma Festival also creates a promo reel each year, and your event can be included in this reel which is an excellent additional promotion. 
A 30 second promo clip can quickly engage your audience. Keep these things in mind: Keep it snappy, make sure the footage is reasonable quality, include key information about the event, and be creative.
Inclusivity and diversity is at the heart of Midsumma Festival. As such, we're dedicated to making the festival accessible to all audiences.
Here is how you can help
1. Read our Accessibility information below
2. Watch our Accessibility Digital Info Session. You'll learn about ways you can make your event accessible and how to reach audiences with a disability.
3. Talk to Midsumma. We can talk to you about your event and help you establish what you can do to make your event accessible.
The extra bonus
If you provide an accessible service (such as Auslan interpretation, audio description, tactile tour or relaxed performance), Midsumma will promote your event to the community that requires that service.
Gender and Sexuality Inclusivity
Accessibility isn't just about wheelchair ramps and Auslan interpreters. Although they are important - it's also about attitude and language. At Midsumma, we actively encourage full diversity at events regardless of gender identity or sexual orientation. 
For more ways to create an open and respectful environment at your event, read through Midsumma's Inclusive Language Guide. This document contains definitions, explanations and handy tips that are useful in avoiding making assumptions about a person's gender or sexual orientation or using language that can cause offence. Check out the Inclusive Language Guide (by Oxfam) to see if the language you are using is right for you and your audience.
In some instances Gender and Sexuality Exclusive Events can be necessary to create a safe-space for a specific community. During registration you will be asked to advise if your event or venue only allows people of a specific identity or community (eg "Transgender only", "Queer and Trans People of Colour only", "Women only", "Men only").
If this is your event, you may like to consider the following:
Communicate why your event is exclusive. A few sentences on your website and briefing door staff can be helpful ways to convey the exclusive nature of your event. Imagine if you turned up to an event and weren't allowed in – you would want a friendly explanation!
Are there people you are accidentally alienating? For example, if your event is female-only, how will you be welcoming to someone who identifies as female but does not have physical characteristics typically associated with that gender?
Accessible Bathrooms
What's on the bathroom door? Ask your venue to use gender neutral signage on bathrooms to help trans and gender non-binary peoples feel more comfortable at your event. Signs that advertise the facilities available, rather than describing the attendees, work best. You are free to download and use our signs: toilet, urinal or gender neutral and accessible toilet.
Wheelchair Access

Not all venues are wheelchair accessible. Read through the information below to ensure your venue is truly accessible to people using wheelchairs.
Access: Can a wheelchair user get into and around your venue? At least one entry should be 1.2m wide without steps.
Toilets: Is there an accessible bathroom? Make sure it isn't being used as a storage cupboard and doesn't require a key from venue staff.
Parking: Is there accessible parking or a wheelchair friendly drop-off point?
Free Movement: Does the venue have good internal movement circulation? Could someone in a wheelchair 1.2m wide easily manoeuvre inside? Are there steps inside the venue that would prevent a wheelchair user from fully participating in your event?
Signage: If your accessible entrance is not the main entrance, has the venue established good signage and way-finding for wheelchair users? 
Whether or not to include this icon will be determined by your venue when they register their venue in Eventotron.
Auslan Interpretation

Auslan interpretation is for members of the deaf community who use Australian Sign Language as their primary or preferred language of communication.
Interested in knowing more about Auslan? Head to Auslan Signbank, there's an online dictionary, video demonstrations, information on classes and more.
Will you provide a fully-qualified Auslan interpreter for your event or for certain sessions of your season? To ensure that quality interpretation is provided for deaf audiences, Midsumma requires that you provide the name of your interpreters. 
Auslan Stage Left usually offers a reduced price on Midsumma Festival events (prices vary depending on the nature of your event). They provide qualified interpreters for events and will often promote events on their website. Contact Auslan Stage Left to discuss your event.
Captioning
Your event may lend itself better to captioning (particularly if it is a scripted performance or film) for audiences who are deaf or hard-of-hearing. Captions are screened or projected text descriptions. They display words (dialogue), tell us who the speakers are, and describe sounds. Captioning benefits everyone: people who are deaf or hard of hearing, older people experiencing hearing loss, people who don't speak English as a first language, and with understanding accents or fast speech. Captioning should be integrated into your set/lighting/AV design. It shouldn't be an afterthought.
Promote your captioned event through targeted promotional channels such as Arts Access Victoria, Expression Australia (VicDeaf) and Soundfair.
Open Captions vs Closed Captions

Does your event include captioning (usually provided for film screening or video works for deaf or hard-of-hearing people)? Open captions are always present - there's no way to turn them off.

Closed captioning and subtitling are both processes of displaying text on a television, video screen, or other visual display to provide additional or interpretive information, which can be turned off if not wanted.
 
Audio Description

Audio description enhances the live performance or film experience for people who are blind or have low vision. Through the use of a headset, audience members can listen to a description of the visual aspects of the event during appropriate breaks in the dialogue. Is your event audio described by a trained audio describer? Will you or the audio describer provide the appropriate equipment for this service?


Relaxed Performance

Relaxed Performances, or Sensory Friendly performances, are designed to create a safe and welcoming environment for audiences with a disability including autism spectrum conditions as well as sensory, communication or learning disabilities. They are a great way for audiences to experience the wonder of live performance in an environment that has been carefully adapted to be friendly, informal and open to all audience reactions. 
There is a relaxed attitude to noise and movement, often small changes are made to the lighting and sound effects, and audience members can be invited to enter and exit the venue throughout the show.  Some venues also provide a chill out room or area, where audience members who desire a break from the noise of a performance and foyer can go before, during or after the show.
If you are interested in producing a Relaxed Performance session of your event, you might like to contact the team at A_tistic Theatre, who can provide consultations on producing a relaxed performance. The service details are:
Tactile Tour

Tactile Tours allow patrons who are blind or have low vision to have a hands-on experience of the work. For performance works, the tour most often takes place directly before the scheduled performance time and is also an opportunity to meet the artist or performers. For exhibitions, the tour usually accompanies an artist talk.

 
Visual Score
A Visual Score gives audience members who are Deaf or Hard of Hearing an understanding of how they can access your work. While registering, you will be asked to choose from the following visual scores:

High Visual Score (100%): No sound or music or dialogue (e.g. visual art exhibition)
---

Moderate Visual Score (75%): Fully subtitled or minimal dialogue; some background music/sounds
---

Low Visual Score (less than 50%): Sound required for full engagement (e.g. music work or mostly un-subtitled dialogue)
 
Audio Score
An Audio Score gives audience members who are Blind or Low-Vision an understanding of how they can access your event. While registering, you will be asked to choose from the following audio scores:
High Audio Score (100%): The event does not rely on visual elements and can be enjoyed by blind or low vision audiences (e.g. a music concert)
Moderate Audio Score (75%): The event is audio described but not all elements of the event are able to be described
Low Audio Score (less than 50%): Vision is an integral part of the event (e.g. a visual art exhibition)
Hearing Loop Services

Does your venue provide a hearing loop service? A hearing loop service is a hearing device that amplifies all on-stage audio for people who are hard-of-hearing.
Whether or not to include the Hearing Loop icon will be determined by your venue when they register their venue in Eventotron.
Our friends at Arts Access Victoria have created a detailed guide to creating accessible art work and engaging people living with disability Art for Everyone: an inclusive practice guide.
The Arts Access Victoria website also contains great resources to assist you further.
REGISTER

Here's a handy checklist of what you'll need to prepare for registering your event:
Your business/organisation details (if applicable)
Primary contact details and optional secondary contact details
Your event name and details, including the event description, image, dates/times, prices, access info
A confirmed venue (your venue will need to register in Eventotron and have accepted your event)
Ticketing details (if applicable)
Details for your online event listing, including extended web copy, additional images, and video, social media handles and sponsor logos 
Payment for your event registration
After registrations close, there is more to provide through Eventotron. Here is a handy checklist:  

Your Midsumma contract
Your Venue Contract or Letter of Agreement 
Your media release 
Additional access information - if required 
Festival Pass Details 
Public Liability Insurance Certificate 
Reviews of your event (upload them as soon as they are published!)
Registrations to have your event included in Midsumma Festival's 2024 open-access program will open in early June 2023.
To register your event through Midsumma Festival's event registration system, go to eventotron.com (once registrations open).
Use an existing account or create a new account.
If you create a new account, you will also need to sign in using this new account.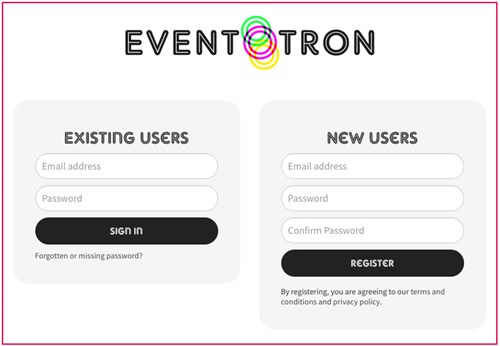 Once you have successfully logged in, click on Events at the top.

Now, select Create A New Event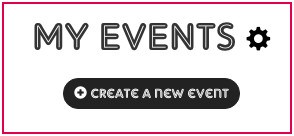 Once selected, you can begin to enter the details of your event. 
When asked to join a festival, please select Midsumma Festival 2024.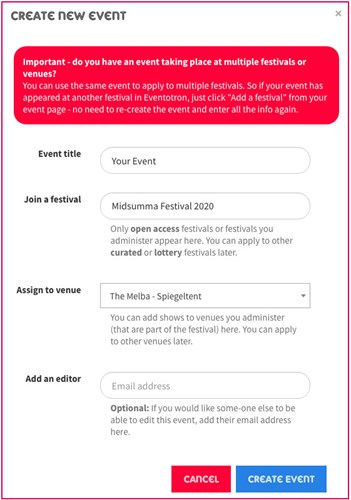 Once your event is created, please follow the step-by-step prompts to complete your registration with Midsumma Festival 2024.
Go to eventotron.com to sign up and get started.  
Still can't find the answers to your questions? Contact Midsumma on 03 9296 6600, email [email protected] or fill out the Contact Us form and one of our friendly staff members will help.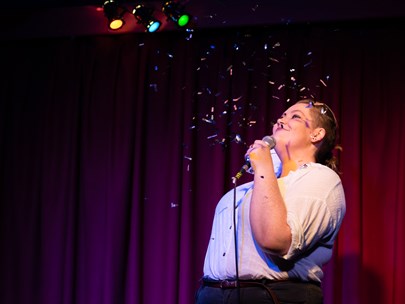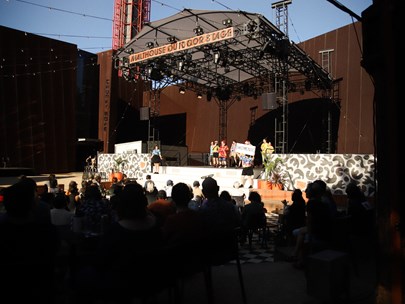 Venue Registrations
Everything you need to know about registering your venue for Midsumma Festival.
Looking for something else?