Midsumma Pride March Participation
Midsumma Pride March 2023 by Teague Leigh
Join the spectacular act of unity that is Midsumma Pride March on 4 February, 2024
Participation guidelines and tips
Midsumma Pride March is a signature event, where historically up to 10,500 marchers normally take to the streets down Fitzroy Street in St Kilda each year and over 45,000 people line the streets and balconies along the march route to show their support.
Registrations for Midsumma Pride March 2024 are now OPEN.
Registrations close on 27 November, 2023.
[2024 March Map Coming Soon]
Marchers' Assembly: At the Ian Johnson Oval on the corner of Lakeside Drive and Fitzroy St.
Vehicle Assembly: Lakeside Drive (next to the Ian Johnson Oval).
Marching Route: Proceeds down Fitzroy St and ends in Catani Gardens, St Kilda - see above map.
End of March: Marchers will turn right and enter Catani Gardens via the pedestrian crossing. Vehicles will turn right onto Beaconsfield Parade.
Road Closures Overview: Road Closures and Suppliers Access Map coming soon.
Maps - Getting There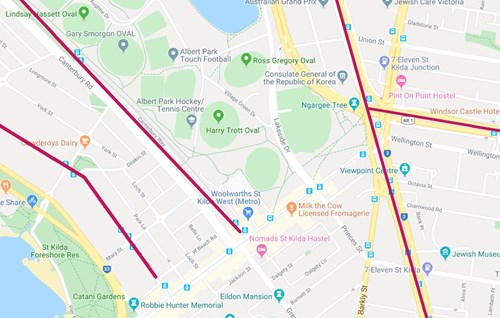 TRAM ROUTES: The red lines indicate where trams will be running throughout the event, even while Fitzroy Street is closed for the March.
Open larger Tram Access Map >> (Google map)
CYCLING routes during Midsumma Pride March >> (Google map)
Bus Diversion Route Map coming soon.
Revving up the rally is the much-loved pre-march procession by Dykes on Bikes, Rainbow Riders Victoria and Melbourne Motorcycle Tourers followed by thousands of marchers led by Midsumma's Indigenous Pride Float. The celebration continues after the march with post-Pride Celebrations at the end of the parade route at Catani Gardens.
The marching order shows the order in which the groups will be marching. They are assembled together into sections called "waves" according to similar areas of interest or themes.
[2024 Marching Order Coming Soon]
How is the marching order decided?
Groups are assembled together into sections called "waves" according to similar area of interest or themes. At the time of registering you will be asked to elect a wave grouping. Midsumma will confirm the marching order online before the day. In special circumstances, we also might need to make small adjustments on the day if any new information arises.
Marchers with special needs or living with disability can be placed early in the march since a long wait or lengthy exposure to the elements would adversely affect their health.
Non-queer identifying businesses and organisations showing pride are very welcome, but they do not march ahead of queer advocacy and diverse gender and sexuality (DGS) representative groups. No non-queer identifying corporate businesses (even if they are Midsumma Festival partners) pay to be a part of the march.
Some placement is determined by Main Stage call times, to get artists and crew to Catani Gardens in time to perform at the post-Pride Celebrations.
Some contingents request a late start time and don't mind being towards the end.
For the benefit of those watching from the bars and restaurants along Fitzroy St, the march needs to be exciting at every stage of the march, not just at the start. The final marching contingents are just as important as the first.
The balance of the remaining contingents are organised based on volume of sound clashing, vehicle/pedestrian safety or significant placement history.
The Midsumma team always marches last.
Midsumma Festival spends considerable time curating the march to be as fair as possible and can only enter into conversation about line-up requests with non-profit queer organisations that may from time to time express interest in marching with particular other non-profit queer organisations.
Things you need to know for a fabulous Midsumma Pride March
Attend the Pride March Briefing.
It's compulsory to attend so check out the Participant Briefing topic for more info.
Driving a Vehicle in the March
See the I'm Driving a Vehicle topic for essential info for anyone driving a vehicle in the march.
Stay Hydrated
Help us reduce the impact of single-use plastic water bottles by bringing a reusable bottle to the march as we have free water refilling stations across the event.
Eat Something
You will find food trucks at the Ian Johnson Oval where the march route begins, and in Catani Gardens where the march route ends. There are also fantastic bars and restaurants along Fitzroy Street.
Be Sun Smart
Don't forget to slip, slop, slap!  
Plan Your Travel
Midsumma Pride March is a big event with road closures, limited parking and changes in public transport. See Getting There below.
Be an Award Winner
Awards are up for grabs for the Most Fabulous group, the Most Innovative group, and the group with a timely and well-conveyed Significant Message. See The Midsumma Pride March Awards topic to learn more.
Respect Each Other - Together We March
Midsumma Pride March brings together diverse groups, personalities, perspectives, sexualities, genders, and experiences. Everyone who marches deserves to feel safe and belong. Remember we are stronger as one and greater together, so treat each other with respect on the day. 
How do I register to march?
Register to march by completing the form at the end of this page. Due to the extensive planning that takes place in the lead-up to Pride March, we cannot accept registrations on the day of the march. 
Can I march as an individual?
Of course! Individuals are grouped together in the march but you still need to register and attend the participant briefing.
Will there be a cap on marching numbers in 2024?
No, marching numbers will not be capped! Any changes to health directives from the State Government will be communicated to participants prior to the event.
Is Midsumma Pride March family friendly?
Midsumma Pride March is a family friendly event that appeals to individuals of all ages. Families are warmly welcome to participate in the March. However, parental or guardian discretion is advised: Pride March celebrates diverse genders & sexualities so the march may contain references to sex, and you will see the odd bare bottom.
As our pets are often considered family too, please make sure you have foot protection for your pooches if you bring them, otherwise plan to leave them at home. That road tar can get painfully hot on the paws.
Handing out stuff?
You will be able to hand out items like flyers or merchandise to spectators while marching. Any paper collateral you intend to distribute must have environmental messaging on it such as a "Recycle Responsibly" tag line. 
Are balloons allowed at Pride March?
Midsumma Pride March is a balloon-free event. City of Port Phillip has joined with Zoos Victoria in their campaign to replace balloons with other environmentally friendly alternatives.
Are there height restrictions?
There will be tram lines above you! If your banners, flags or other props are taller than 2.5 meters please contact the Midsumma Office to discuss further.
Why are corporate businesses involved in Midsumma Pride March?
Many corporations and businesses participate in Pride Marches across the world. The two most common reasons that businesses participate in Midsumma Pride March are to empower their LGBTQIA+ employees to show Pride and feel safe within their workplace, and to demonstrate to the general public that their business is queer-friendly.
Businesses will not march ahead of queer advocacy and gender-and-sexuality-diverse-representative groups. No businesses pay to be part of Midsumma Pride March and Midsumma Pride March is not sponsored by a commercial organisation or business.
Why are Police at Midsumma Pride March?
Victoria Police have an official presence at Midsumma Pride March, and a contingent in the march – the LLO (LGBTQIA+ Liaison Officers) and Vic Police march group, for Victoria Police employees who identify as LGBTQIA+ and their allies.
As with all Victoria's large-scale events, organised protests and parades, police officers are present as part of the event permit, and to deal with external threats, or any situation that may become unsafe for event attendees. 
What is Midsumma's role in organising Midsumma Pride March?
In 2015 Midsumma become the custodians of Victoria's Pride March when the body Pride March Victoria, who had organised the March since its inception, folded.
As Victoria's leading festival for and by LGBTQIA+ peoples, Midsumma is proud to deliver this vital event, which takes year-long planning and significant resourcing. Midsumma is always looking for ways to improve this event in response to Victoria's diverse, dynamic and ever-growing queer communities. We welcome feedback on the event!
What if there are disruptions to the march?
Midsumma, our Staff, Volunteers, external security, and Risk Managers go through extensive training to prioritise the safety of the march and its participants. Midsumma has several plans in place for any disruption to the march and will act accordingly in the best interest of our patrons.
It's really important (read, compulsory) that a member of your group attends the Pride March Briefing.
Details on the 2024 Pride March Participant Briefing are coming soon.
Also, as a matter of safety, each vehicle driver MUST attend this meeting (online or in person).
If you're planning on driving a vehicle (whether it is a motorbike, fire-engine or car) as part of a registered marching contingent there are a few things you need to know:
Non-motorised bicycles and unicycles are welcome in the parade. They do not need to be registered as a vehicle but it would be helpful to mention them when you register your group.
Driver and Vehicle Details: for the safety of all participants, at the time of registering you'll be asked to provide the vehicle registration of each vehicle, licence details of each nominated driver as well as their contact details. This will be held by Midsumma Festival in the event that Victoria Police ask us to do any checks.
Communication: Each driver will receive communications from the Midsumma team, vital to their participation in the march.
Briefing: Each driver must attend the Pride March Briefing
Safety: For the safety of all marchers and viewers, drivers will be breathalysed and drug tested at Assembly. As required by Victoria Police, any motorcycle drivers are required to wear helmets.
Parking: There is no designated parking for vehicles after the parade.
Registration: You must register prior to registration closing date (27 November).
Please note that only registered vehicles and drivers will be allowed to participate. If you are unsure if your vehicle and nominated driver have been approved, please contact us on [email protected] or 03 9296 6600.
Following their inception in 2017, the Midsumma Pride March Awards will be returning in 2023. The awards are intended to encourage a bright and meaningful presence from participants. Winners are selected by a panel of diverse community representatives and announced at the celebrations at the Catani Gardens Stage during the formalities at the conclusion of the Midsumma Pride March route.
There are three Award categories, explained below.
Midsumma Pride March Award Categories
Peter Dewildt Award for Most Significant Message - awarded to the group with a timely and well-conveyed message of pride. This award honours the memory of Peter Dewildt (1953-2019) who was the first president of Pride March Victoria (now known as Midsumma Pride March). 
Most Fabulous Award for Fantastically Frocked Group - awarded to a group who are fabulously dressed up, adorned and decorated for Midsumma Pride March.
Most Innovative Award for the Cleverest Float, Props or Theme - awarded to a group with an exciting and innovative float, props or theming for their marching group.
For details of the winners, including winners in previous years, please visit the Pride March Information page
Looking for something else?