Food Vendor Expression of Interest
Midsumma Carnival 2022. Photo by Ash Giblin @trashthebinary
Express Your Interest
Food Vendor EOIs for Midsumma Festival 2024 have now closed
For your food truck to be involved with Midsumma Festival's large outdoor events, you must first fill out an Expression of Interest (EOI) form. Midsumma will determine successful applications based on specific criteria to ensure the offering to event attendees is diverse, affordable, sustainable, caters to all tastes and dietary requirements, and is in line with Midsumma Festival's organisational values.
Operating at Midsumma Festival events is highly desirable for most vendors and unfortunately, we are not able to accommodate all requests, so please take the time to tell us about your best assets.
The bars at Midsumma are on a tendered contract, so we do not require any EOIs for alcohol vendors.
All Food Vendors will be required to adhere to any COVIDSafe procedures or health directives required by the State Government at the time of the event. These will be communicated in the lead up to the event day. Food Vendors will be encouraged to supply their own hand-sanitiser and PPE.
Events
Midsumma Carnival: Sunday 21 January 2024
Midsumma Carnival turns Alexandra Gardens into the queerest precinct in town for LGBTQIA-friendly people.
Midsumma Pride March: Sunday 4 February 2024
In 2022, over 7000 people marched down Fitzroy St in St Kilda to seaside celebrations in Catani Gardens.
Successful applications may be offered a position at one or both of these events.
ESSENTIALS
READ the information provided about the selection process and vendor fees.
TALK to us if you have any queries. Midsumma can be reached on

[email protected]

or 03 9296 6600.
PREPARE clear images of your vehicle, a copy of your menu (with prices and dietary/allergy information), and a copy of your Public Liability Insurance to go with your application.
SUBMIT online. Submissions with incomplete information will not be considered.
Please Note: Due to logistical requirements of the event, applications are only open to trucks, vans, or trailers. We are unable to accept vendors who operate out of a marquee or similar.
Successful food vendor applications are based on a range of criteria presented to a selection panel for suitability to Midsumma Festival.
Menu Options / Dietary Requirements
At Midsumma Festival we aim to have a broad range of food options at our events. We appreciate the diversity of our audiences as well as the food available to them!
Previously, selected Food Vendors have demonstrated a variety of food options within their menu. Menus with a number of vegetarian, vegan, gluten-free, dairy-free or nut-free options are highly regarded. Menus generally must at least have a vegetarian main meal option in order to be considered. 
Affordable pricing options
Midsumma Carnival and Midsumma Pride March are both free events and we have members from the community attending from all walks of life. Food Vendors with menu items at a broad range of price points are more likely to be successful.
Sustainable / 'Green' practices
Midsumma Festival, as well as our event partners City of Melbourne and City of Port Phillip, have strict guidelines around sustainability.
Vendors with sustainable practices around packaging, straws, landfill, recycling, food waste, and water usage are at an advantage. Midsumma strongly discourages the use of single-use plastics. 
Adherence to public health guidelines
In light of government restrictions and public health guidelines, we are looking at how our vendors work within these for the safety of Midsumma Festival audiences.
History with Midsumma Festival
Midsumma Festival takes into consideration previous interactions with Midsumma Festival staff, volunteers and customers and encourages EOIs from Vendors who share in our values.
Bonus Tips
Shake it up! It's a competitive industry that is constantly changing and we love seeing new vendors applying, or vendors changing up their menus and truck designs. No need to re-invent the wheel, just to perhaps change the tyres every now and then.
Be flexible. As the event grows and improves each year, there are changes that are made across all aspects of the event. We are appreciative when our vendors are open minded about new elements of the events and not set on what has happened in previous years.
We always aim to select a range of vendors that cater to vegetarians and vegans since our audiences are generally much more likely to be vegetarian than the general population / attendees at other events. Many vendors at our events run out of their vegetarian/vegan option early in the day. Don't underestimate the queer community's love for a plant-based diet.
Trust us and we'll trust you. Midsumma Festival is run by a small team of arts and events management professionals and we are not operating for profit. Trust that we have the event's best interests at heart and we will do the same for you. We know that all our vendors are experienced, dedicated, and prepared to do an amazing job!
Make sure you give us as much information as you can to ensure we see you at your best!
Successful applicants will be contacted shortly after registrations close to confirm their acceptance for Midsumma Carnival and/or Midsumma Pride March. Other event opportunities may arise during the festival for which your contact details will be kept for reference.
Please note that due to the volume of submissions received, incomplete applications will not be considered. The outcome of this process is decided by Midsumma Festival and will not be reconsidered.
Food Vendor Fees
Below are the prices associated with being involved at a Midsumma Festival event. Your operating space is inclusive of your cool room and any back of house space you may require, so please ensure that the details provided in your application are as accurate as possible to ensure we can provide you with the right space and position.
Midsumma are unable to guarantee attendance numbers, due to the nature of non-ticketed, outdoor events, since they are subject to factors outside of our control. We will be able to provide you with estimates to assist with your planning.
Food Vendor locations are determined by the festival based on Vendor footprint, power requirements, and a variety of options across the site. Locations are non-negotiable.

Food Vendors in previous years have dispensed similar numbers of units across the event site and location is not a significant factor for the Food Vendors' success on the day.
Midsumma Carnival: Trading Hours 11am - 10pm
Up to 3m x 6m: $995
More than 3m x 6m: $1,320
Midsumma Pride March: Trading Hours 11am - 4pm
Up to 3m x 6m: $787
More than 3m x 6m: $890    
Please note: trading hours are approximations and further detail will be provided as part of your contract should you be selected by Midsumma Festival.
Costing for other Midsumma events, if the opportunity arises, will be on a case by case basis.
1 x 15Amp Outlet: $115
1 x 20Amp Outlet: $250
Any 10Amp Power Outlets will be included as part of your attendance fee without additional charge.
Additional power can be supplied upon request. This is detailed in the EOI form.
All prices are GST inclusive. An external surcharge of 1.5% applies for credit/debit card payments.
All vendors are required to use the power supplied by Midsumma and are not permitted to use their own generator unless otherwise specified in writing by Midsumma. To discuss this, email [email protected].
HOW TO EXPRESS YOUR INTEREST
You must be ready to provide:
Contact details
Menu details (item, price, allergy information, dietary requirement)
Vehicle and coolroom (if required) dimensions, and total footprint required
Power requirements
Overview of business practices
Public Liability Insurance Certificate of Currency
Promotional photos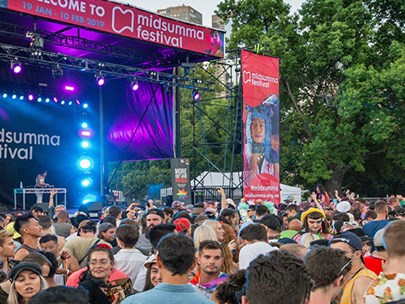 Midsumma Carnival
Sunday 21 January 2024
Midsumma Carnival is the opening event of the festival, and for a day turns Alexandra Gardens into the queerest precinct in town with a crowd of LGBTQIA-friendly people.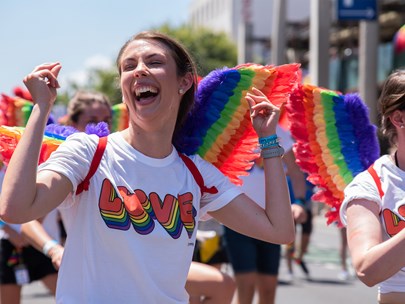 Looking for something else?