Reuben James (He, They) is one of eight playwrights shortlisted for the Queer Playwriting Award 2022 for their play Coming Home to You. 
Reuben was only 17 when he drew inspiration from The Crucible to write the first version of Coming Home to You, exploring the "ongoing persecution of LGBTQIA+ people." Coming Home to You has since evolved into a play about the lives of three queer people, and the inherent dichotomy between monogamy and queerness. To describe the play in three words, Reuben says it is
"Passionate. Intimate. Inherently-Human."
A person of many hats, Reuben is a writer, director, actor, dancer, circus performer, hospitality nut, and Variation Three company founder. Central to all of Variation Three's work, the play seeks to effectively change the queer narrative, refusing audiences the option to question queer validity. 
"Coming Home to You needs to be told because it demands recognition for queer people; not as a fetish, or as a hyper-sexualised depiction of queerness, but as an authentic human experience."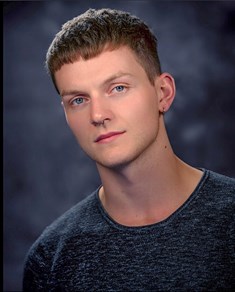 Universal themes of love, trust and honesty allow the central queer characters in this play an opportunity to simply share their stories of human connection, rather than justify their queerness – something that is still so often the focus of many queer narratives.
"The fact that the characters are queer isn't what matters. What matters is the story being told, and how inherently human it is."
This will be Reuben's return to Midsumma Festival, with Variation Three's first work Bent making its successful debut at Midsumma Festival 2021. Reuben hopes that by sharing a glimpse of Coming Home to You at QPAS that they will be able to connect to and meet more queer-minded people. They will also use the platform to help realise untapped possibilities for the play, with the plan to make it into a full show.
"I'd love to receive as much feedback as possible on not just the work, but how to improve as a company. I like to consider the company a bit of a sponge when it comes to feedback, and so everything will be taken in and appreciated!"
In addition to his work with Variation Three, Reuben was a founding member of The Adelaide Independent Theatre Collective (2016), where he cowrote and performed in their first production, Calamity (2016), and wrote and directed his first work All Things Unsaid (2017). Since, he has completed three years at the National Institute of Circus Arts (NICA), performed in Zebastian Hunter's Dispersion (2019), and joined Origins Dance Company to perform in their 2021 season.
 Reuben James 
Variation Three 
Be the first to hear a snippet of Coming Home to You and other plays at the Queer Playwriting Award Showcase, 24-25 January 2022.
The Queer Playwriting Award Showcase is part of the Midsumma Presents program, a collaboration between Gasworks Arts Park and Midsumma Festival. QPAS identifies, supports and develops original Australian theatre with a queer focus.