As we seesaw from one emotion to the next, hopefully we are finding some happiness in deep digital conversations, strange Zoom backgrounds, and freely streamed arts that we're still so #blessed to be able to enjoy.
This is Edition #3 of our tips for queer arts, artists and culture makers in the time of COVID-19 and we hope that you are keeping safe and sane. 
Midsumma acknowledges the immense impact that this crisis has on our artists, arts workers, and creatives, as well as all of the members of our communities.

During these challenging times, we are working internally to design new ways to be there for our artists, creatives, culture-makers, and audiences. We are really keen to keep in touch with you, so please contact us and let us know how you are doing if there is anything you are working on and what we can do to assist? 
If you have suggestions, want to share links to your own work or have some great tips and links to share with our queer arts communities, drop us a line at [email protected].
If you are experiencing distress and would like to chat with someone please contact a support network from this list here. Or, The Support Act Wellbeing Helpline is a free, confidential counseling service open to anyone working in Australian music or the performing arts - 1800 959 500.
A Drop of Change - by Aria Scarlett
In Edition #1 of Midsumma's tips for queer arts, artists and culture makers in the time of COVID-19, we called out to our artists to contribute to the Midsumma Blog (a paid opportunity). We received a flood of creatives wanting to share their stories, works, and journeys.
The first blog we have released is by Aria Scarlett, an impactful, colour filled performer defying genre definitions in her combination of opera and dance music. Aria wrote her blog about the inspiration she found from 'Singing in The Rain'.
This written piece was commissioned by Midsumma as a response to the mass loss of the Melbourne queer arts industry (due to COVID-19). This blog is part of a series of works from our LGBTQIA+ arts and culture community that gives Midsumma audiences an insight into the practice of the queer arts and helps to make queer arts and cultures more accessible to diverse audiences in this time of social distancing and uncertainty.
"If you don't know what 'Singing in the Rain' is, I envy you, because now you get to watch the movie for the first time. A lot of people think this is a love story, a triangle between Kathy Selden, Don Lockwood, and Lina Lamont, but that's just the side plot. On the main stage, we watch an industry try to redefine itself with the changing of the times, as an opera singer, it is what I battle with on the regular and as a human, it is what everyone is doing amidst COVID-19." - Aria Scarlett
We just love this....
While we're all staying at home, the talented musicians of the Aussie Pops Orchestra, together with some amazing Australian artists, have phoned in a song for your entertainment. 
To help musicians, singers and other music workers struggling to cope with the impact of the coronavirus, please go to www.supportact.org.au - they're a great charity. 
Also...
FilmedOnStage.com has partnered with a variety of theatre organisations to offer a variety of plays and musicals which can be streamed online for free. During these unprecedented times, the theater community has come together to provide viewers from around the world the opportunity to stream select theater productions for free. Check out this updating list of musicals, plays, and operas that are now streaming! 
A guide from FCAC to keep creative
With humankind hunkering down to flatten the curve against COVID-19, it can be hard to find ways to unleash your inner creativity. To help you fight the coronavirus blues, Footscray Community Arts Centre have listed a bunch of tips and tricks for exercising your creative muscle at home. Check out these 7 ways to boost creativity while social distancing via FCAC >>



Keeping you inspired!
Sip and Paint your way through isolation with these digital classes and art packs via TimeOut. Local Melbourne 'sip and paint' studios are now offering at-home options so you can have an instructor on hand to guide your creative spark (it's just up to you to keep your wine glass topped up).

We stumbled across the pot of gold. This spreadsheet holds a (regularly updated) long list of free theatre screenings for you to enjoy. 
What are our communities doing to keep us sane and entertained?
Tomboy is coming to you, VIRTUALLY of course!! What better way to celebrate this Sunday than boogying to your fave bangas with the resident DJ's from Tomboy?

On April 12th at 3pm, Tomboy will release a Spotify playlist carefully curated in a set order of some fine Tomboy resident DJ's, as you would hear it at Tomboy!

We hear that this Tomboy playlist should be listened to from start to finish in order, hit play at 3pm and we'll all be shakin' our bacon together, closer than ever. 
Visit the Facebook event for full details >>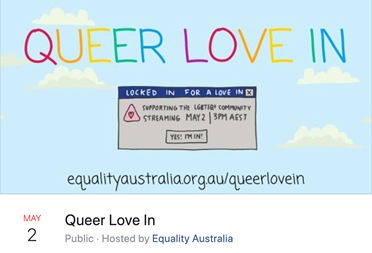 On May 2nd at 3PM AEST, Equality Australia will present Queer Love In, live streaming to you in isolation.

Designed to support LGBTIQ+ performers and Equality Australia's campaign work in these unprecedented times, Queer Love In will bring our community together to reconnect, give hope, and build our resilience and strength. We'll be showcasing the talent in our community and following along at home, all while helping raise some money for our talented performers and Equality Australia's campaigns for LGBTIQ+ Australians.
Visit the Facebook event for full details >>