QueerTech.io Online Exhibition
QueerTech.io
Art at your fingertips
Presented by: Midsumma Festival and QueerTech.io
Each year, during Midsumma Festival, you can go to queertech.io on your screen of choice to reveal an online art experience of imaginative, revelatory and playful works that go beyond the binary in digital art.
Midsumma Festival and QueerTech.io handpick new works from across the globe for you to view in bed, on the tram, in the park or wherever works for you.
The QueerTech.io artist collective will are artists in residence at Testing Grounds from January to February. The residency site acts as a hub, collaboration incubator and experimental exhibition space.
As part of Midsumma Festival, QueerTech.io invite artists and audiences to contribute towards artistic, verbal and online conversations that deconstruct and reconsider notions of queerness in a tech-saturated present.
If you create or like interesting and interactive online works and games, including video art and screen-based works then QueerTech.io is for you.
A modest artist honorarium is provided for each selected work, and the selected work is shown online and in physical locations as part of Midsumma Festival.
Applications for QueerTech.io 2020 will open November 2019. 
Join our mailing list to stay in touch about applications for 2020.
QueerTech.io 2019
The 2019 collection includes works by artists from Australia, Canada, France, Germany and the USA. Information about some of the works follows: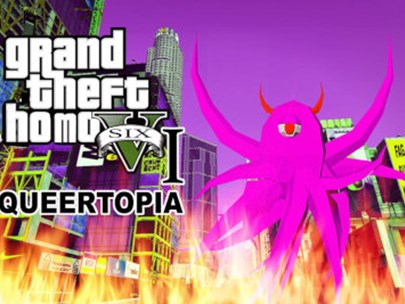 Artist: Karl Munstedt, Brooklyn, NY
Title of work: What if Grand Theft Auto was a queer utopia?
Grand Theft Homo VI: Queertopia is an ongoing project of mods, hacks, and queer-ings of the commercial video game Grand Theft Auto V intended to subvert and obscure the hetero-masculine tropes embedded within the algorithms of the game. New mods are added weekly to an online repository, which will augment the GTA world over time piece by piece. All mods are published as open-source files and include instructions for their implementation.
Grand Theft Auto's codeset influences not only its players but also emerging video formats like automated children's videos, which co-opt the game as a stage to create pseudo-educational videos set to nursery rhymes, many of which retain violent themes of the game and garner millions of views. GTH VI: Queertopia similarly uses the game as a staging space, but carries with it an intention to challenge what is not a neutral platform, inserting a queer future fantasy to counter the game's intended fantasies of violence and ownership.
About the Artist: Karl Munstedt is a digital artist and technologist living and working in Brooklyn, NY. They were born in Boston, MA and grew up spending much of their time on the internet befriending strangers and finding numerous cyber boyfriends. Using technologies like gaming, augmented reality, the web, and mobile applications, their work explores issues of queerness, visibility and fantasy. Their work has previously exhibited at queertech.io and FILE festival. They received a BFA in Interactive Art from Pratt Institute in 2018.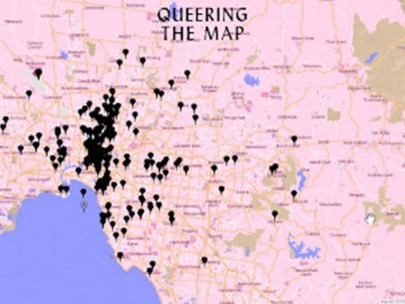 Artist: Lucas LaRochelle, Canada
Title of work: Queering The Map; Year: 2017 ongoing.
Queering the Map is a community generated counter-mapping project that locates queer moments, memories and histories in relation to physical space. As queer life becomes increasingly less centered around specific neighborhoods and the buildings within them, notions of 'queer space' become more abstract and less tied to concrete geographical locations. The intent of Queering the Map is to collectively document the spaces that hold queer memory, from park benches to parking garages — to mark moments of queerness wherever they occur.
The project intends to leave 'queerness' open to endless interpretation. From direct action activism to conversations expressing gender pronouns, from feelings of isolation to moments of rapturous love, Queering the Map functions as a living archive of queer experience. The mapping out of concrete queer histories is at the core of the project, and elders of the queer community are particularly encouraged to add moments and places of historical significance to the map in order to preserve our collective history — one that is always at risk of erasure. By mapping out queer experience in all of its permutations, Queering the Map aims to commemorate the work we have done as a community, as well as make clear the work we still have left to do. By merging the subjective experience into the collective, Queering the Map works to create a feeling of solidarity across difference and across borders.
About the Artist: Lucas LaRochelle is a multidisciplinary designer and researcher examining queerness, technology and architecture. Their project Queering The Map, received an Honorary Mention for the 2018 Prix Ars Electronica, and was longlisted for the Lumen Prize for Digital Art and the Kantar Information is Beautiful Awards. Their work and writing has been published in Échelles, Perfect Strangers, Radical Faerie Digest and Accent, and a German translation of their essay Queering The Map: Co-Creating an Archive of Queer Feeling is forthcoming from ROM.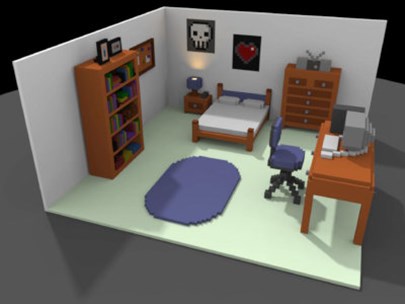 Artist: Alayna Cole
Title of work: Mapping queer moments in space
Snapshot is a semi-autobiographical "snapshot" of a journey towards realising and accepting one's sexuality. The game encourages you to explore the bedroom of a teenage girl, with each interaction unlocking the next section of the narrative. The game emphasises the importance of the media we consume in the formation of our identities, even in ways we don't completely understand.
About the Artist: Alayna Cole is the managing director of Queerly Represent Me, a not-for-profit championing queer representation in games. Alayna is also an associate producer at Defiant Development, co-chair of the IGDA LGBTQ+ special interest group, and is an award-winning games journalist and game developer. She was featured on the 2016 and 2017 MCV Pacific 30 under 30, and the 2017 MCV Pacific Women in Games lists.
Looking for something else?