Midsumma and Australia Post Art Award
Image: Midsumma and Australia Post Art Award, image by Suzanne Balding ft (partial image) Ayman Kaake's winning submission, Ar,
8th year exhibition
Presented by Midsumma Festival and Australia Post
Since its inauguration in 2016 the Midsumma and Australia Post Art Award has quickly established itself as an important award in the ecology of the arts. With finalists selected from across the country, the nonacquisitive annual award is a survey of outstanding queer artists working across mediums reflecting their potent personal and political perspectives on the world.
The Midsumma and Australia Post Art Award returns to No Vacancy for its 8th iteration. The shortlisted works demonstrate innovative, original, and heartfelt reflections on the LGBTQIA+ experience.

The Midsumma and Australia Post Art Award is not one to miss out on!
2023 Award Winners
Main award winner: Leonie Rhodes - $6000
Bundoora Art Prize Award winner: Logan Mucha - a paid artist development opportunity
People's Choice Award winner: Vince Partington - $1,000 provided by Australia Post


See below for the 2023 Finalists.
This exhibition upholds the voices of artists revealing art that explores queerness through time, space and various cultural lenses. Be immersed in introspection and interaction within an ever-changing world.
Reflect on the quiet and spacious moments, adventure through sexuality and gender fluidity, expand your mind and heart in a pool of poignant queer sincerity, be humbled and inspired by works portraying queer vulnerability.
Each work presents a personal view, representing many facets of the LGBTQIA+ family, but more importantly, these works highlight the individuals that make up our vibrant and talented community.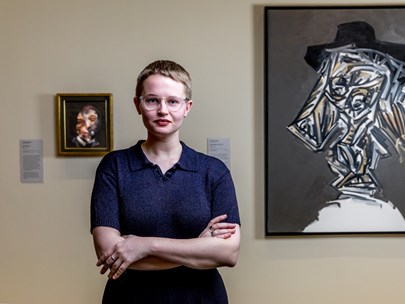 Meg Slater (she/they)
Meg Slater (she/they) is Curator, International Exhibition Projects department at the National Gallery of Victoria (NGV). Since 2017, Meg has worked on a number of the NGV's major international exhibitions, including MoMA at NGV: 130 Years of Modern and Contemporary Art, French Impressionism from the Museum of Fine Arts, Boston and the forthcoming Pierre Bonnard: Designed by India Mahdavi. Meg was also one of the five curators who organised QUEER: Stories from the NGV Collection (2022), the most historically expansive thematic presentation of its kind ever presented by an Australian art institution. In 2021, Meg completed a Master of Art Curatorship at the University of Melbourne with First Class Honours. Meg's thesis explored the potential for large arts institutions to more meaningfully engage with marginal subjects and histories through exhibition making and programming.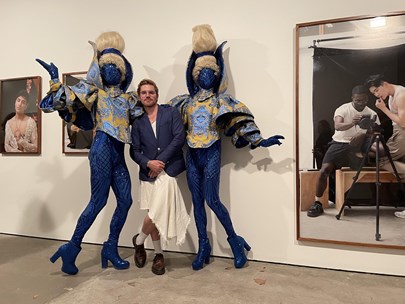 Brendan McCleary
Born and living on Wurundjeri country, Brendan McCleary is the Curator at Photo Australia, currently working on PHOTO 2024 International Festival of Photography (1–24 March 2024). He has worked with artists such as Cindy Sherman, Paul Mpagi Sepuya, Thandiwe Muriu, Mohamed Bourouissa and Vasantha Yogananthan at PHOTO 2022, and Zanele Muholi, Hoda Afshar, Brook Andrew and Maree Clarke at PHOTO 2021. For PHOTO 2022, he curated Queering the Frame: Community, Time, Photography at the Centre for Contemporary Photography. Previously, Brendan worked as a Producer for MPavilion, stage managed events for White Night Melbourne, Dark Mofo and Melbourne Music Week, and in 2017 worked for the Australia Pavilion at the Venice Biennale. As an independent curator, Brendan has worked with a number of Australian and international artists including Carolee Schneemann and Allora and Calzadilla.
Jason May
Jason May is Australia Post's representative on the Midsumma Australia Post Art Prize judging panel and is thrilled to be judging the art prize again for the second year. Jason has worked at Australia Post for seven years now and is also the Post Pride Victorian State Ambassador. PostPride drives positive change to promote diversity and inclusion of the LGBTQI+ community across the Australia Post enterprise. Jason is also an avid art collector and enjoys supporting and discovering new Australian artists across a variety of mediums. Both a previous winner and a finalist of this art prize are amongst his collection. He is also a proud Patron of the Midsumma Festival.
Event & ticketing details
Accessibility
Dates & Times
| | |
| --- | --- |
| WHEN | 31 Jan-12 Feb | Tue-Wed 12pm-4pm | Thu-Fri 12-6pm | Sat-Sun 1-4pm |
Location
No Vacancy Gallery
34-40 Jane Bell Lane, Melbourne CBD
Get directions
Train
Melbourne Central
Tram
Any Swanston St tram to stop 8 | tram 30, 35 to stop 7
You might also be interested in...
Register