BECOME THE ONE By Adam Fawcett
Midsumma is proud to announce the first national tour as a result of the Queer Playwriting Awards, produced by Gasworks Arts Park and supported by Midsumma Festival. This work was selected as the winner of the 2018 Playtime Award for New Queer Writing as part of the 2018 Midsumma Festival and was presented by Gasworks Arts Park and Lab Kelpie at the 2019 Midsumma Festival.
BECOME THE ONE
Noah, a young queer man, captures the attention of Tom, a closeted high-profile AFL player nearing the end of his career. Delving into the hyper-masculinity of sport, BECOME THE ONE asks what happens to such clandestine relationships when good intentions and patience aren't enough anymore.
A mainstage love story featuring vibrant queer characters at its heart, it is less interested in exploring why an AFL footballer is yet to come out, and more concerned with why same-sex partners of AFL players (who statistically have to exist) continue to accept it.
What if the partner, not the athlete, became the driving force behind dismantling the last bastion of heteronormative masculinity in Australian sport? What might they – and that journey – look like?
This is a celebration of difference, a call to bravery, and an examination of what it takes to do the right thing – as a lover, as a high profile sport star, as a human being – to BECOME THE ONE.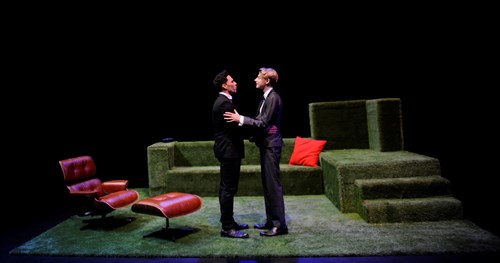 2022 National Tour 
VICTORIA
Date: 11 March 2022
Town: Healesville
Venue: The Memo
Performances: 1

Date: 16 – 17 March 2022
Town: Bendigo
Venue: The Engine Room
Performances: 3

Date: 19 March 2022
Town: Upwey
Venue: Burrinja Cultural Centre
Performances: 1

Date: 22 March 2022
Town: Parkdale
Venue: Shirley Burke Theatre
Performances: 1

Date: 23 March 2022
Town: Shepparton
Venue: Riverlinks Westside
Performances: 1

Date: 24 March 2022
Town: Wangaratta
Venue: Wangaratta Performing Arts Centre
Performances: 1

Date: 26 March 2022
Town: Stratford
Venue: The Courthouse Theatre
Performances: 1

Date: 29 – 30 April 2022
Town: Traralgon
Venue: Gippsland Performing Arts Centre
Performances: 2

Date: 2 – 7 May 2022
Town: Geelong
Venue: Geelong Arts Centre
Performances: 6

Date: 11 May 2022
Town: Colac
Venue: Colac Otway Performing Arts & Cultural Centre
Performances: 1

Date: 12 May 2022
Town: Hamilton
Venue: Hamilton Performing Arts Centre
Performances: 1

Date: 13 May 2022
Town: Portland
Venue: Portland Arts Centre
Performances: 1

Date: 15 May 2022
Town: Warrnambool
Venue: The Lighthouse Theatre
Performances: 1


NEW SOUTH WALES

Date: 19-21 May 2022
Town: Parramatta
Venue: Riverside Theatre
Performances: 4


ACT
Date: 26-27 May 2022
Town: Canberra
Venue: Belco Arts
Performances: 2
Queer Playwriting Award
The annual Queer Playwriting Award (previously Playtime Staged Readings), a collaboration between Gasworks Arts Park and Midsumma Festival, is part of the Midsumma Presents Program. New submissions for Queer Playwriting Award 2022-2023 will open in August 2022.
This project's development and premiere season was supported by Creative Victoria, a Jacky Winter Gardens Residency and the Victorian Government through the Pride Events and Festivals Fund.