Top four queer playwrights announced ahead of finalists' showcase on 22 March 2022
In its seventh year the Queer Playwriting Award Showcase was presented over two nights by Midsumma and Gasworks Arts Park to elated audiences and a panel of industry professionals who announced today that the four playwrights heading to the Finalists' Showcase on 22 March will be;  
Besties by Alice Tovey & Ned Dixon, CROSS by Rory Godbold, No Asians by Andrew Undi Lee and The Reasonable Grounds by Emmanuelle Mattana. 
"We were absolutely blown away by the quality of submissions this year. The 8 shortlisted finalists were of such high quality, variety and diversity, the audience and the panel were spoilt for choice. It was a delight and a privilege to present such a breadth of queer stories and voices on our stage, and I'm so proud of all of the participating artists. The growing success and popularity of the program would not be possible without Midsumma's support. We are so excited to hear more of the 4 Finalists' writing in March."

Marisa Cesario – Programming Coordinator, Gasworks

 
"Midsumma is proud to once again support this program alongside Gasworks Arts Park. The shortlisted playwrights this year worked particularly hard to present their works in a difficult time when our audiences are so grateful to be able to hear and share stories again. Congratulations to all of the QPAS submissions." Karen Bryant – CEO, Midsumma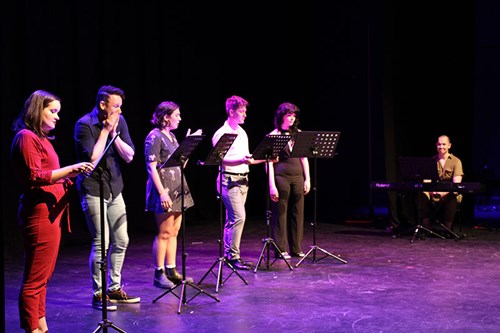 Image by Martha Ackroyd Curtis - 'Besties' by Alice Tovey
Creators of new or developing works of theatre were invited to submit their proposals for consideration by a panel of supportive industry professionals. Eight works were selected by the industry panel and invited to present a 15 minute staged reading across two nights at Gasworks Arts Park as part of Midsumma Festival 2022. From the shortlist, four works were chosen to extend their excerpts for consideration in the Finalists' Showcase on 22 March. 
One work will be selected to receive ongoing support and development with a view to becoming a full-scale work to be presented in Midsumma Festival 2023 or beyond.  
This development program aims to identify, support and develop new playwriting talent and get queer issues out there for mainstream audiences to consider and enjoy. The LGBTQIA+ community is diverse, exciting and full of stories and ideas that deserve to be heard on the stages of performing arts venues throughout the country.  
QPAS 2022 FINALISTS:
Emmanuelle Mattana – The Reasonable Grounds: It is the biggest night of Melbourne's academic calendar, the Grand Finale of the Year 12 Interschool Debating Tournament, and the all-boys team from the elite St Imperium College are ready to totally annihilate their sister school - until... The Reasonable Grounds is a queer black comedy about power, privilege and high school debating.
Andrew Undi Lee – No Asians: Set on the fringes of Sydney's housing commission, we follow a delicate relationship between two Korean Australian boys and their devastating fear of letting go. 
Rory Godbold – CROSS:
CROSS is set within an inner city religious school of Christian origins. New teacher to the college Jasper quickly bonds with co-workers Sarah and David. When David does not intervene after a homophobic comment is made about Jasper by a student, the relationships between the teachers are tested and the fallout leads to the sacking of Jasper. In the wake of Jasper's sacking, the characters are forced to confront their values, actions and relationships to their sexuality and faith. 
Alice Tovey & Ned Dixon – Besties:
A musical about love & self-loathing set in the world of an on-screen romantic comedy. When two straight-presenting leading women fall in love, their gay best friends have a full-on identity crisis.