Alice Tovey (She/her) is one of eight playwrights shortlisted for the Queer Playwriting Award 2022 for her play Besties.
"To be perceived is to be alive in the world of Romantic Comedy."
On the back of watching far too many rom-coms during lockdown, Alice noticed that despite the mushy, feel-good sensation each love story left her with, something pivotal was lacking. If you're thinking it's queer characters as the central focus, you're spot on. With a drive to see queer representation in rom-coms, coupled with a fierce longing to work with her best friend Ned Dixon (co-composer and musical director) again, Alice wrote the script for Besties.
A musical about love and self-loathing set in the world of an on-screen romantic comedy. When two straight-presenting leading women fall in love, their gay best friends have a full-on identity crisis. 
Challenged by putting her own bisexuality into language, Alice uses the characters in Besties to embody and share with audiences the experiences she faced, like being "on the outs with your friendship circle" and feeling like "the world is against you".   
"I want to create characters that queer people can see themselves in. If one little closeted teen watches this show and feels the confidence to come out, I'll have done my job. We as a community need big, queer, musical love stories that we can sing along to."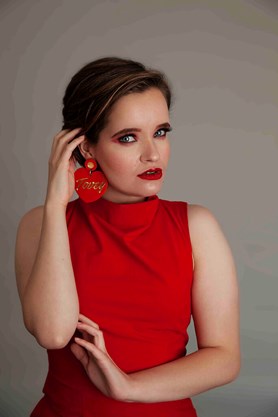 In a way, Besties has allowed Alice to live out her sapphic romance fantasy. Whilst Alice acknowledges the "straight passing privilege" she's had in her life, she also reflects on the pain that came with masking her sexuality.
"I wish I had the confidence to hold the hand of the girl I liked in front of my friends and family. But I was never brave enough to do so."
Besties is for fellow queer women who have been "in the closet due to being in hetero presenting relationships". It's also a musical for gay men who "wish to examine the role of the 'gay best friend'" and their identities in a hetero dominated world. And if you don't fit these categories? Fans of juicy rom-coms or queer-led content will also be giggling in their seats at this hilarious musical.
Alice Tovey is a singer, songwriter comedian, cabaret performer and self-proclaimed feminist rock-god. She has toured award winning shows with her co- writer and musical director Ned Dixon to critical acclaim. She studied Classical Voice at the Melbourne Conservatorium of Music before completing her Master of Screenwriting at the VCA. She also wants you to know she once met Nikki Webster and cried.
 Alice Tovey
Be the first to hear a snippet of Besties and other plays at the Queer Playwrighting Award Showcase, 24-25 January 2022.
The Queer Playwriting Award Showcase is part of the Midsumma Presents program, a collaboration between Gasworks Arts Park and Midsumma Festival. QPAS identifies, supports and develops original Australian theatre with a queer focus.