Guy Stephen Webster (He/Him) is one of eight playwrights shortlisted for the Queer Playwriting Award 2022 for his play Driftwood.
Much like any spine-chilling horror film classic, Driftwood falls under the 'Based on a true story category' – something that may make audiences walk away with a fear of ouija boards. Guy was driven to write the play from…
"A chaotic mix of my own fraught experiences with religion, spirituality and queer friendships, with a splash of my love for camp horror and the Gothic."
Driftwood is a story about two brothers who come together to pack up their father's apartment after his death. They soon discover what really haunts the empty apartment, while a storm threatens to bring the place down.
Similar to Sam - the central queer character in the play, Guy is a queer person who grew up in the church and grappled with the baggage that this imbues. Today, Guy is a dedicated church volunteer, seeking to create safe and welcoming spaces in the church for members of the LGBTQIA+ communities, and to help other queer people "process the trauma of religious upbringings safely, and with a smile or two."
"I think about the ways in which queer experience circles and grapples with religion as an institution, its histories, and our evolving place within it. And then I think about my mate who was so dedicated to 'queering' the rituals and structures of church-going and religious practice to welcome queer people."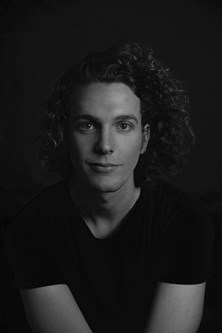 One of the reasons religion and spirituality are so central to Driftwood's storyline is because it was something Guy turned to, when, like Sam, Guy discovered Parkinson's Disease was in his family. Through his writing, Guy hopes to raise awareness for Parkinson's disease and explore religion as a form of hope and connection.
"As someone with a genetic disposition to the disease, one inherited from a father I have struggled to connect with, I am interested in the disease and its repercussions. Like many diagnoses, the turn to religion is one such repercussion."
Guy is a tutor at a student college for the University of Melbourne. When he isn't teaching or writing as a freelancer, Guy is busy finishing up his PhD at The University of Melbourne.
@guytothewebster
Be the first to hear a snippet of Driftwood and other plays at the Queer Playwrighting Award Showcase, 24-25 January 2022.
The Queer Playwriting Award Showcase is part of the Midsumma Presents program, a collaboration between Gasworks Arts Park and Midsumma Festival. QPAS identifies, supports and develops original Australian theatre with a queer focus.