Richmond will wear a Pride Guernsey for the first time in the Club's history for Saturday's AFLW game against Fremantle.
The inaugural Pride Guernsey was developed in conjunction with us, (Midsumma Festival!) the Club's community partner, artist Matthew Chan and Richmond players Katie Brennan and Sarah Hosking.
The design captures the journey, stories and milestones of the Richmond Women's program while showing the importance of pride and inclusion.
"This jumper is about pride and the community, and the bigger picture of everyone finding somewhere to belong," Sarah Hosking explained.
"But more than that, it also encompasses what it means to our playing group to wear a Richmond guernsey."
"This jumper tells a story of a young girl who is finding her way and is on a journey. It means something to everyone in our playing group and is a story about where we come from and where we have to go."
Richmond AFLW captain, Katie Brennan who recently became engaged to her partner Olivia added that it had been an honour to be involved in the design process.
"Any game at Punt Road is special and to be wearing the Pride Guernsey that is representing a large community of diverse people makes me incredibly proud," she said.
"I love the powerful conversations that are created around Pride Round and Pride Guernsey's about diversity and making sure that we are progressing forward as a society.
"For a long time we were not even allowed to get married, so it has been a really special and unforgettable time."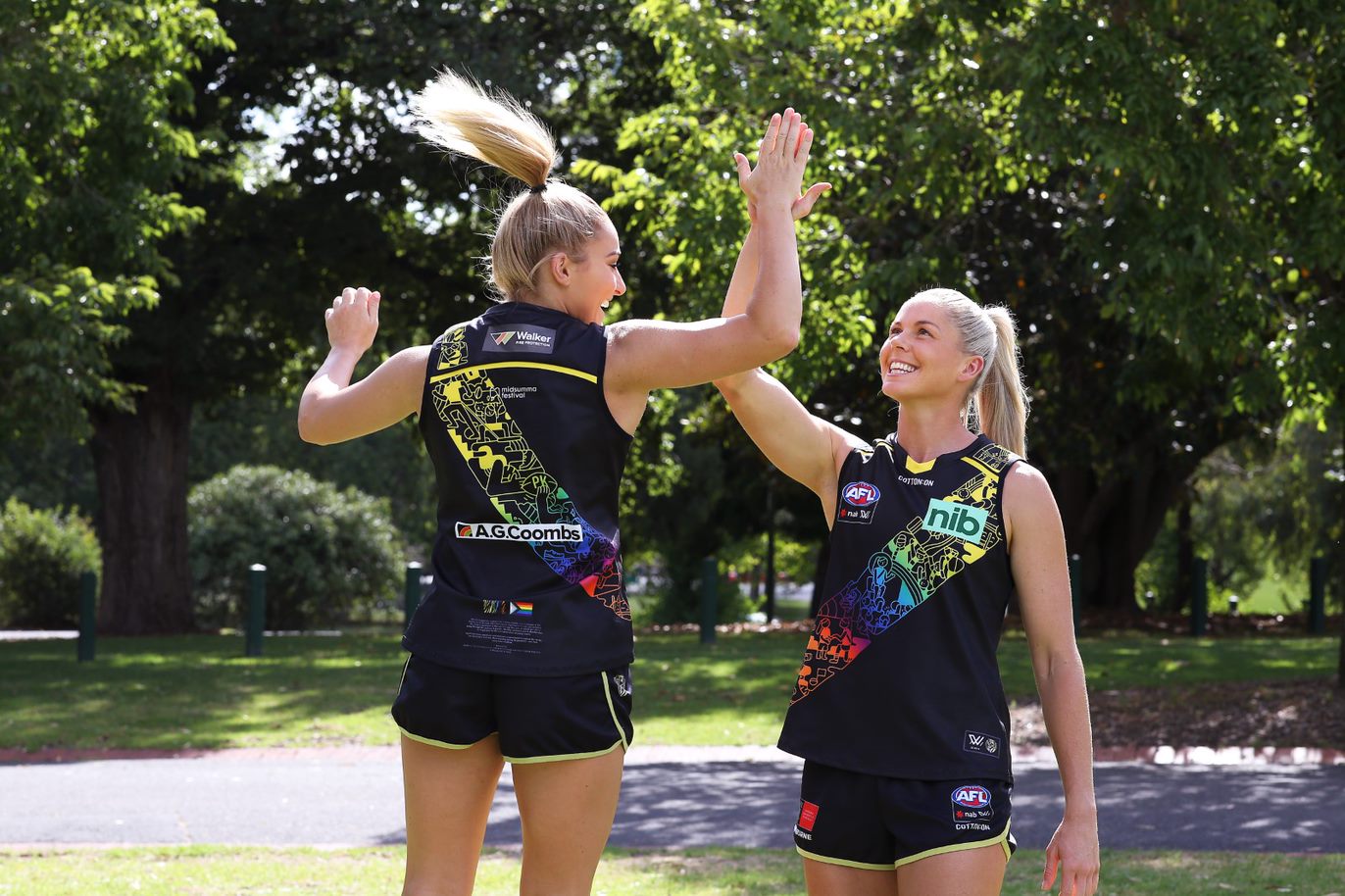 Two female AFL players doing high fives in a park while wearing the AFL Pride guernsey
Richmond CEO Brendon Gale added that wearing the jumper created a significant occasion for the Club.
"We are committed to diversity and inclusion at Richmond and strive to make our workplace, match days, and all club programs and events welcoming to all," he said.
"This Pride Jumper and Round help our Club and the broader competition to celebrate the LGBTQIA+ community and their contribution to the game and society.
"Katie, Sarah and Matthew have done a wonderful job on the design of our inaugural Pride Jumper, and it is fitting that we can wear it at Punt Road Oval in front of the Tiger Army this weekend.
"Our valued partnership with Midsumma Festival is now also into its sixth year. We look forward to another strong Richmond presence at the event on Sunday, including perhaps the appearance of this brilliant jumper."
Richmond will wear the Pride Guernsey along with black socks with rainbow-coloured hoops.
The Tigers host Fremantle at Punt Road Oval on Saturday at 5.10pm, with West Coast to also meet Adelaide at the venue earlier in the day as part of AFLW Pride Round.
All proceeds from the sales of Richmond's Pride Jumper will go towards Midsumma. Available now at the Tigerland Superstore. 
ABOUT THE ARTIST:
Matthew Chan is a graphic designer and illustrator currently based in Melbourne. He employs graphic design and illustration as the media for effective communication and creating a better environment. In 2014 he decided to discover the possibility of a different lifestyle by starting a new journey to Australia, where the pace of life is entirely different from his home in Hong Kong.
 Matthew has committed himself to various aspects of the creative industry in Melbourne, ranging from brand building to illustration. He was one of the selected artists in the Open House Melbourne 10th anniversary program in 2017 and The Metro Tunnel Creative Program and Midsumma Festival exhibition "Memory Lane" in 2021. The journey in Australia strengthens his belief that graphical illustration is one of the best tools in communication, and he shall continue his practice as a storyteller through design and illustration.
 "I am thrilled and honoured to be part of creating the first pride guernsey for Richmond's AFLW team. It is not easy to step out and be who we are sometimes, but remember we are bold, and we are powerful, the same as all the players in this team!"

@matthewkeung