Open-Access Event Registrations
Image: Rainbow Effect, Midsumma Festival 2020 by Suzanna Balding
Important updates about Midsumma Festival 2021
Keep up to date with Midsumma COVID-19 Updates
Well, 2020 sure has been a whirlwind of surprises! Artists, producers and venues have all had to make adjustments to handle an uncertain future. Like most of you, here at Midsumma, we've also had to reassess our plans for 2021. 
The recent restrictions released by the Victorian Government show that gatherings of scale were unlikely to be approved in time for Midsumma Festival to operate at our usual time of January to February.  This information has guided us to enact an "understudy-plan" to move Midsumma's 2021 festival dates. 
Midsumma Festival 2021 will now fall between 19 April to 5 May 2021 with Midsumma Pride March planned to follow a few weeks later (date to be announced). Event registrations will now close on 14 Dec 2020. 
We take pride in delivering a premier festival each year and by moving our festival dates mid-year, we hope to put our artists, producers and venues in the best position possible to deliver an accessible festival that connects our communities and celebrates queer arts and cultures.
The full Midsumma Festival 2021 program will be launched in mid-March 2021. We are working hard to create the best Midsumma possible in 2021 and are so excited to celebrate queer arts and culture together again, stronger and more resilient than ever!
Read more about our date change HERE.
Open-Access Event Registrations for Midsumma Festival 2021 now close on 14 December 2020. For inquiries phone 03 9296 6600 or email

[email protected]

.
Registration Fee Support
Midsumma is aware that there are still challenges for our arts community and understand that the next few months will continue to be uncertain and unpredictable for artists, producers and collectives.
To help relieve some financial challenges for artists and producers we are offering a 50% discount on registration fees for the first 100 events to finalise their registration for Midsumma 2021. This discount is limited to two events per producer. Once your event is finalised, email [email protected] and we'll organise your discounted fee. 
Event and Venue registrations are open now! If you're interested in participating in Midsumma, we recommend you begin your registration now, so we can keep you in the loop. Check out out our resources on Event Registrations and Venue Registrations, then head to our registration platform Evenotron to begin!
Don't forget, we're here to help! This extra time will allow us to better support artists and venues with their events, so please reach out! If you have any questions, get in touch with us. We'd love to discuss your ideas with you. 
For more info and to stay updated, read our COVID-19 Updates page, subscribe to our eNews or email us at [email protected]
How to register
** Once you have registered your event, you will be able to go to eventotron.com to change details up until the deadlines associated with the various sections - the deadline is Monday 14 December for printed guide information. Once you finalise your registration, you will need to contact us to request changes to your printed guide details.

Are you ready to leave 2020 behind and show 2021 what our LGBTQIA+ is really made of?  Midsumma Festival is Australia's premier queer arts and cultural festival, bringing together a diverse mix of LGBTQIA+ artists, performers, communities and audiences.
Midsumma Festival expands over three weeks with an explosion of queer events that center around hidden and mainstream queer culture, locally and internationally. The Midsumma program shares the lived experiences of those voices at the margins, the expression of queer history, and the celebration of new ideas that come to life through world-class art and performance. 
Our festival program is made up of diverse art forms and genres, including visual arts, live music, theatre, spoken word, cabaret, film, parties, sport, social events, and public forums. Featuring over 194 events in 2020, with involvement by over 5000 culture-makers in over 100 different venues across Melbourne and wider Victoria - to anticipated audiences of over 261,806.
Midsumma Festival is open access, which means that anyone can register to be part of the festival. So be a part of the festival that celebrates queer or LGBTQIA+ creativity in all its glory and enjoy the warm embrace of our communities. We all have something important to say and each year we are widening the reach of your message.
"Melbourne's annual queer festival continues to grow with a diverse and jam-packed arts line-up" – 

Cassidy Knowlton, Time Out

You'll see some changes to the registration process from previous years (but it hasn't changed much from 2020), which we hope will make it easier than ever to get on board. Read on to find out how to register...
Want your event to be part of Midsumma Festival 2021? There are five steps to registering an event with us, and we're here to assist you EVERY step of the way:
READ the information below for everything you need to know about registering an event on our registration system, Eventotron. We recommend familiarising yourself with the registration form before you start, to better understand what you will need to provide. Feel free to use the Preparation Checklist below to ensure you are ready to start the process.
TALK to us. An initial conversation is the best way for our staff to help make your event as successful as possible. Call 03 9296 6600, email

[email protected]

or fill out the Contact Us form for the best results. Midsumma is also National Relay Service ready! (If leaving a message and you would like us to return your call via the relay service, please leave a phone number and time that you would like us to call you).
GET high-resolution promotional images that represent your event for the official festival program guide, your website event listing and promotional activity. You will need to submit this before you can finalise your registration. Read Your Event Listing: Image below for more information.
LOCK in a venue.

Unless you are the venue owner or manager, or the venue is a meeting spot only, y

ou will need to provide

a contract or Letter of Agreement with your confirmed venue before you can finalise your registration. This might take a bit longer this year, so it might be worth starting these conversations earlier. Need help finding the right venue? Check our Venues Database, search for a venue on Eventotron, or speak with a friendly Midsumma staff member.
REGISTER online by Monday 14 December 2020. Be ready to pay your registration fee at the time of finalising your registration. Late registrations, registrations with missing information, and registrations without a confirmed venue or promotional image by the closing date can not be accepted.
Auslan Interpreted Midsumma Festival 2021 Event Registration Process


Credits: Interpretation by Elvin Lam (pictured) and Ntennis Davi.
Videography and editing by Andrew Davies.
Please note: the video above refers to the previous registration closing date of 24 August. This is now incorrect as registrations are now open until 2 October.
By registering your event with Midsumma Festival 2021 you will have access to:
A dedicated listing on the Midsumma website
Your event will be listed on midsumma.org.au, which had 126,526 users for the 2020 festival, during the festival period (22 days).

Midsumma will share your Facebook Event on the Midsumma Facebook Page
Add Midsumma Festival as a co-host to your Facebook event to ensure your event is promoted by the Midsumma Festival Facebook Page.
Your event will be included at least once in Midsumma's dedicated social media posts from November 2020 to February 2021
A total reach of 574,200 people and 5,100 ticket clicks through social media posts in 2020. A 44% increase in engagement from 2019.
Your event in at least one of Midsumma's eNewsletters sent to over 6100 readers, and growing
The Midsumma eNews has a 26.08% average open rate (8% above industry average) and a 11.83% click rate (industry average is 2.18%).
Help from industry professionals
Our experienced team will navigate you through the difficult questions, hold your hand while you cry, and celebrate the wins with you.
Professional development
Develop your practice and sharpen your producing skills by attending the Producer Workshops (held online for 2020). We will let you know when they are on once you have registered.

Those who come along to the information sessions do the best. It's full of important info. You can join us for the whole day or drop in for a specific session. 
Ticket sales and box office
We'll handle the transactions, you take care of the fun parts. Take part in our ticketing promos (Early Bird or Midsumma Packs – a new one this year) and get more people through that door. All you need to do is organise someone to sell tickets at the door one hour before your event starts.
Performer Pass
The Midsumma Performer Pass grants you access to selected festival shows for free.
Inclusion in the Midsumma Printed guide with a dedicated event listing
35,000 copies are printed and distributed across Melbourne CBD, wider Victoria and Sydney. Online and accessible guide versions are also housed on the Midsumma website and social media pages.
An engaged audience
Build new and strengthen existing audiences for your event by tapping into our audience of 261,806 people.
Meet great people and venues
Facilitate further links and networks with over 5000 artists and 100 Melbourne venues.
Share stories and voices
Be a part of a platform that shares LGBTQIA+ stories and experiences.
ESSENTIALS
Read on for everything you need to know about presenting an event as part of Midsumma Festival 2021.
TICKETING
Midsumma Festival is again working with Eventfinda as the ticketing system portal for the 2021 festival. All ticketed Midsumma Festival events (free and priced) must have 100% of their event capacity sold through the Midsumma Festival ticketing system (unless otherwise approved by Midsumma).
Free-ticketed events
"Free-ticketed events" are events that are free of charge but require audiences to register or book. If this is your event, it needs to be ticketed through Midsumma Festival's ticketing system so that festival audiences are able to book for all Midsumma events from the one central location. This comes at no extra cost to you or your audience. There are no "Booking" fees for "Free-ticketed events".
Allocated Seating
There is no charge for allocated seating. However, we will need to work with you to build a seating plan in the ticketing system. Speak to us to discuss via [email protected]. But seriously, general admission is always easier for you to manage and for audiences to book, so we would only recommend allocated seating if you have to.
Ticketing Fees

Ticketing fees are paid for by audiences. It is their contribution to making Midsumma Festival possible. Midsumma charges two different fees: a "per ticket" fee and a "booking" fee.
The "per ticket" fee is included inside the ticket price you advertise for your event, but the "booking" fee is not.
The "booking" fee applies per transaction, not on each individual ticket.

"Per Ticket" or "Inside" Fee:
As part of the online ticketing service Midsumma Festival will retain the following amounts per ticket sold through our ticketing system:
Inside Fee = $0 for ticketed-free events 
Inside Fee = $3 for tickets that are priced between $5 – $15.99*
Inside Fee = $3.50 for tickets that are priced between $16 – $35.99
Inside Fee = $4 for tickets that are priced between $36 - $65.99
Inside Fee = $4.50 for tickets that are priced $66 +
*The minimum ticket price is $5 (standard $3 ticket fee to Midsumma + $2 per ticket to you).
Example Ticketing Fees
Confused? This example might help:
If you require $15 from your ticket for your budgeted sales income, your advertised ticket price should be $18.50 ($15 to you and $3.50 commission to Midsumma Festival).
The prices you nominate during registration, and advertise to the general public, must include the inside 'per ticket' fee. As this is scaled, it is important to allow for concession prices or other variants. For example, your full price ticket may be $25 ($3.50 to Midsumma / $21.50 to you) but your concession price might be $15 ($3 to Midsumma / $12 to you).
Still unsure? Contact [email protected] if you have any questions relating to setting your ticket price.
Booking Fee
Midsumma charges a $5.25 booking fee per purchase, regardless of the number of tickets in the transaction. The ticket purchaser, not the Producer, pays this. This covers the administration of the ticketing system.
Ticketing Matrix
Use this Ticketing Matrix to work out ticketing fees, costs and profit. If you need a hand working through the sheet feel free to email us at [email protected] and we will be happy to assist. 
GST
All Midsumma booking fees, transaction fees and tickets sold include GST unless stated otherwise.
Your event's ticketing will be remitted within five working days of the completion of your event / season or after any refund issues are resolved (for example if you have had to cancel a session of your season and customers have already purchased tickets), and only if the bank account details you provide during event registration are correct. 
Door Sales
You'll need to arrange your own box office at the venue for door sales. Tickets will go off-sale through the Midsumma Festival website one hour before your event start time, ready for you to start selling tickets at your venue. You keep the "Per Ticket" fee for any tickets sold at the venue. Yay!
Keep a record of how many tickets you sell on the door, as we request this information at the close of the festival.
Complimentary Tickets
A complimentary ticket is a free ticket. These are usually offered to VIPs, cast, crew, etc. There are three types of complimentary tickets: Midsumma comps, Producer comps and Companion Card tickets.
Midsumma comps: These are tickets booked and used by Midsumma Festival. Midsumma requires 4% of your total capacity (or a minimum of at least 6 tickets, whichever is larger) to be made available as complimentary tickets across the season. This is 4% across the event's season to be used for Midsumma sponsors, board members, management, producing partners and patrons. 
Producer comps: You can allocate up to 10% of your total Midsumma ticket allocation as comps for your cast, crew, media reviewers and anyone else you want to attend your event. You may be charged additional fees for any amount over this 10%.
Companion Card tickets. Companion Cards provide carers with a complimentary ticket to an event and, like with all concession cards, Companion Cardholders must show their card at the venue. All Midsumma Festival events must accept Companion Cards.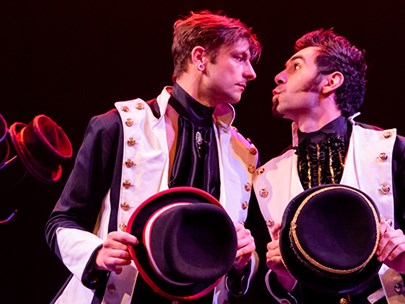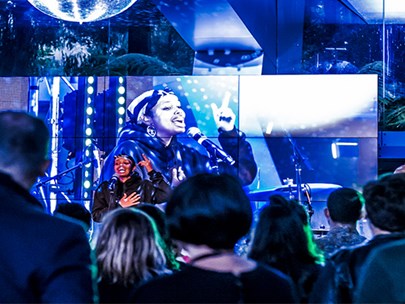 Venue Registrations
Everything you need to know about registering your venue for Midsumma Festival 2021.
Looking for something else?