Open-Access Event Registrations
Image: Rainbow Effect, Midsumma Festival 2020 by Suzanne Balding
Important updates about Midsumma Festival 2021
We are offering a 50% discount on registration fees for the first 100 events to register for Midsumma 2021.
Midsumma Festival 2021 will now fall between 19 April to 5 May 2021 with Midsumma Pride March planned to follow a few weeks later on 23rd of May. Stage one event registrations will now close on 14 Dec 2020. Stage two registrations will stay open until 7 March 2021. The full Midsumma Festival 2021 program will be launched in mid-March 2021.
Registrations Stage 1 – closing 14 Dec 2020
If you register your open-access event before 14 Dec we will include your event in the first round of our marketing campaign following the Midsumma Festival 2021 launch event.
Registrations Stage 2 – closing 7 Mar 2021
If you register your open-access event after 14 Dec but before 7 March you do miss out on being a priority listing in the first round of the Midsumma Marketing campaign that will kick off at the launch, but you will still have a dedicated listing on our website and will still be included in our campaign once your event has been processed by the Midsumma team.
* if you see our festival has started (after 19 April) and you still want to join our festival, please email [email protected]. You can register your open-access event with Midsumma Festival at any time, but we're a small team, so it may take up to five days to get you on sale and on our website. We will do our best to get you on sale and included in our marketing campaign as quickly as we can!
Registration Fee Support
To help relieve some financial challenges for artists and producers we are offering a 50% discount on registration fees for the first 100 events to finalise their registration for Midsumma 2021. This discount is limited to two events per producer. Once your event is finalised in Eventotron, email [email protected] and we'll organise your discounted fee. 
Don't forget, we're here to help! Call us on 03 9296 6600 or email [email protected]
Read more about our date change HERE
Keep up to date with Midsumma COVID-19 Updates
Watch our online Updates and Registration Info Session 
Register your event for Midsumma Festival 2021
Midsumma Festival is open access, which means that anyone can register to be part of the festival!
Want your event to be part of Midsumma Festival 2021? There are five steps to registering an event with us, and we're here to assist you EVERY step of the way:
Auslan Interpreted Midsumma Festival 2021 Event Registration Process


Credits: Interpretation by Elvin Lam (pictured) and Ntennis Davi.
Videography and editing by Andrew Davies.
Please note: the video above refers to the previous registration closing date of 24 August. This is now incorrect as registrations are now open until 7 March.
ESSENTIALS
Read on for everything you need to know about presenting an event as part of Midsumma Festival 2021.
TICKETING
Midsumma Festival is again working with Eventfinda as the ticketing system portal for the 2021 festival. All ticketed Midsumma Festival events (free and priced) must have 100% of their event capacity sold through the Midsumma Festival ticketing system (unless otherwise approved by Midsumma).
Free-ticketed events
"Free-ticketed events" are events that are free of charge but require audiences to register or book. If this is your event, it needs to be ticketed through Midsumma Festival's ticketing system so that festival audiences are able to book for all Midsumma events from the one central location. This comes at no extra cost to you or your audience. There are no "Booking" fees for "Free-ticketed events".
Allocated Seating
There is no charge for allocated seating. However, we will need to work with you to build a seating plan in the ticketing system. Speak to us to discuss via [email protected]. But seriously, general admission is always easier for you to manage and for audiences to book, so we would only recommend allocated seating if you have to.
Ticketing Fees

Ticketing fees are paid for by audiences. It is their contribution to making Midsumma Festival possible. Midsumma charges two different fees: a "per ticket" fee and a "booking" fee.
The "per ticket" fee is included inside the ticket price you advertise for your event, but the "booking" fee is not.
The "booking" fee applies per transaction, not on each individual ticket.

"Per Ticket" or "Inside" Fee:
As part of the online ticketing service Midsumma Festival will retain the following amounts per ticket sold through our ticketing system:
Inside Fee = $0 for ticketed-free events 
Inside Fee = $3 for tickets that are priced between $5 – $15.99*
Inside Fee = $3.50 for tickets that are priced between $16 – $35.99
Inside Fee = $4 for tickets that are priced between $36 - $65.99
Inside Fee = $4.50 for tickets that are priced $66 +
*The minimum ticket price is $5 (standard $3 ticket fee to Midsumma + $2 per ticket to you).
Example Ticketing Fees
Confused? This example might help:
If you require $15 from your ticket for your budgeted sales income, your advertised ticket price should be $18.50 ($15 to you and $3.50 commission to Midsumma Festival).
The prices you nominate during registration, and advertise to the general public, must include the inside 'per ticket' fee. As this is scaled, it is important to allow for concession prices or other variants. For example, your full price ticket may be $25 ($3.50 to Midsumma / $21.50 to you) but your concession price might be $15 ($3 to Midsumma / $12 to you).
Still unsure? Contact [email protected] if you have any questions relating to setting your ticket price.
Booking Fee
Midsumma charges a $5.25 booking fee per purchase, regardless of the number of tickets in the transaction. The ticket purchaser, not the Producer, pays this. This covers the administration of the ticketing system.
Ticketing Matrix
Use this Ticketing Matrix to work out ticketing fees, costs and profit. If you need a hand working through the sheet feel free to email us at [email protected] and we will be happy to assist. 
GST
All Midsumma booking fees, transaction fees and tickets sold include GST unless stated otherwise.
Your event's ticketing will be remitted within five working days of the completion of your event / season or after any refund issues are resolved (for example if you have had to cancel a session of your season and customers have already purchased tickets), and only if the bank account details you provide during event registration are correct. 
Door Sales
You'll need to arrange your own box office at the venue for door sales. Tickets will go off-sale through the Midsumma Festival website one hour before your event start time, ready for you to start selling tickets at your venue. You keep the "Per Ticket" fee for any tickets sold at the venue. Yay!
Keep a record of how many tickets you sell on the door, as we request this information at the close of the festival.
Complimentary Tickets
A complimentary ticket is a free ticket. These are usually offered to VIPs, cast, crew, etc. There are three types of complimentary tickets: Midsumma comps, Producer comps and Companion Card tickets.
Midsumma comps: These are tickets booked and used by Midsumma Festival. Midsumma requires 4% of your total capacity (or a minimum of at least 6 tickets, whichever is larger) to be made available as complimentary tickets across the season. This is 4% across the event's season to be used for Midsumma sponsors, board members, management, producing partners and patrons. 
Producer comps: You can allocate up to 10% of your total Midsumma ticket allocation as comps for your cast, crew, media reviewers and anyone else you want to attend your event. You may be charged additional fees for any amount over this 10%.
Companion Card tickets. Companion Cards provide carers with a complimentary ticket to an event and, like with all concession cards, Companion Cardholders must show their card at the venue. All Midsumma Festival events must accept Companion Cards.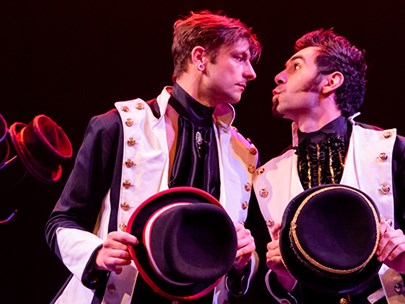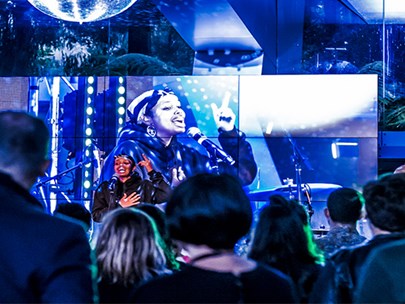 Venue Registrations
Everything you need to know about registering your venue for Midsumma Festival 2021.