Midsumma Pride March by J Forsyth
Midsumma Pride March will return to Fitzroy Street St Kilda on Sunday 6 February. 
Parade, pride and party come together once a year in Melbourne's iconic march celebrating solidarity in gender and sexuality diversity. A chance to tie up your bootlaces or throw on your heels, and join the spectacular act of unity that is Midsumma Pride March. Whether you join the fanfare by foot or by wheel, with workmates or with family, with friends or with lovers, as ally or as queer, Midsumma Pride March is for you.
Midsumma Pride March will be held one week before Melbourne Pride.
Midsumma Pride March is one of our signature events, where over 8,000 marchers usually take to the streets down Fitzroy Street in St Kilda each year. 45,000 people line the streets and balconies along the march route to show their support. Dykes on Bikes precede the marching contingent as per tradition, with the march itself led by Boon Wurrung Elders and a Rainbow Aboriginal Float along with the Premier of Victoria, Minister for Equality and the Creative Industries and Commissioner for Gender and Sexuality.
Hundreds of young people, often amongst the most vulnerable within our communities, are placed towards the front of the march as a positive and strong affirmation for LGBTIQA+ youth.
At the conclusion of the march, attendees are led into Catani Gardens for celebrations and entertainment including DJs and live performances. Catani Gardens is open and free for all to attend and join the pos-march celebrations, you will just need to QR code into the event area.
Midsumma continues to work with the State Government to determine the safest way to deliver the event, and recommends for the safety of you, other attendees and event staff, that you wear a face-mask whenever physical distancing is not possible, to protect yourself and others around you. Please do not attend should you be presenting any symptoms of COVID-19. In that case you should get tested and isolate immediately. 
Midsumma Pride March is a community celebration where our many communities, and our allies, can all come together to celebrate who we are and what we've achieved. The Accessible Viewing Area will be operating as usual, though with appropriate COVIDSafe practices in place.
Getting There
There are accessible drop-off areas for both marchers and those watching - see below for details. Note though that the accessible drop-off area for those watching is only available until 10:30am, and there will be extensive road closures in the precinct - see Midsumma Pride March - Getting There for details of the road closures.
Accessible Viewing Area
The accessible viewing area will be located at tram stop 134 - no trams will be servicing that stop during the march, and volunteer marshals will be on hand to keep sight lines to the parade as clear as possible. Registration required via the Midsumma Pride March - Register for Accessible Viewing Area form.
Wheelchair Access within the Precinct
Fitzroy Street and Catani Gardens are wheelchair accessible. The Ian Johnson Oval marshalling area has some accessibility challenges, so a special Accessibility Marquee will be provided beside the starting point of the parade. People with personal mobility devices can assemble there and join their group as the group commences marching.
The grass will be cut low for easier wheelchair access and low-hanging tree branches removed in these parks, but take extra care to avoid any temporary obstacles on the day in these busy public spaces.
Specific wheelchair facilities provided are:
Accessible Drop-off Point for WATCHING (this is close to the Accessible Viewing area): Park Lane and West Beach Road until 10:30am.

Enter via Park Lane and turn left into West Beach Rd.
Note that no parking is available - this is a drop-off zone only.
Volunteers will be available to assist.

Accessible Drop-off Point for MARCHERS: Canterbury Rd near Mary St.
Accessible Assembly Point: beside the start of the parade route, between Fitzroy Street and Ian Johnson Oval.
Accessible Viewing Platform: located at tram stop 134 on Fitzroy Street, between Park Lane and Loch Street. Registration required via the Midsumma Pride March - Register for Accessible Viewing Area form.
Wheelchair Lift: available at the stage.
Accessible Toilets: all toilet blocks at the Ian Johnson Oval and in Catani Gardens include accessible toilets.
Hearing Access
Accessible Viewing Platform: volunteer marshalls will be on hand to assist as needed.
Volunteer Briefing: the briefing will be Auslan interpreted.
Catani Gardens Stage: all official proceedings will be Auslan interpreted.
For information about accessibility facilities across the festival, see Access Information.
For a comprehensive description of Midsumma's COVIDSafe Plan, please see Being COVIDSafe at Midsumma Festival or download MFI_COVIDSafe Plan V4.1: 8 February 2022 (PDF 1.4 MB). For a summary of the key features of the plan that are relevant to Midsumma Pride March, please see below.
Overview
Midsumma Pride March will return to Fitzroy St, St Kilda on Sunday 6 February 2022. Once again marchers will marshal in Ian Johnson Oval, before proceeding down Fitzroy St in a parade of solidarity and concluding in Catani Gardens.
The following information may change depending on COVIDSafe directions from the Victorian Government.
All march participants must pre-register their group and advise Midsumma of the number of march participants for their contingent. Prior to event day, each group must have a representative attend the Participant Information Briefing. On the day each participant will be required to check-in via QR Code and show proof of vaccination of COVID-19 or a valid exemption before entering Ian Johnson Oval's fenced site. Midsumma event staff, volunteers and contractors will be managing the queues. Sanitiser stations will be provided throughout and COVIDSafe signage will be in place. 
Participant Registration: All march contingencies are required to register their group via the Midsumma website and include the number of participants in their group.
Participant Sign-In Procedure: At Ian Johnson Oval, all marching participants will be required to check in via QR code, show proof of COVID-19 vaccination or a valid medical exemption and then will be wrist banded. Entry to site will be from Fitzroy Street alongside the St Kilda Bowls Club carpark with a smaller secondary entrance off Lakeside Drive.
Face Masks
While attending an event that has 30,000 or more patrons present, you must wear a mask, unless you are seated outdoors at the event. We do not anticipate that at any one time we will have more than 30,000 people in the one location, however we recommend that you wear a mask for your safety and others around you. Midsumma strongly recommends that while you're marshalling at Ian Johnson Oval or unable to be socially distant, you wear a face mask for the safety of yourself, event personnel and the other march participants.
Event Personnel
All event personnel must complete an online induction that includes COVIDSafe policy and procedure. All personnel will be required to sign-in to their allocated shift and check in via contact tracing solution at each site, Ian Johnson Oval and Catani Gardens. This is to ensure they can be contacted via the relevant parties should contact tracing need to occur. All personnel will be encouraged to wear appropriate PPE or adhere to the current Victorian Government requirements.
Contact Tracing: Participants will be asked to sign in via a contact tracing QR code as they wait in socially-distanced lines for registration upon arriving at Ian Johnson Oval. We will also provide paper-based contact tracing options for those without the relevant technology to access online check-in to be updated. As per government regulations, Midsumma Festival is using the Service Victoria QR Code Contract Tracing solution.
Area Wardens
Area Wardens will oversee all operations at Ian Johnson Oval, Fitzroy Street and Catani Gardens and will have 2-way radio communication with the Event Operation Centre. The Area Wardens will have authority to direct the COVIDSafe Marshals and Security as required.
First Aid
Colbrow Medics have been contracted to manage Midsumma Pride March. There will be First Aid Facilities available on-site including roving officers. Isolated COVID-19 First Aid screening locations will be on-site at both Ian Johnson Oval and Catani Gardens should anyone present with symptoms, with a plan in place for follow-up and contract tracing. 
Toilets and Bathrooms
There will be a range of temporary toilet blocks including accessible toilets at Ian Johnson Oval and Catani Gardens. Users must use these one at a time and practice good COVIDSafe practices including physical distancing whilst waiting and when using them. Hand washing stations are located within each toilet as well as sanitiser stations at the facilities.
Cleaning
CIA Waste Management have been contracted to supply all cleaning and waste removal requirements and have extensive experience of working at large scale events. There will be a strong focus on:
High frequency touch points on site; including tables & chairs, bin lids, sanitizer stations, push buttons, water station taps
Bathrooms/Toilets; including doors, flush buttons, basins, taps, walls
Completion of cleaning logs
Hand sanitiser
Hand sanitiser stations will be located at entrances, exits, toilet queuing, stalls and sponsors & food trucks at both Ian Johnson Oval and Catani Gardens.
Signage Plan
Adequate signage outlining COVIDSafe principals and directional site signage will be on display throughout the event site.
Midsumma Pride March is a big event with road closures, limited parking and changes in public transport.
Parking
Due to the congestion caused by Midsumma Pride March, and the size of the event, there will be less parking than what is normally available in the precinct. Midsumma highly recommends taking public transport or cycling to the event. Another option could be to park some distance away and catch a tram (e.g. park near MSAC and catch the 96 tram to St Kilda Station). If you are unable to catch public transport, surrounding options for parking include:
Palais Theatre Parking - Jacka Boulevard, St Kilda (via Carlisle/Acland Street only)
Luna Park - 23 Shakespeare Grove, St Kilda (via Carlisle/Acland Street only)
Acland Court - 158 Acland Street, St Kilda
Road Closures
There will be extensive road closures throughout the area.
Beaconsfield Parade, Marine Parade and Jacka Boulevard will be closed between Glenhuntly Rd and Kerferd Rd between 10:30am and 2.30pm approximately.
Fitzroy Street and adjoining side streets will be closed to traffic between 8am and 4.30pm approximately.
Public Transport Options
Tram
Trams will not be traveling down Fitzroy Street between 10.30am and 2.30pm, but can still be used to get you close to the March (see tram routes map).
Route 96 tram to Stop 132 (St Kilda Station)
Route 12 to Stop 143 (Park Street/Fitzroy Street)
Any St Kilda Rd tram to Stop 30 (St Kilda Junction)
Bus
Bus routes 922, 923, 606 and 600 will be affected by the event, however will be diverted to nearby temporary stops. Bus options during the Fitzroy Street closure period are:
Route 246 (Elsternwick to Clifton Hill) to St Kilda Road/Barkly Street (running as normal)
Route 623 (Glen Waverley to St Kilda) to Luna Park/The Esplanade via Carlisle Street (running as normal)
Route 606 (Fishermans Bend to Elsternwick Station) will terminate at Mary St (during the closure, no service between Mary St and Elsternwick Station)
Route 600/922/923 (Southland Shopping Centre to St Kilda via Sandringham) will run as normal but will not service the last two stops (St Kilda Station or Robe/Grey St).
See Bus Diversions: routes 600, 922 & 923 (PDF 414 KB).
Getting there from Train Stations
From Balaclava Station: Tram 3/3a or 16 to Stop 30 (St Kilda Junction)
From Caulfield Station: Tram 3/3a to Stop 30 (St Kilda Junction)
From Elsternwick Station: Tram 67 to Stop 30 (St Kilda Junction) or Route 246 bus to St Kilda Rd/Barkly St
From Flinders Street Station: Tram 3/3a, 5, 16, 64 or 67 to Stop 30 (St Kilda Junction)
From Southern Cross Station: Tram 96 or 12 to Fitzroy Street
From Windsor Station: Tram 5 or 64 from Stop 32 (Dandenong Rd) to Stop 30 (St Kilda Junction), or walk (15-20 minutes).
Cycling
The Fitzroy Street cycling path will be closed during Midsumma Pride March, but the Bayside Trail will be unaffected. The best alternatives to the Fitzroy Street path are shown on the Cycling During Midsumma Pride March map. The easiest and safest route is via Cowderoy St which links the Bayside Trail (at Pier Rd) to Canterbury Rd and the Western Bike Path. Alternatively, follow Cavell, Carlisle and Barkly Streets, which link the Bayside Trail to St Kilda Rd.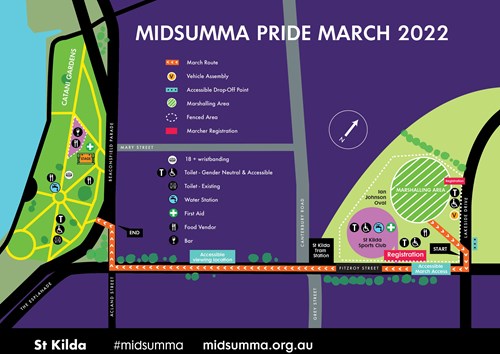 Download the Midsumma Pride March 2022 MAP (PDF 171 KB) >>
Marchers' Assembly: At the Ian Johnson Oval on the corner of Lakeside Drive and Fitzroy St - see Participant Drop Off Area map (PDF 431 KB).
Vehicle Assembly: Lakeside Drive (next to the Ian Johnson Oval) - see Vehicle Marshalling Area map (PDF 10.4 MB) and Motor Cycle Participants Entry map (PDF 727 KB).
Marching Route: Proceeds down Fitzroy St and ends in Catani Gardens, St Kilda - see above map.
End of March: Marchers will turn right and enter Catani Gardens via the pedestrian crossing. Vehicles will turn right onto Beaconsfield Parade.
Road Closures Overview: see the Road Closures and Supplier Access map (PDF 432 KB)
Maps - Getting There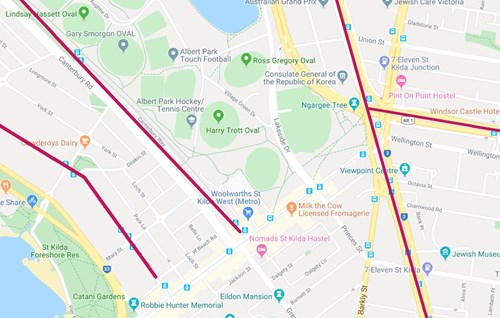 TRAM ROUTES: The red lines indicate where trams will be running throughout the event, even while Fitzroy Street is closed for the March.
Open larger Tram Access Map >> (Google map)
BUS Diversions: routes 600, 922 & 923 >> (PDF 413 KB)
CYCLING routes during Midsumma Pride March >> (Google map)
Groups are assembled together into sections called "waves" according to similar areas of interest or themes.
Marchers with special needs or living with disability are placed early in the march, since a long wait or lengthy exposure to the elements would adversely affect their health.
Non-queer identifying businesses and organisations showing pride are very welcome, but they do not march ahead of queer advocacy and diverse gender and sexuality (DGS) representative groups. No non-queer identifying corporate businesses (even if they are Midsumma Festival partners) pay to be a part of the march nor do they get to march ahead of queer not-for profit groups.
Some placement is determined by Main Stage call times, to get artists and crew to Catani Gardens in time to perform at the post-Pride Celebrations.
Some contingents request a late start time and don't mind being towards the end.
Over 40,000 people line the streets to support the march each year and the march needs to be as exciting as possible in every wave, not just at the start. The final marching contingents are just as important as the first.
The balance of the remaining contingents are organised based on volume of sound clashing, vehicle/pedestrian safety or significant placement history.
The Midsumma team always marches last.
Midsumma Festival spends considerable time curating the march to be as fair as possible and can only enter into conversation about line-up requests with non-profit queer organisations that may from time to time express interest in marching with particular other non-profit queer organisations.
The Catani Gardens stage will operate from 11am to 4pm.
EMCEE: Lou Wall
11:30am: DJ JARV!S
01:30pm: Official Proceedings
01:45pm: The Merindas
02:15pm: Annoucement of Pride March Award winners
02:25pm: Harlow and Hart
02:55pm: DJ JARV!S
04:00pm: Stage closes
Is food available?
Both the Ian Johnson Oval (marshalling area) and Catani Gardens (post-pride celebrations) will have food options to appeal to all. Fitzroy St and surrounds are also home to fantastic cafes and restaurants.
Can I BYO alcohol to Midsumma Pride March?
The City of Port Phillip prohibits drinking or holding an open container of alcohol along the St Kilda foreshore precinct from 1 November to 31 March inclusive. Midsumma Festival has a special licence to provide alcohol within the Midsumma-operated bar in Catani Gardens until 4pm on Sunday 6 February, but no BYO alcohol is permitted.
Can I join the end of the Pride March?
Yes, at the conclusion of the March, the General Public are invited to follow the final marchers into Catani Gardens.
How do I register to march?
Registrations for Midsumma Pride March have now closed. Due to the extensive planning that takes place in the lead-up to Pride March, we cannot accept registrations on the day to march. Subscribe to the Midsumma eNews to hear about registrations for future Pride Marches.
How do I stay cool at Midsumma Pride March?
As Midsumma Pride March is held in the middle of summer it is important to remember to Slip, Slop, Slap and stay hydrated. BYO bottle and refill at our free water stations located at both the Ian Johnson Oval (assembly area) and Catani Gardens (post-pride celebrations).
Are pets allowed?
Pets are welcome at Midsumma Pride March. As the event is held in an outdoor space in the middle of summer, we highly recommend taking the necessary precautions to ensure your pet is protected from the heat and stays hydrated. With all that in mind, the safest place from extreme heat for your pet is at home.
Can I film/ photograph/ interview people?
If you are working for a media organisation and intend to use film, photography or interviews of participants or performing artists for content, please get in touch with Felicity McIntosh, Midsumma's Marketing Manager, at [email protected] to request Media Accreditation.
If you are capturing memories for personal use or your personal social media posts, we ask you to please be respectful and ask permission of your subjects before doing so.
When is Midsumma Pride March?
Midsumma Pride March usually occurs in late January or early February. Dates for the upcoming festival are listed in Midsumma Festival Dates each year as soon as they have been locked in (which usually happens in late February or March). 
Why does the march start at 11am?
Because Midsumma Pride March occurs usually in summer, the possibility of extreme heat conditions on the day of the march is always present. In order to minimise the risk to the health and well-being of marchers, volunteers, staff and crowd members should extreme heat conditions prevail, we have moved the march forward to 11am.
Why are corporations involved in Midsumma Pride March?
Many corporations and businesses participate in Pride Marches across the world. The two most common reasons that businesses participate in Midsumma Pride March are to empower their LGBTQIA+ employees to show Pride and feel safe within their workplace, and to demonstrate to the general public that their business is queer-friendly.
Businesses will not march ahead of queer advocacy and gender-and-sexuality-diverse-representative groups. Midsumma Pride March is not sponsored by a commercial business, and no businesses pay to be part of Midsumma Pride March.
Why are Police at Midsumma Pride March?

Victoria Police have an official presence at Midsumma Pride March, and a contingent in the march – the LGBTIQ+ Liaison Officers and Vic Police march group, is for Victoria Police employees who identify as LGBTAIQ+ and their allies.
As with all Victoria's large-scale events, organised protests and parades, police officers are present as part of the event permit, and to deal with external threats of terrorism, or any situation that may become unsafe for event attendees.
What is Midsumma's role in organising Midsumma Pride March?
In 2015 Midsumma become the custodians of Victoria's Pride March when the body Pride March Victoria, who had organised the March since its inception, folded. As Victoria's leading Festival for and by LGBTQIA+ peoples, Midsumma is proud to deliver this vital event, which takes year-long planning and significant resourcing. Midsumma is always looking for ways to improve it in response to Victoria's diverse, dynamic and ever-growing queer communities. We welcome feedback about Midsumma Pride March!
Is Midsumma Pride March family friendly?
Midsumma Pride March is a family friendly event that appeals to individuals of all ages. Families are warmly welcome to participate in the March. However, parental or guardian discretion is advised: Pride March celebrates diverse genders and sexualities so the march does contain references to sex, and you will see the odd bare bottom.
As our pets are often considered family too, please make sure you can keep them safe, otherwise plan to leave them at home. 
What measures are taken to protect the environment?
Midsumma Pride March is a large event - having so many people gathered in a relatively small space has the potential to seriously damage the environment. Some of the measures taken to reduce that impact include the following:
Dedicated recycling bins are located at both the Ian Johnson Oval and Catani Gardens, and are regularly cleared throughout the event
Hydration stations are provided to promote the use of refillable water bottles (and to encourage participants to keep well hydrated)
No glass is allowed into the venue, to minimise the possibility of broken glass 
No balloons or streamers are allowed
Electricity is provided via mains power or bio-diesel generators
Food traders only use biodegradable products (no single use plastic)
Volunteers and staff members are provided with refillable water bottles to be refilled at the hydration stations
Local traders along Fitzory Street, St Kilda, will be once again celebrating with our LGBTQIA+ communities on Sun 6 Feb, so make sure you pop in to say hi and maybe tuck in for a snack when the March is over. See all Viewing Venues.
Event & ticketing details
Accessibility
Dates & Times
| | |
| --- | --- |
| WHEN | Sun 6 Feb 11:00am |
| DURATION | 3.15 hrs |
Location
Fitzroy Street, St Kilda
Fitzroy St and Catani Gardens, St Kilda
Get directions
Tram
12 to stop 143 | tram 96 to stop 132 | any St Kilda Rd tram to St Kilda Junction
You might also be interested in...