Still Here, Still Queer: Portraits of a Pandemic by Lian Beveridge

This piece was commissioned by Midsumma as part of the COVID-19 responsive initiative Living in the Queerantine. Midsumma launched the small grants program as a response to the mass loss of the Melbourne queer arts industry (due to COVID-19). This piece is part of a series of works from our LGBTQIA+ arts community, that gives Midsumma audiences an insight into queer art during the COVID-19 pandemic in 2020.
A series of watercolour portraits which offer an intimate peek into the daily lives of queers doing all the weird and wonderful things we're doing during this strange and difficult time. - Lian Beveridge
Miranda and Alice
Miranda and Alice are two queers with a small dog and an experimental vegan kitchen blasting Lizzo. This snapshot of frustration shows the endless testing of audio equipment and video recording software that they needed to sort out to be able to work from home. The portait also shows Miranda's G Violone, Medusa, which is a six-stringed fretted baroque bass instrument most popular in Germany in the 1600s. 
Alice (left) has been enjoying cross stitch, good neighbours, and having fun with her girlfriend. She has struggled with the crazy multitasking challenge of teaching online with a brain injury. Miranda has been enjoying sleeping, nesting, and putting her energy towards her small family unit. She has at least three new favourite biscuit recipes. She has struggled with work, online communication, isolation, and the lack of horizons for perspective. They've been enjoying video chats with friends and deliveries from Hares & Hyenas.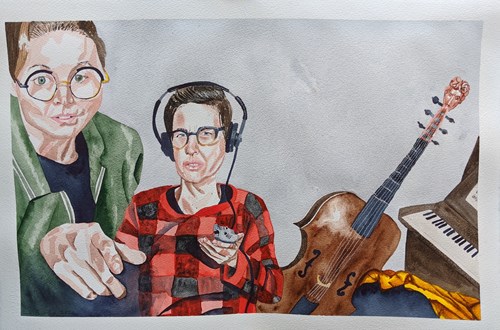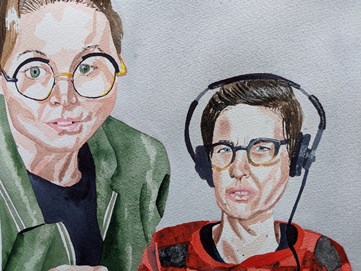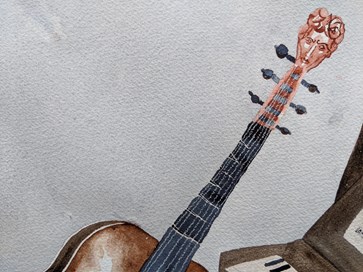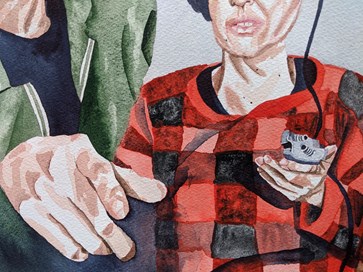 Shamini
Shamini is working on their lock-picking skills by picking a clear practice lock using a torsion wrench and small hook. They love inspiring different quirky hobbies in people during this time where people are looking for mental distractions. They have also learned to cook many traditional Singaporean dishes and sweets that fill them with comfort and nostalgia. 
Shamini has found not being able to see their closest friends very hard, and being unable to help their interstate family is a massive source of anxiety. However, they have also felt less pressure to bind their chest, and they have been able to wear essentially the same thing every day. They basically love that!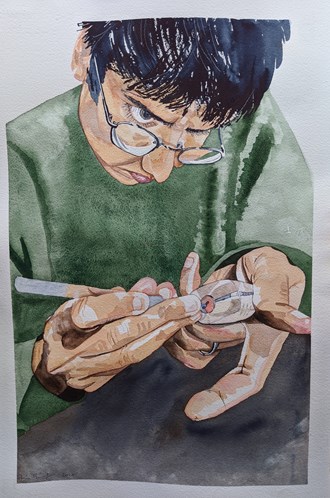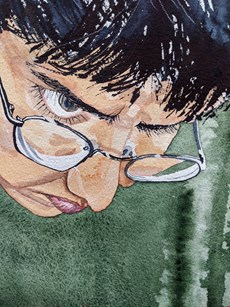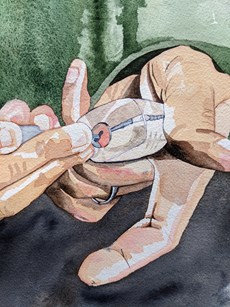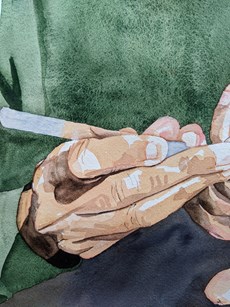 Tack
Tack is doing a "stretch and fold" on a sourdough. Every hour or two, they oil up their hands, then stretch the dough before doing a letter fold (rolling it into three layers), then repeat. It's supremely sensual and satisfying. Their Mum bakes the best bread in the world and they've always said "I just didn't have the time" for sourdough. They love that they now *do* have the time. It's been a real bonding thing for Tack and their mum!
Tack has found conversations around people's differing isolation versus connection needs challenging. They live in a sharehouse, as does their partner, so they need to discuss their own needs and those of their housemates, and all their housemates are having those conversations with their partners who are having those conversations with their partners and their housemates. It's a fractal nightmare of honest communication where needs can change daily.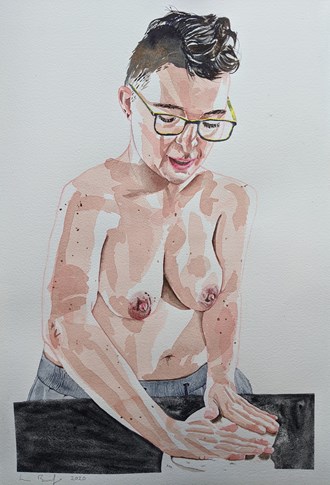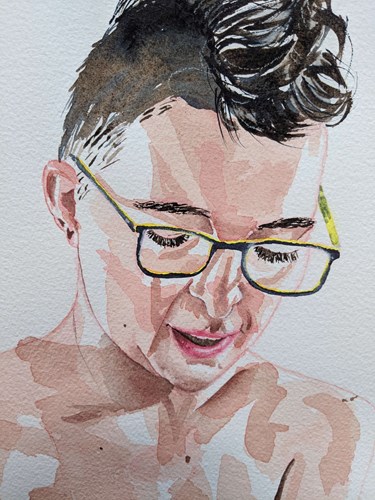 Katie
Katie savours a moment in the sunshine with a delicious donut and a cup of coffee. They are taking a break from a wildly chaotic and overwhelming time of pandemic parenting, healing from injury, and uncertainty. They have struggled with parenting without the usual community support but found strength in learning to ask for and accept help. They have stayed connected to the queer community through social media, distance walks, and mutual care and support agreements with another local queer family. Their six-year-old took the photo this portrait was based on!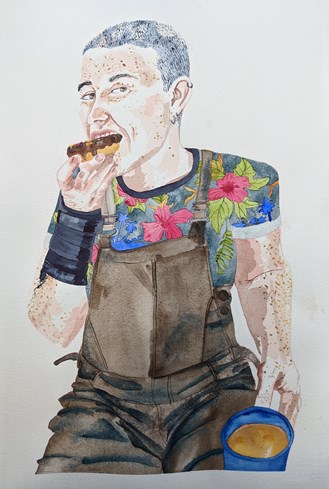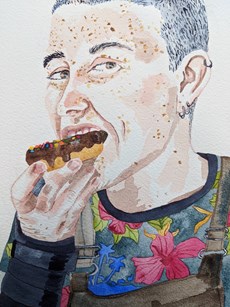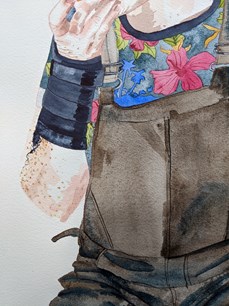 Matsui
Matsui has found it hard being separated by a closed border (US/Canada) from loved ones, including their long term partner and a newer but important relationship. 
As a person of colour they're a lot more concerned with the immediate and long term impacts of racism than they are about isolation. COVID has created a major increase in anti-Asian violence in their community, and as a counsellor they also support other people of colour who are dealing with increased direct and systemic racism. White supremacy is pushing back against the increase in Black and Indigenous resistance, and while there's more lip service given to being anti-racist right now, they know we're a long way from the change we need.
While they are finding they have a lot less energy or inclination to connect to community as a whole, connections with QTIBIPOC people are giving them life and hope.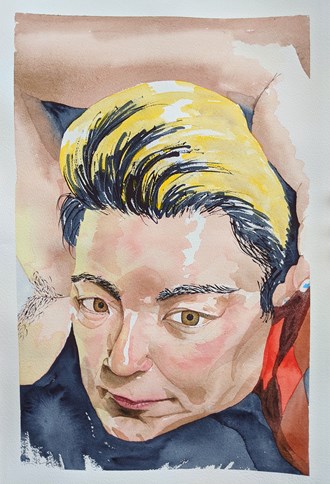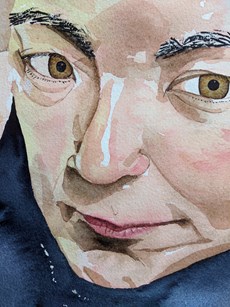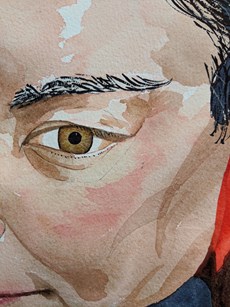 Quvi
Quvi sits on the front steps of the first home he and his husband "bought", as settlers on Penelakut territory. He is part of a two registered nurse family and the feeling of being home, away from work, was really important. The main queers in his life are also in his inbox, and the contrast between the queer world and his work world, which is the only place he saw people in person, was at times extreme. 
This photo was taken by his three-year-old child Iris. He is hoping this is the face she sees whenever she looks to him.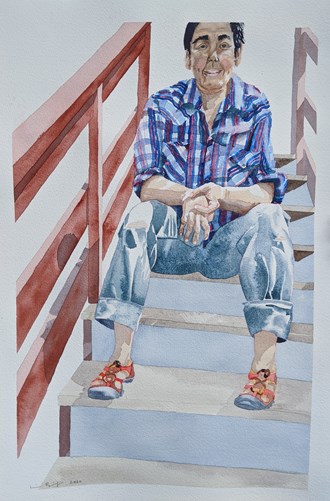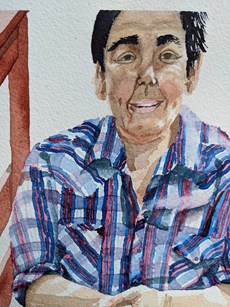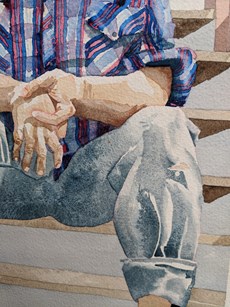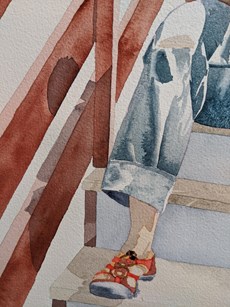 Nadia
Nadia is doing a lat pulldown as preparation for powerlifting training. Training has kept her sane during iso. She loves lifting because it requires/allows her to let go of everything else and focus just on being present, on her breath, her posture, and how it feels to move in this body as it is now. When she's training, she doesn't have time or space for distractions, worries, insecurities, and all the millions of other things that are normally bouncing around in her head. 
She also hasn't given up on her goal to lift at least 100kg this year either, and that has helped keep her motivated to show up for training regularly.
The what-ifs of the pandemic are what gets her. Her family is being careful, but exposure to COVID-19 feels almost inevitable in Pakistan, and she worries about what will happen to them. She can't go to them and they can't come here, and she has no idea when - or if - that will change.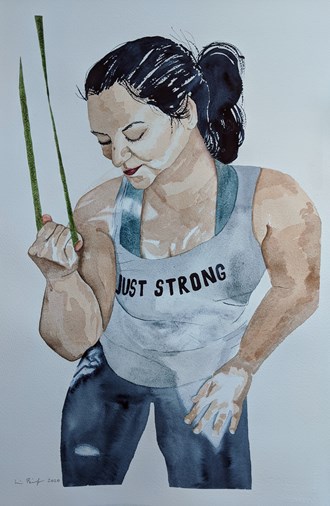 Nic
Nic is chilling out with her bunnies in the hammock. The best thing that has come out of iso is she has learned to relax in time alone, and bunny time was a big part of that journey. It has been great to reflect, and to learn to trust herself in challenging situations.
Nic has embraced online activities, including Zoom cook ups, family dinners, dance classes, and backgammon tournaments with her dad. While working in an essential service meant that she still had the opportunity to see people face to face, she has struggled with working in the community and the level of risk that entails.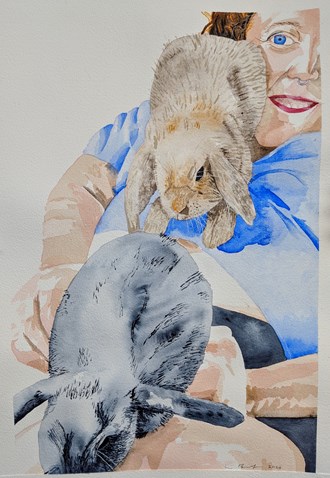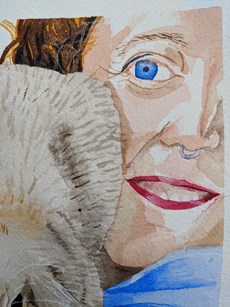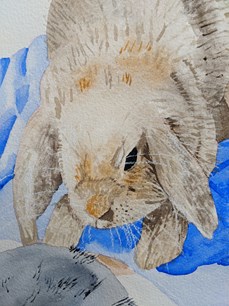 Follow the links to find out more about the initiative Living in the Queerantine and to see all of the successful grant applicants. Or visit the Midsumma Blog for more Queerantine works by Midsumma artists.
Or visit the links below to follow Lian ~

@lian_paints