Queer histories by Simon Welsh
This piece was commissioned by Midsumma as part of the COVID-19 responsive initiative Living in the Queerantine. Midsumma launched the small grants program as a response to the mass loss of the Melbourne queer arts industry (due to COVID-19). This piece is part of a series of works from our LGBTQIA+ arts community, that gives Midsumma audiences an insight into queer art during the COVID-19 pandemic in 2020.
"I wanted the work to possess symbols of sexuality, celebration, power and freedom to be whoever you want" - Simon Welsh
My collage practise had me focus on historic art figures and explored the way the lgbtqi+ experience can be represented today. I wanted to free these figures from their existing roles (mother, warrior, scholar, grieving widow etc.) and bring them into the queer landscape either by changing their expected roles, behaviour in society or masc and femme representations.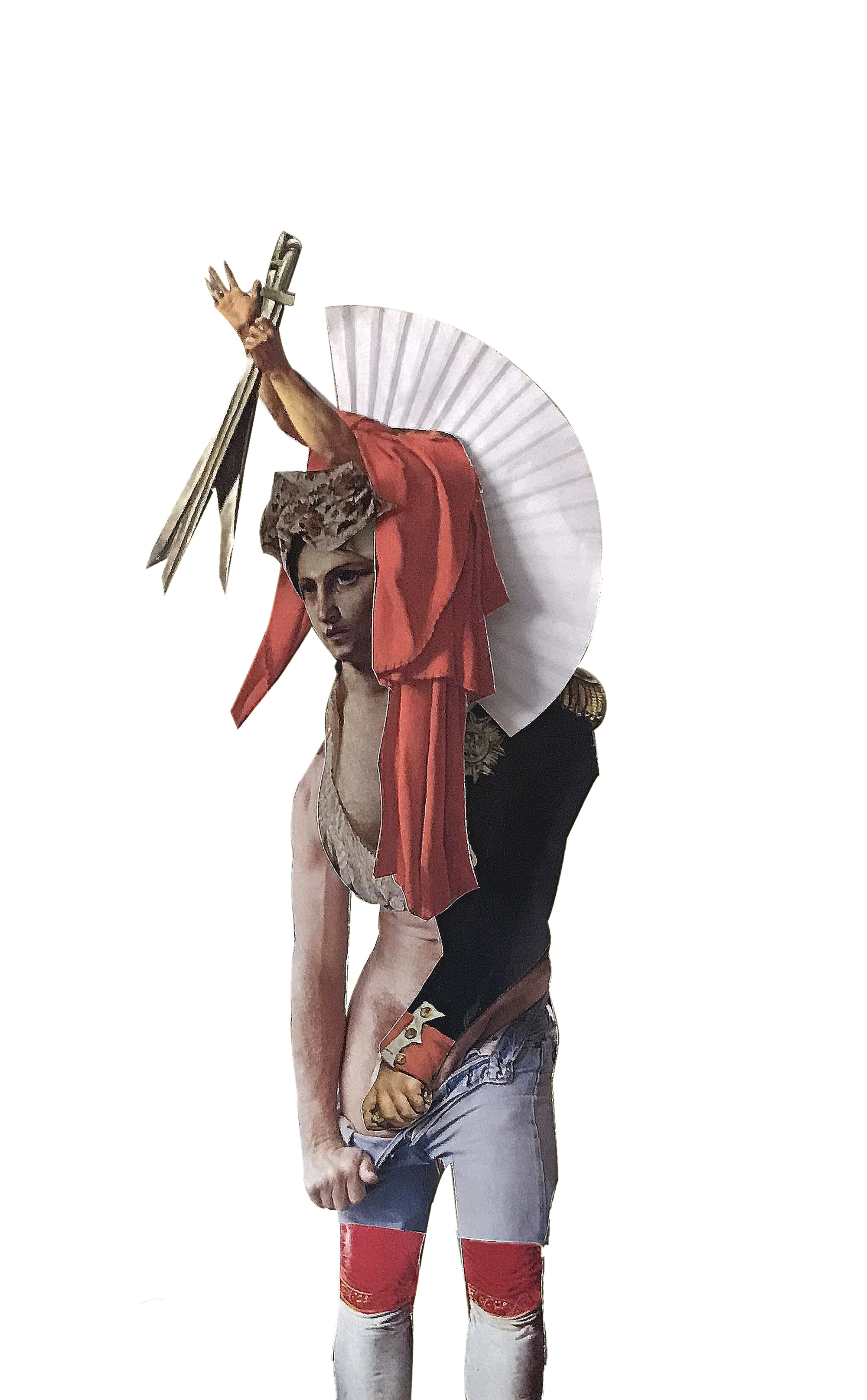 DICKTATOR: Sometimes I think men just need to think with their heads instead of their dicks. Men in positions of power need to change their antiquated outlook on modern problems. I merged hyper masculine forms from porn, historical leaders and warriors. Put your dick away and lay down your weapons – it's time for dialogue.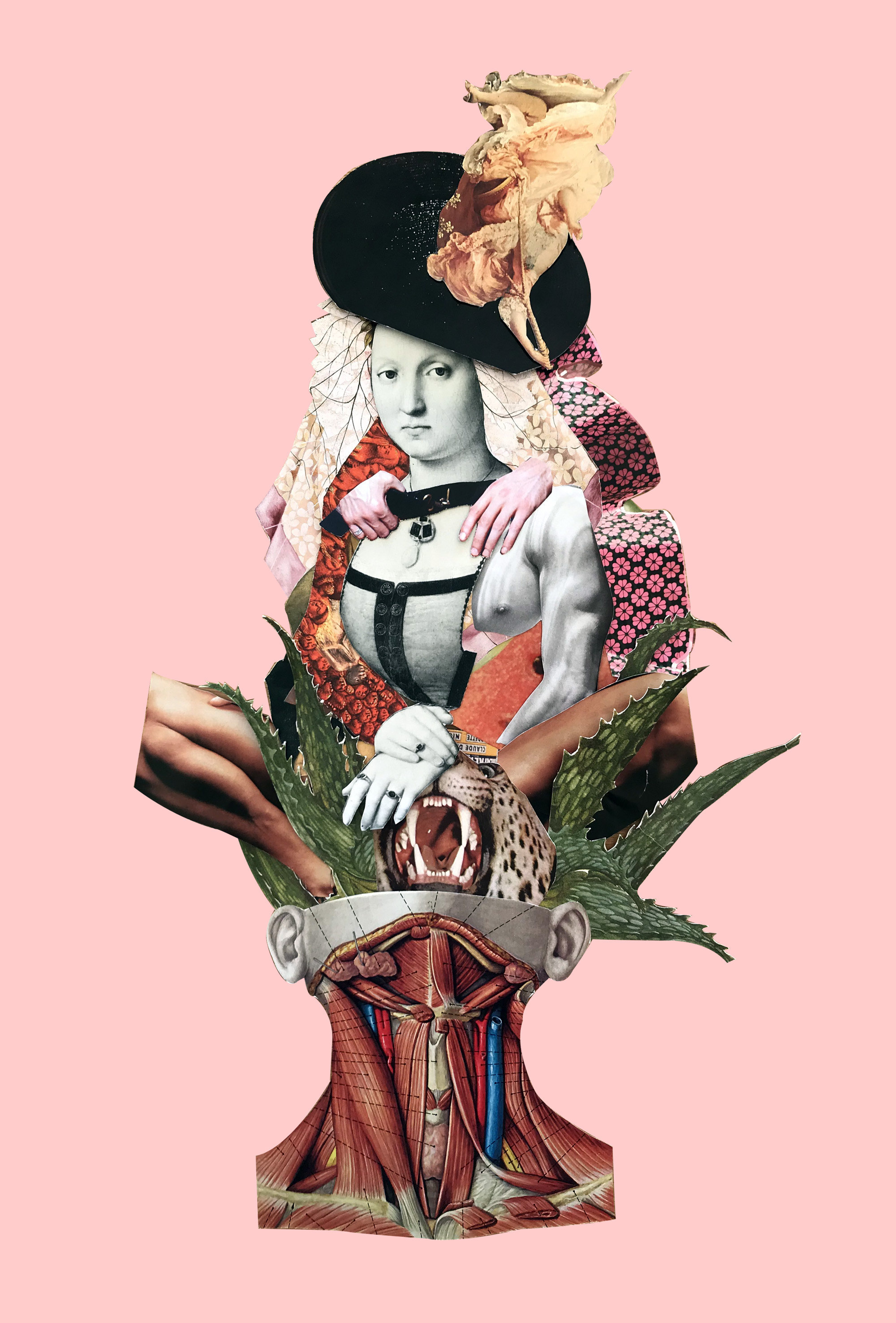 DOWN THE RABBIT HOLE: I wanted to create a piece that explored sexuality and opens discussions about choices made on social media. The figure thinks they are sharing their body but are unaware they have been forced to pose to keep the love, keep the followers – to stay relevant. They have nothing else to offer but their body. This became more apparent when gyms closed, and the pandemic spread – there was a decrease in skinpics – and people were using old pics to keep their 'like' highs going.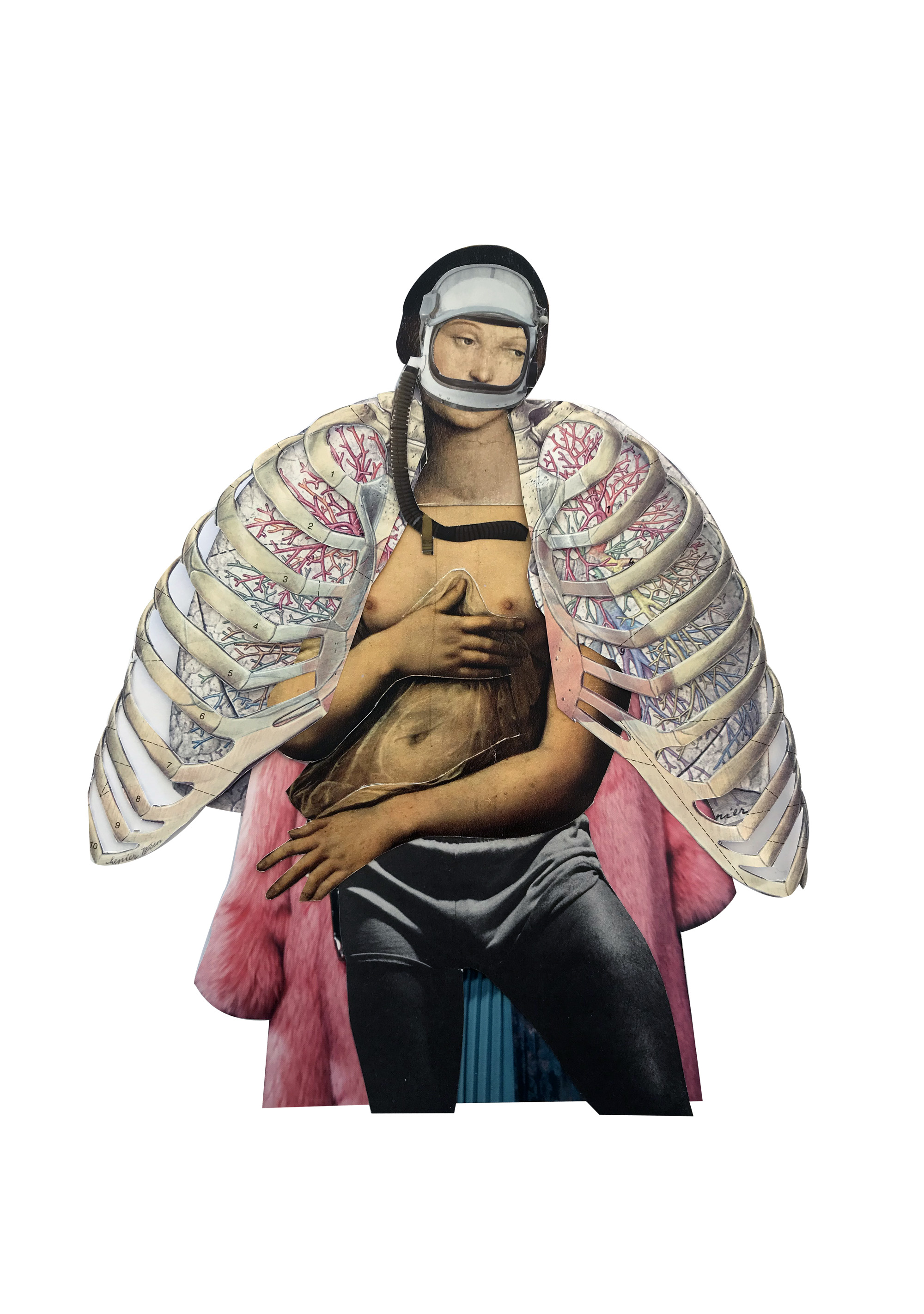 HAZMAT COUTURE: I was kind of grossed out how quickly some companies and people on social media made protective clothing fashionable during a pandemic. I saw an increasing shift in how commercial face masks were patterned, elegant and chic – this is not a priority during a pandemic. I felt it made the issue a joke and wanted to show a figure interested more in what was in vogue than what was for health.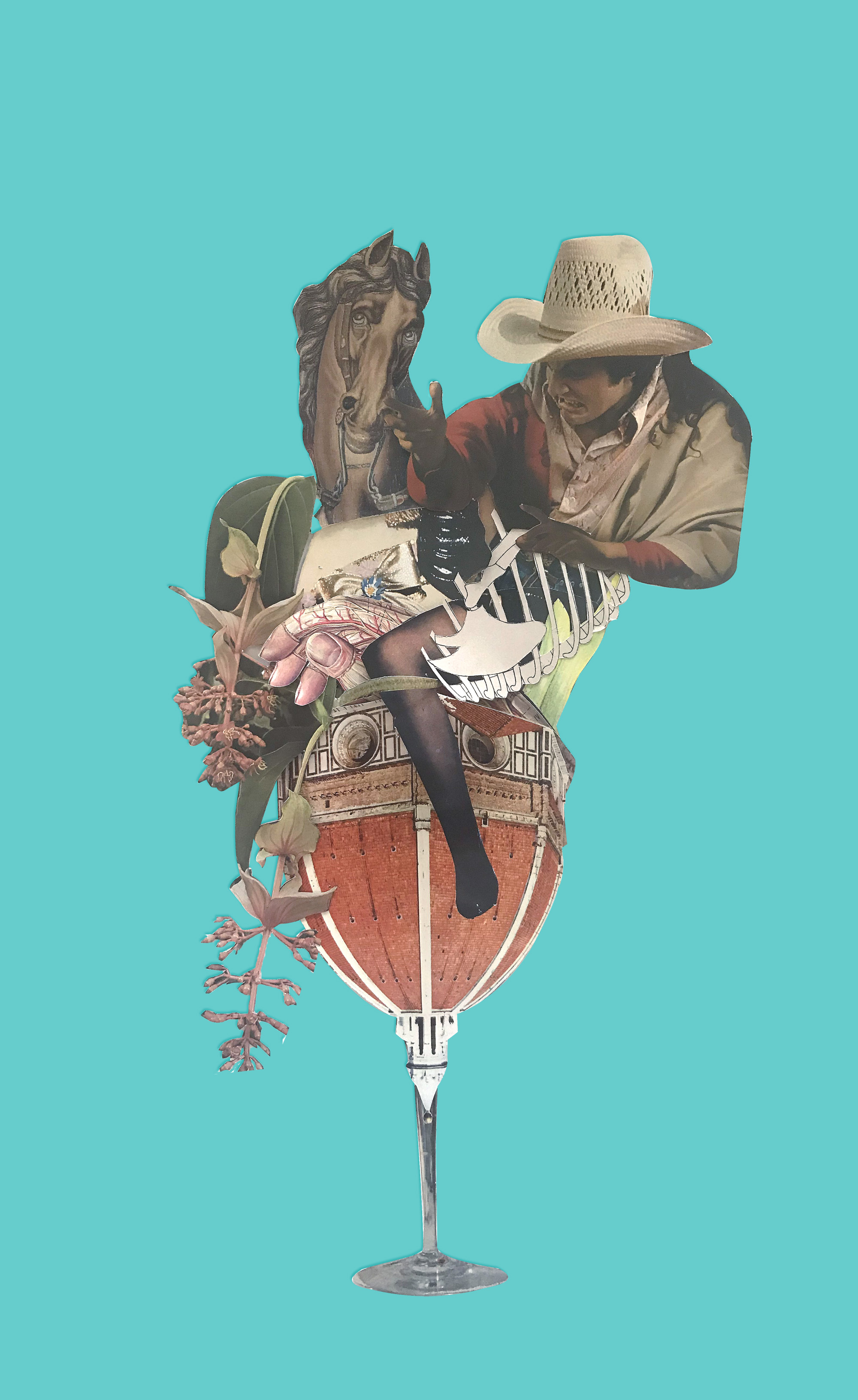 HOLDING ON TO DEMOCRACY: I am inspired by the current state of the US. I am inspired by people who risk their lives to protest and fight the system for positive change. This piece is for them. I am trying to highlight the rocky political landscape where cowboy politicians take for granted their positions of power and hide behind archaic religious and constitutional jargon. But systems of power are starting to rock hence the cowboy is holding on tighter.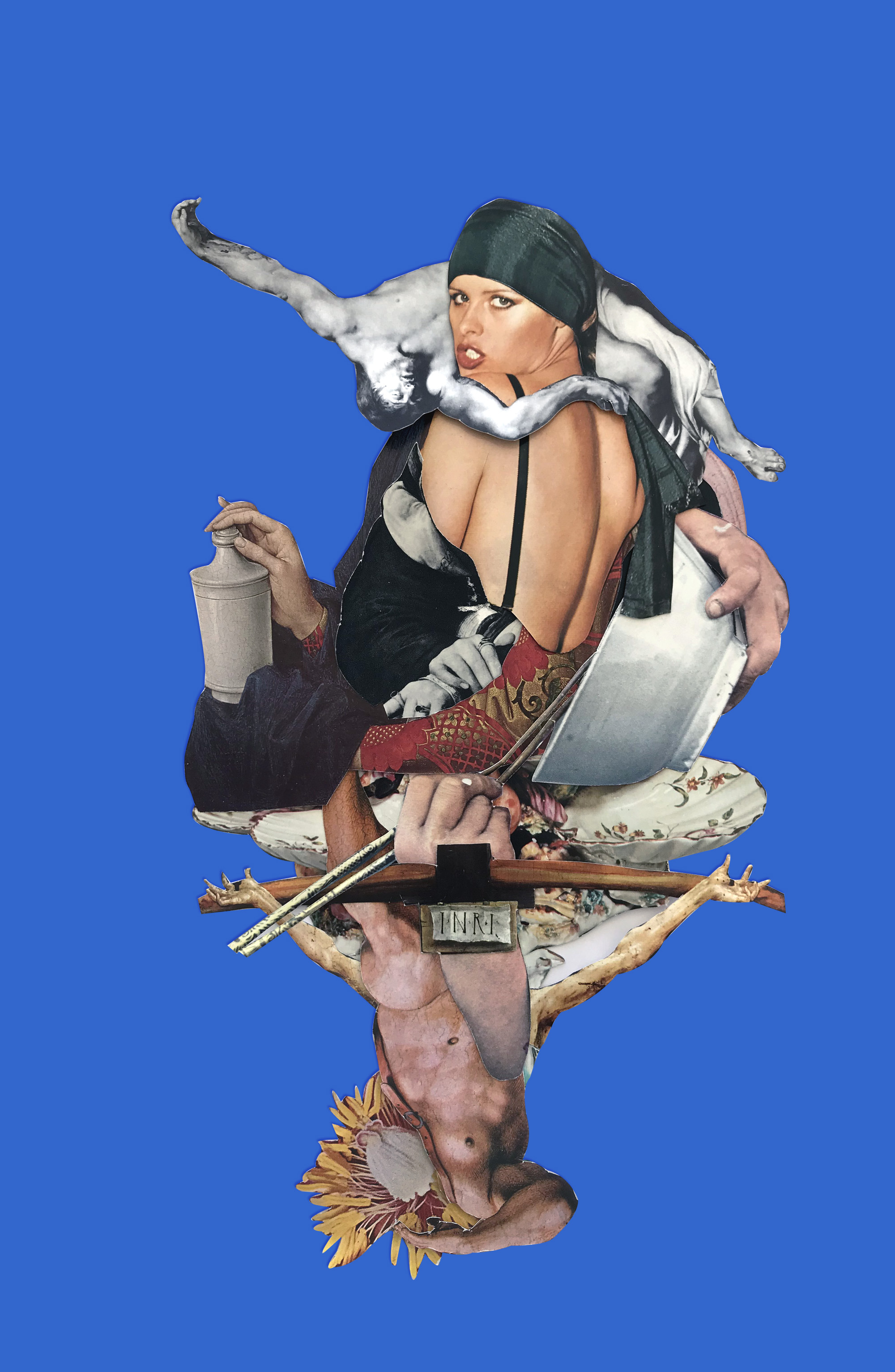 I OWN 51% OF THIS ARTWORK: a collage of images
I OWN 51% OF THIS ARTWORK: I had a few books on the old masters and noticed a few trends: 1) Men were all ripped back in the Renaissance & 2) Women were very rarely centre stage of a painting and if they were, they were often depicted as homely, demure. I tried to flip the script – the female figure is breaking free; and the man draped around her shoulders represents oppression. With all the turmoil happening around the world I wanted the image to be strong with pandora's box about to be opened.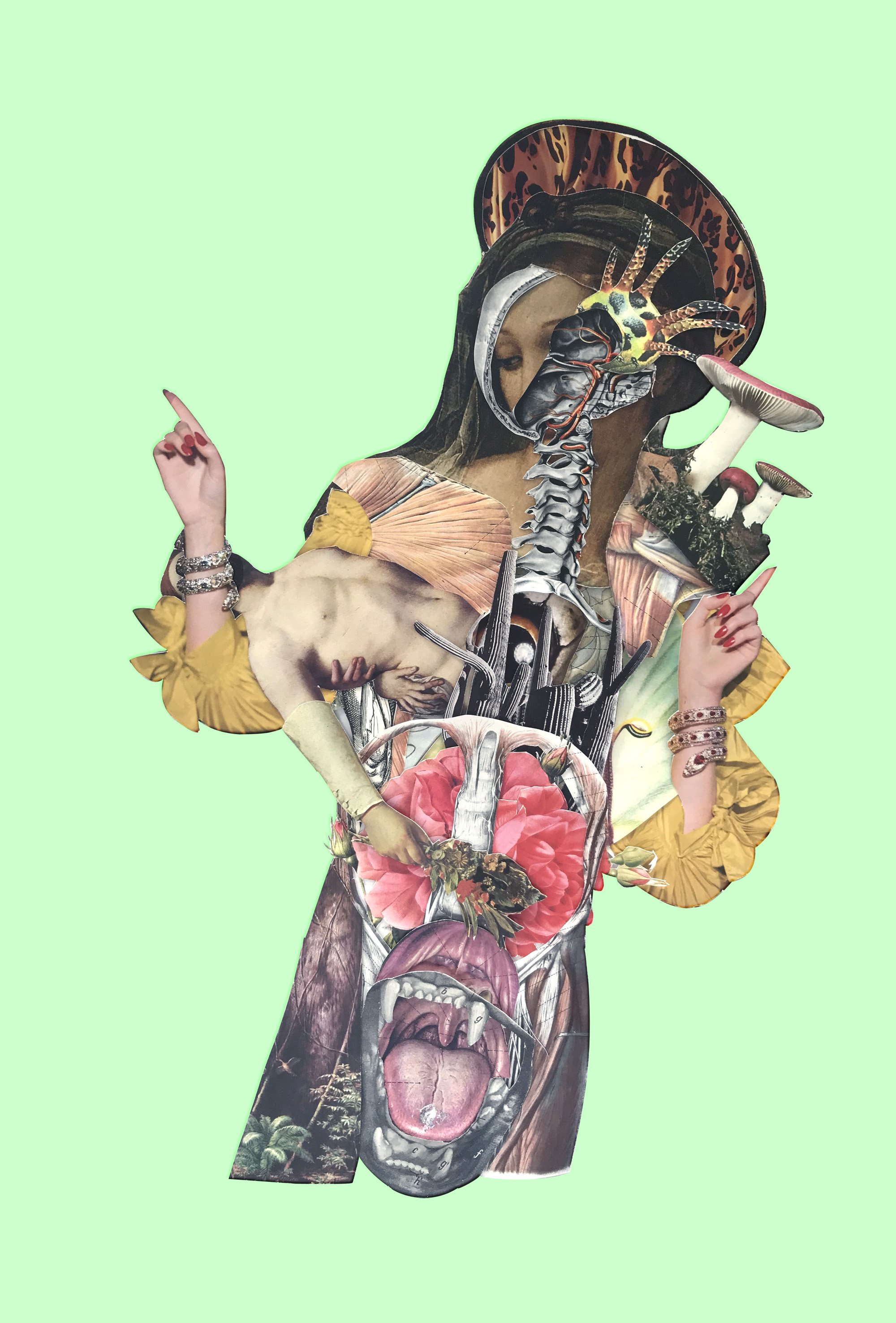 KILLING ADAM: a collage of images
KILLING ADAM: A lot of bad stuff is happening this year, the bushfires, the droughts, covid, and as I type this #blacklivesmatter – all incredibly important matters for our country – but I worry we still continue to put the planet on the to do pile, as humanity is not great at coping with more than one problem. When will the environment be given centre stage. Adam is already dead.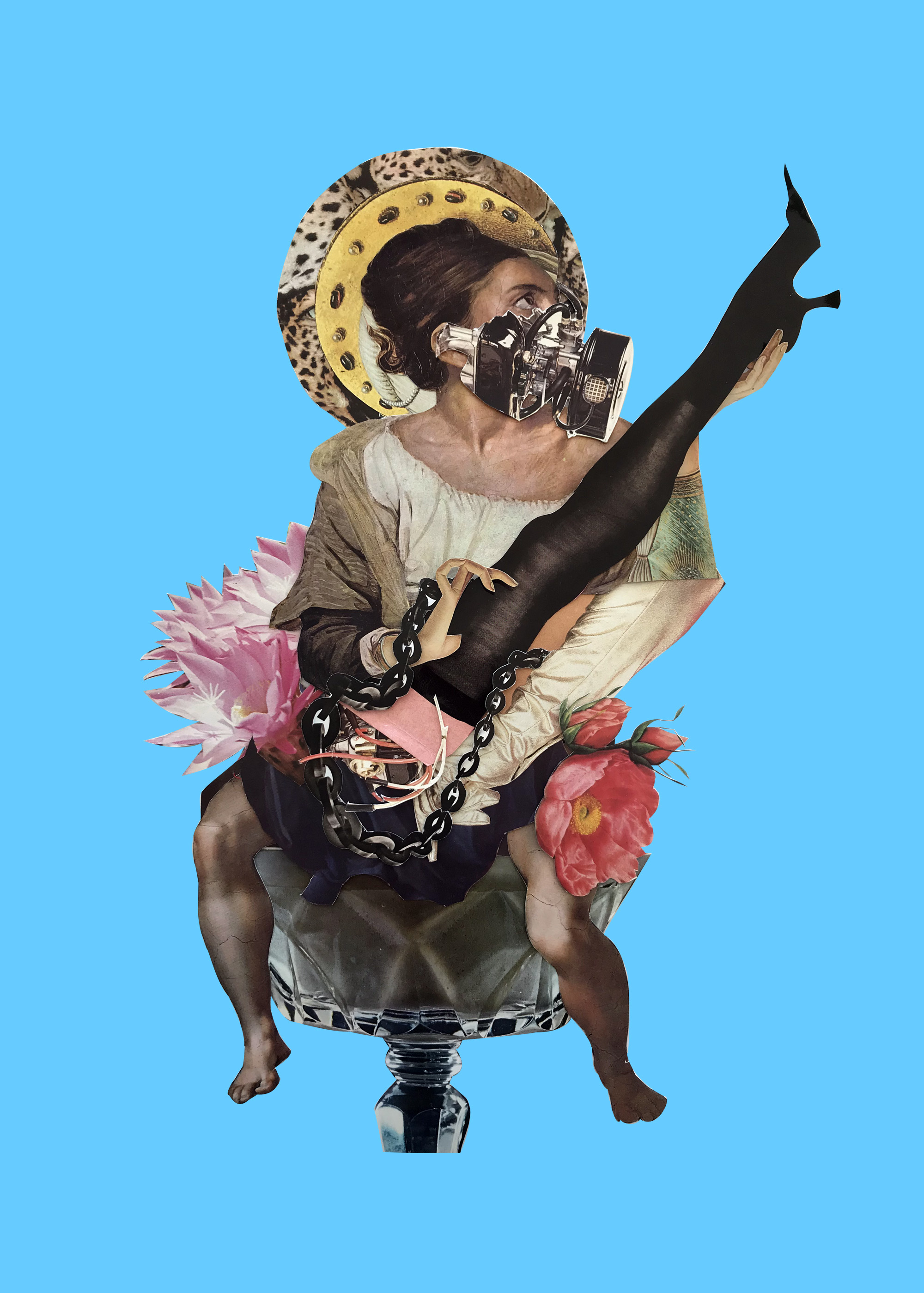 HEAVY METAL LOVER: a collage of images
HEAVY METAL LOVER: Chained to unrealistic body expectations. As a gay guy I am expected to look better, hotter, fitter, more stylish, more creative, more….. When will I be comfortable with who I am? When will I unshackle the chains – when will I be cool with me?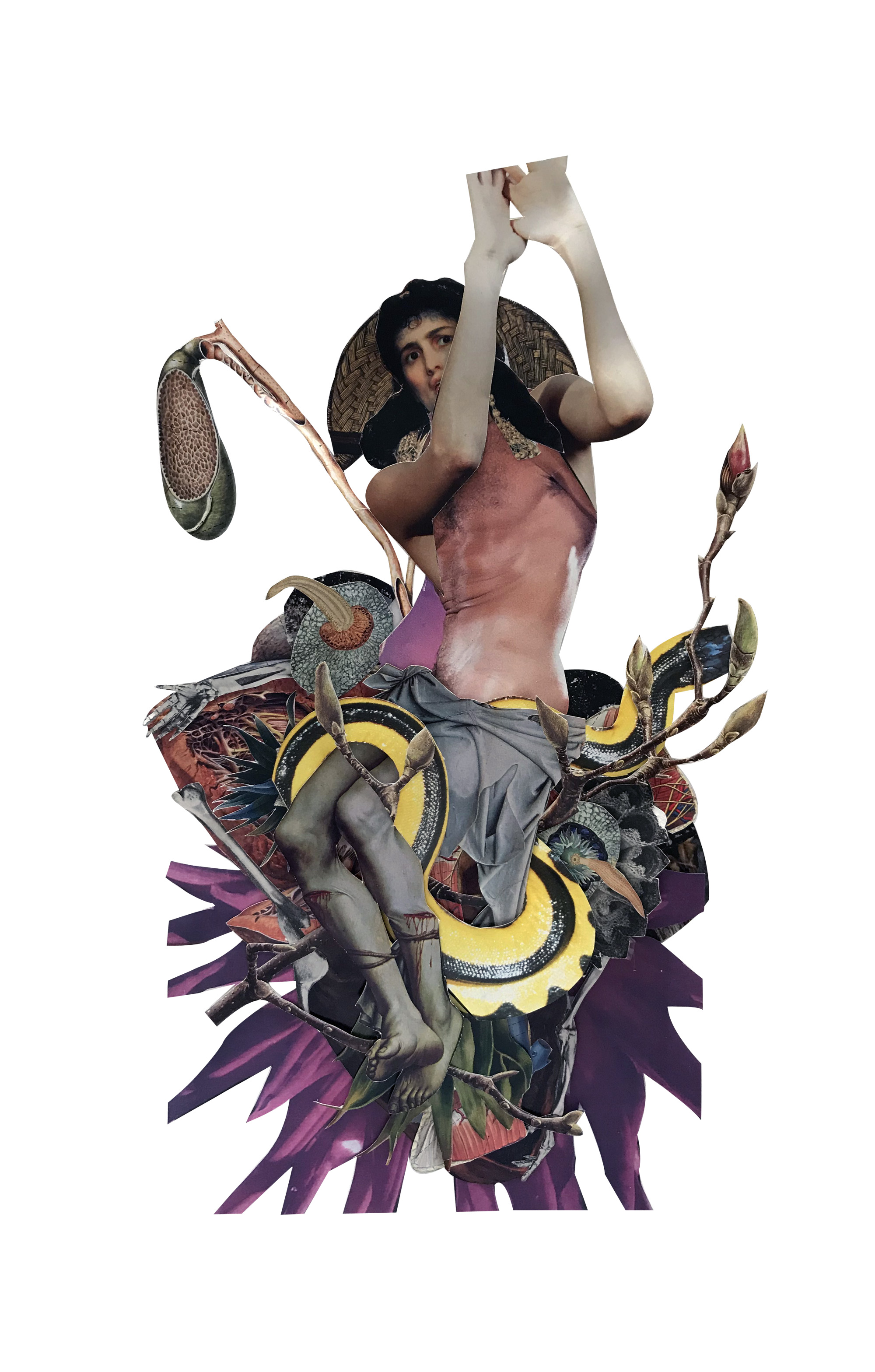 THE GREAT KNOWN: a collage of images
THE GREAT KNOWN: This piece is about post covid. We haven't seen the worst of what's to come – Financially, environmentally, global shifts are coming and the fear is we don't know what will be the fallout. I wanted the work to symbolise the unknown.
This piece was accepted into the Du Rietz prize in Queensland.
~ Librarian by day, collage artist by night, Simon Welsh is creating arresting, multi-layered bricolage images that focus on COVID-19, queerness and LGBTQIA+ rights, but also reflect current trends, news media and how we see the world when in isolation.
"

I ask the audience to look more carefully at the world around them and discover beauty in the queerest of forms.

"
Follow the links to find out more about the initiative Living in the Queerantine and to see all of the successful grant applicants. Or visit the Midsumma Blog for more Queerantine works by Midsumma artists.
Or visit the links below to follow Simon.

@hipsterdirtbag7