What skills have you been working on while staying at home? Juggling? Making Sourdough from scratch? Learning a new instrument? Or.... relaxing? Relaxing is a skill that only some of us are fluent in. Sit back, and relax.... you're doing just fine.
This is Edition #5 of our tips for queer arts, artists and culture makers in the time of COVID-19 and we hope that you are keeping safe and sane. 
Midsumma acknowledges the immense impact that this crisis has on our artists, arts workers, and creatives, as well as all of the members of our communities.

During these challenging times, we are working internally to design new ways to be there for our artists, creatives, culture-makers, and audiences. We are really keen to keep in touch with you, so please contact us and let us know how you are doing if there is anything you are working on and what we can do to assist? 
If you have suggestions, want to share links to your own work or have some great tips and links to share with our queer arts communities, drop us a line at [email protected].
If you are experiencing distress and would like to chat with someone please contact a support network from this list here. Or, The Support Act Wellbeing Helpline is a free, confidential counseling service open to anyone working in Australian music or the performing arts - 1800 959 500.
Artist Articles in response to COVID-19
In Edition #1 of Midsumma's tips for queer arts, artists and culture makers in the time of COVID-19, we called out to our artists to contribute to the Midsumma Blog (a paid opportunity). We received a flood of creatives wanting to share their stories, works, and journeys.
These following pieces were commissioned by Midsumma as a response to the mass loss of the Melbourne queer arts industry (due to COVID-19). This blog is part of a series of works from our LGBTQIA+ arts and culture community that gives Midsumma audiences an insight into the practice of the queer arts and helps to make queer arts and cultures more accessible to diverse audiences in this time of physical distancing.
What is our community doing?
First up: IDAHOBIT. You better believe we're still celebrating, even if it means celebrating from home!
With family violence and social disconnection on the rise due to self-isolation and services shutting down, the LGBTIQ+ community needs your support now more than ever.

Minus18 added an 'At Home' edition to their usual toolkits  – and they've created Desk Pride Packs for celebrating remotely. Fill that morning meeting with rainbows!
Nadia Bailey, Midsumma Futures alumni, has published a new book "Frida A to Z" The life of an icon from Activism to Zapotec.
This intricately illustrated and fastidiously-researched book unpacks the life of Frida Kahlo, who herself was larger-than-life. Nadia Bailey explores Frida's early days growing up in Coyocoan, Mexico City, in her family home, where she embraced sports – including wrestling – to overcome her childhood ill-health; her school days as one of very few women attending Mexico City's renowned National Preparatory School (where she met Diego Rivera), and the tragic accident that would leave her with a lifetime of pain and artistic ambition.
You should really check this out >>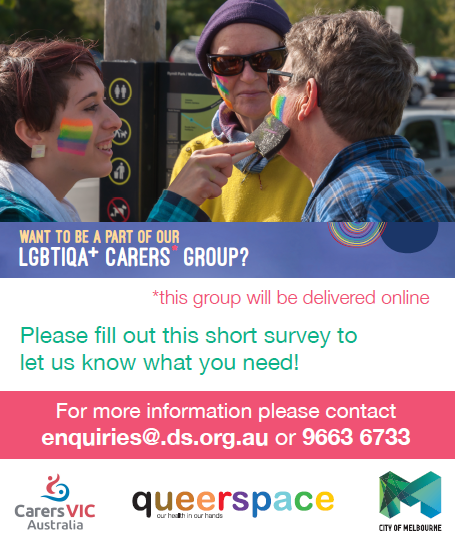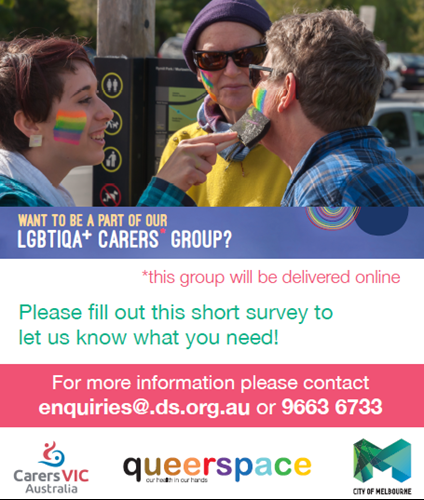 queerspace have a Carers Group for people who identify as LGBTIQA+ who provide unpaid care and support to others. After a successful pilot program last year, queerspace is looking forward to delivering the program in the next few months.
queerspace, Carers Victoria and City of Melbourne want to know what your needs are in the context of COVID-19 and physical isolation. 
Help them to get an understanding of what you'd like to get out of this group by completing their short survey here.
You may also wish to get in touch with any questions you have regarding this group via phone (queerspace on 9663 6733) or email [email protected]
All information collected here is stored securely in line with drummond street services' privacy and confidentiality policy. 
Paid opportunities and funding
This is a callout for work that holds relevance to the theme of "contemporary Asia in Melbourne". Mapping Melbourne profiles established and emerging artists from across Asia and Australia with a focus on strengthening arts networks between contemporary independent artists across the Asian region, building connections and establishing collaborative ongoing relationships, and presenting challenging work. Learn more about Mapping Melbourne here.
MAV will be able to contribute a maximum of $5,000.00 to selected projects.
MAV will provide marketing and publicity for the festival and production assistance. 
For other funding opportunities and support, click here.
Submission deadline: Monday 28 May 2020
Applications should be submitted via this form here.
GLOBE is now accepting submission for the 2020 GLOBE Community Grants program. Applicants are able to apply for amounts up to $2,000 under the GLOBE Community Grants.

They are also accepting applications for smaller projects that require less than $2000, all you need to do is ensure you specify how much funding you require and how it would be used.
Keeping you inspired
Dramageddon is a genre-bending choose-your-own-adventure podcast set in the year 2050. Created by Jean Tong (playwright) and Lou Wall (comedian), each episode pits two queer women and non-binary people against the climate apocalypse! Testing their ethical survival skills our guests address the big ones: help or run? stay or slay? Coke …. Or Pepsi? It's the end of the world; bring on the Dramageddon!
Produced by the Queen Victoria Women's Centre, Published by Broadwave and Recorded at Castaway Studios
Making It In Moreland is a series of free online professional development workshops and discussions for our local arts and creative industry. Facilitated by experts, these weekly events will focus on ways artists and makers can Survive, Adapt and Recover from the impact of COVID-19.
Part one of the series, Survival, kicks off on Wednesday 13 May and offers practical, accessible and useful content for your arts practice and well-being including "Financial wellbeing and literacy workshop with Scott Malcolm" (13 May);  "Writing winning grants with Debby Maziarz" (20 May); and "Presenting work online with Laura Milke-Garner" (27 May).
The disruption caused by the virus is not only bringing live-streaming into the mainstream like never before, but it is also fostering a market landscape where our audiences are adapting to a whole new style of live entertainment.
So when you are finally able to come back to a live stage, The MC Showroom are here to help you step into the new phase in theatre!
Watch their demo below to find out how. For more info contact The MC Showroom via their website.
For more inspiring entertainment or queer arts funding and opportunities, see Midsumma's Digital Hub for Queer Arts and Artists during COVID-19
We will keep updating our Midsumma Blog with new opportunities and information. If you want us to share your work (or your friends), or you have something you want to contribute - hit us up at [email protected]