Emily White (They/them) is one of eight playwrights shortlisted for the Queer Playwriting Award 2022 for their play That's Not Big Mac Sauce, That's Ectoplasm.
With four full length plays under their belt and a handful of shorts, Emily is certainly on the upward trajectory towards being a seasoned writer. That's Not Big Mac Sauce, That's Ectoplasm is the latest "spooky, silly, salty" venture of Emily's, set in McDonalds – a place many Aussies can resonate with.
This is the story of a Maccas playground and the ghosts that haunt it. Some dead, some living, all gay as hell.
Whether it be the Maccas run or childhood birthday parties, the story plays with audiences' nostalgia to delve into current political and cultural conversations, with a key focus on climate change and non-binary identity.
"Mental health and suicide for queer youth is a major theme of the play, especially for queer people growing up in small, semi-rural or isolated communities."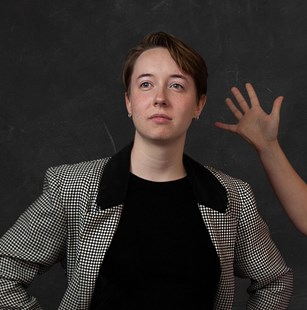 Like the central character Mel in the play, Emily also had a 13th birthday party at Maccas. Whilst Emily reflects on their experiences at Maccas birthdays as magical, Mel is faced with a disappointing turnout to their party due to the rumours of the haunted playground – proven to be true with the presence of two ghosts. If you're thinking how does climate crisis, mental health and queer identity tie in with ghosts? Emily says…
"…as an ex-goth, I think every story can be improved with the addition of a couple ghosts." 
After all, this play is a dark comedy and written with "a frank and dry sense of humour".
Emily hopes to use audience feedback as a testing ground for That's Not Big Mac Sauce, That's Ectoplasm, and one day take it back to Perth for their family to see.
"I hope they will laugh, and I hope they will feel moved by emotions that stick with them long after."
Emily White is a writer and performer from Perth interested in telling bizarre stories about the bodies and the worlds we inhabit. They perform as a burlesque dancer under the name Bennie Velvet, and in in a comedy duo called The Titwitchez. Emily's previous plays include 'Kit Goodman! A Good Man' at the Melbourne International Comedy Festival; and 'Crowspiracy' at Mudfest. They also work as a bottle-o assistant and as a support worker for students with disabilities. A very busy human!
@emilybeigewrites 
Be the first to hear a snippet of That's Not Big Mac Sauce, That's Ectoplasm and other plays at the Queer Playwrighting Award Showcase, 24-25 January 2022.
The Queer Playwriting Award Showcase is part of the Midsumma Presents program, a collaboration between Gasworks Arts Park and Midsumma Festival. QPAS identifies, supports and develops original Australian theatre with a queer focus.