Luciano and Georgia Keats' Queer-ways project raises awareness of the contributions queer people have made to the City of Yarra.
*This feature was created by Rhiannon James and was first published on Victoria Together in 2022. Victoria Together was an online platform which existed to create, curate, and promote digital content and virtual experiences from government departments, grassroots organisations, and community groups around Victoria. It was established in May 2020 and closed in June 2022. To find out more about Victoria Together, please visit https://www.vic.gov.au/victoria-together
Luciano and Georgia Keats recently launched a new iteration of their Queer-ways project, Retracing Queer Footprints, as part of Melbourne Pride 2022. We spoke to the artists to discover the story behind the project, what to expect from the tours, and how their research and artworks fit into the artists' hope for a pride-filled future.
Retracing Queer Footprints raises awareness of the contributions queer people have made to the City of Yarra. The project aims to build a greater understanding of the past, bringing together all generations, sexualities and gender identities as we all move into the future with pride.
Consisting of a multi-modal public artwork as well as a series of self-led walking tours, Retracing Queer Footprints introduces listeners to the queer history and rainbow communities of the City of Yarra. During this educational journey through Yarra, listeners are joined by voices from the local community and hear music created for the project by local queer musicians.
Launched in February, this project will now be permanently maintained by Yarra City Council so it remains accessible into the future through the Queer-ways website and the Yarra City Council website.
Q&A with Luciano and Georgia Keats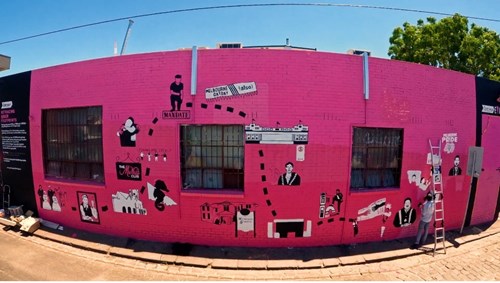 Q: Luciano and Georgia, could you tell us a little about what Queer-ways is and how it came about?
A: "Queer-ways came about during the Covid lockdowns of 2019. Georgia had launched her clothing brand Butch  and we were speaking about collaborating. What developed from our initial discussions, was the realisations that queer people around us were struggling with a loss of community and access to space where they can be their authentic selves during the lockdowns. We wanted to connect queer people back to these sites of significance and facilitate a way for people to still feel a sense of community and connection to other queer people while isolated."
Q: What does the project mean to you personally? And what drove you to develop it?
A: We met whilst studying for our Masters of Teaching degree at the University of Melbourne and had a shared interest in queer history and education. We found that we both had limited knowledge of queer communities outside of our own. Having grown up rurally, Georgia felt she missed out on learning about the breadth of queer history, doing her own research isolated in the country. Luciano's knowledge predominantly focused on HIV/AIDS in Australia and the experiences of queer men.
"Queer-ways became a way for us to both learn more about the histories of other communities whilst sharing this knowledge with other interested people."
Q: What can someone expect when they show up for the Queer-ways experience?
A: "You can expect to hear moving stories of community, connection, celebration and loss from across the LGBTQIA+ community. The tours may introduce you to locations of significance you didn't know before or take you on a walk down memory lane.
"The Queer-ways experience begins at our Retracing Queer Footprints mural on the corner of Little Smith Street and Gertrude Street. This multi-modal public artwork features a timeline of some of the significant events in Melbourne's Queer history. From here, there are three self-led walking tours, introducing listeners to the queer history and rainbow communities of the City of Yarra.
"Each audio tour focuses on a different area of Yarra - the east, the west and what was the Fairfield Infectious Diseases Hospital (now Melbourne Polytechnic - Fairfield). We lead you through the city, voices from the local community - such as Angela Bailey from the Australian Queer Archives, Bryan Andy from OutBlack, John Hall from Thorne Harbour Health as well as Sally Goldner AM and James McKenzie from 3CR - will be joining us along the way to share their stories of significant events and locations. 
"Listeners will also experience music created for the project by local queer musicians Jennifer Loveless and Maize Wallin."
Q: What response are you hoping or expecting to evoke in those who engage with your work?
A: "We hope that the work sparks curiosity for people to do their own research into different communities and experiences. Our tours are an introduction, they can't represent the whole queer experience. But we hope that they can catalyse the beginning of new connections through the sharing of stories and experiences.
"Queer-ways has always had the same aim as a larger project, to make the queer history of our city accessible and engaging. We hope that our projects can enable a greater exchange of knowledge and communication between all generations, all parts of our communities, and all gender identities, to take us into a pride-filled future."
Q: How is this response important for Victoria's diverse communities?
A: "Victoria and the City of Yarra are both intrinsically diverse. The City of Yarra has long been an intersection between Indigenous, LGBTQIA+ and migrant communities. Through our tours and the stories of significance contributed by the community voices, we believe that Queer-ways represents the often shared experience of these groups and how at times they were bonded by their marginalisation in greater society. 
"Through the maps of Melbourne's queer locations of significance and our new works in Yarra, we hope that people can engage with stories outside of their own and in turn appreciate the contribution of all parts of our society."
Q: You will have had access to many moving stories from across the communities you've engaged with for this project. As an artist, what's your process for respecting and honouring those stories?
A: "Throughout our community consultation, we have approached every story with empathy and understanding. As we have worked to visualise and interweave these stories to create a representative tapestry of the LGBTQIA+ community's history, we have endeavoured to have each story shine.
"In terms of design, we purposefully decided to visualise each story with a minimal aesthetic. We want the stories shared to be the focus of the work, they are what makes the artwork beautiful and engaging.
"We're so thankful that contributors trusted us with their stories of significance and in respect of that trust we have worked to ensure that each story is retold within the same context it was shared with us. The support we have received from across the community, from the whole spectrum of the rainbow, and the representation of that rainbow inspires us to place the stories at the forefront of our work."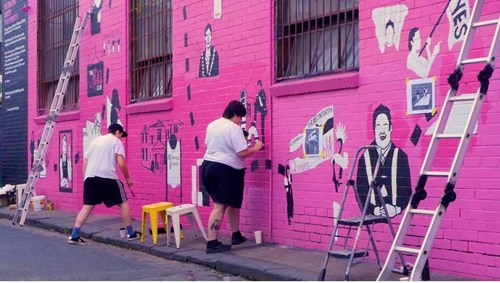 Q: What has surprised or affected you most as you have undertaken the process of developing and delivering this work?
A: "We were most surprised by the shared experience of queer people through all generations.  Some of our earliest stories and most contemporary stories could be swapped and no one would know. Even as things get easier for younger generations - as we are increasingly liberated - queer people often feel isolated and have to seek out their identities in different locations. 
"We also enjoyed seeing that in the historical stories of our city, queer people were out there being just as queer as we are today. Even when they could have gone to jail, when they faced such intense scrutiny from the greater community, people like Val Eastwood and many others stood proudly in their queer identity. These people contributed to the freedoms we have today, so we hope that through our projects we can rectify the historical silencing they experienced and celebrate their lives.
"Recently we have been most affected by our interviews with John Hall from Thorne Harbour Health and Judy Frecker an HIV clinical nurse consultant who both worked at Fairfield Infectious Diseases Hospital in the treatment of HIV/AIDS. We encourage people to complete the Retracing Queer Footprints - Fairfield walking tour. The stories shared in this particular audio tour can be quite emotional and at times confronting. But there is light within all the stories, the staff and community of this hospital and Yarra creating a warm and caring environment for the patients, families, friends and significant others touched by HIV/AIDS."
Q: What's next for you, and what is the future life of this work?
A: "Retracing Queer Footprints is a permanent feature of the City of Yarra, our mural is now at the end of the rainbow footpath and is to be enjoyed by the local community. The audio walking tours will continue to be available on our website and through Yarra Libraries, so that future generations of people can engage with the queer history of our city.
"This project wouldn't have been possible without the support of the Australian Queer Archives (AQuA) and their 'A History of LGBTIQ+ Victoria in 100 Places and Objects' commissioned by Heritage Victoria. Their continuing work to document queer experience and queer voices ensures that the contributions of LGBTQIA+ Australians are accessible and acknowledged. AQuA relies on the work of volunteers and donations to remain independent.
"To help honour and preserve the lives and histories of the LGBTIQA+ generations that have come before us we will be releasing a range of bandannas with integrated Augmented Reality featuring the queer history maps we developed of Melbourne. 
"These will launch on Melbourne Pride and a percentage of all sales will be donated to the Australian Queer Archives so that they can continue their important work.  We're lucky to live in a country that has an organisation where the contributions of queer Australians are acknowledged and celebrated. 
"We hope to continue to share the stories of our city's queer history. By retracing the footsteps of our queer forebears, we can step into a future where all of our histories are celebrated and acknowledged."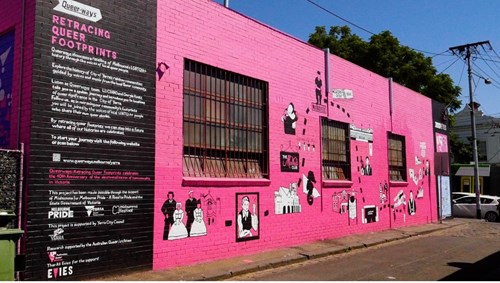 About Luciano
Luciano is a Melbourne based arts educator and multidisciplinary artist.
Inspired by domesticity, traditions of storytelling and the interwoven relationship between society and fiber, his artistic practice explores aspects of human nature, the shared and differing experience of communities and the relationship between people and textile crafts.
Visit Luciano's website -  www.lucianoart.ist
Connect with Luciano on Instagram - @lucianoart.ist
About Georgia Keats
Georgia Keats is a Melbourne based arts educator and multidisciplinary artist.
Her artistic practice explores the accessibility of visual language, combining symbols and everyday objects that represent queer experience. Georgia continues to expand their practice through experiential storytelling, pulling from themes of uncomfortability and contradiction in her life.
Visit Georgia's website - www.georgekeats.com
Connect with Georgia on Instagram - @george.keats
About Queer-ways
Queer-ways maps the queer cartography of Melbourne, combining the queer stories and voices of Melbourne past and present into a permanent, interactive record of being queer in Melbourne.
Visit the Queer-ways website: www.queerways.melbourne
Connect with Queer-ways on  Instagram - @queerways.melbourne
Retracing Queer Footprints has been made possible through the support of Yarra City Council through Yarra City Arts, City Heritage, Community Partnerships and Yarra Libraries, Midsumma for Melbourne Pride - A Road to Pride and the State Government of Victoria.