To be a part of this 40th Anniversary of decriminalisation is very poignant and powerful for me, it was a turning point in my young life, it was a huge mental shift when the law was changed, everybody felt it... we fought the long and good fight with conviction and courage, together we did this!
As a child TV star, Tim McKew knew from an early age that showbiz would be part of his identity. Around the same time, Tim also knew that being gay would be part of his identity. Unlike his career in the arts though, being gay was not allowed. We spoke to Tim to reflect on his experience living through the decriminalisation of homosexuality in Victoria, and his road to pride. 
Tim grew up in an Irish/Italian Catholic working class family in Port Melbourne in the 1950s/60s. Despite feeling nurtured by the world of showbiz, Tim's sexuality was not accepted by his parents, and was in fact treated as something that "needed fixing". On his experience of receiving shock treatment in 1971, Tim says
"I knew from a young age I would have to fight for my right to be gay, for my very identity! The dye was set. I was given shock treatment and within a few short years I returned the favour and gave society shock treatment in the form of anarchic cabaret! The queer cabaret / activist was born!"
Tim reflects on the 1970s Melbourne as being a conservative time, yet it was around this time that he started his queer cabaret/activist and performance art path. Following Melbourne Gay Pride Week in 1973, Tim was inspired by the movement for change, and found his voice through art.  
"I wanted my audiences to think not just drink... I used my music and satirical performance skills not just to entertain, but educate to address the inequality, the homophobia and ignorance of society of that time notably lampooning the church and right wing campaigners such as Mary Whitehouse, with my song The Mary Whitehouse Waltz! I was called a groundbreaker, I was like the shock of the new!"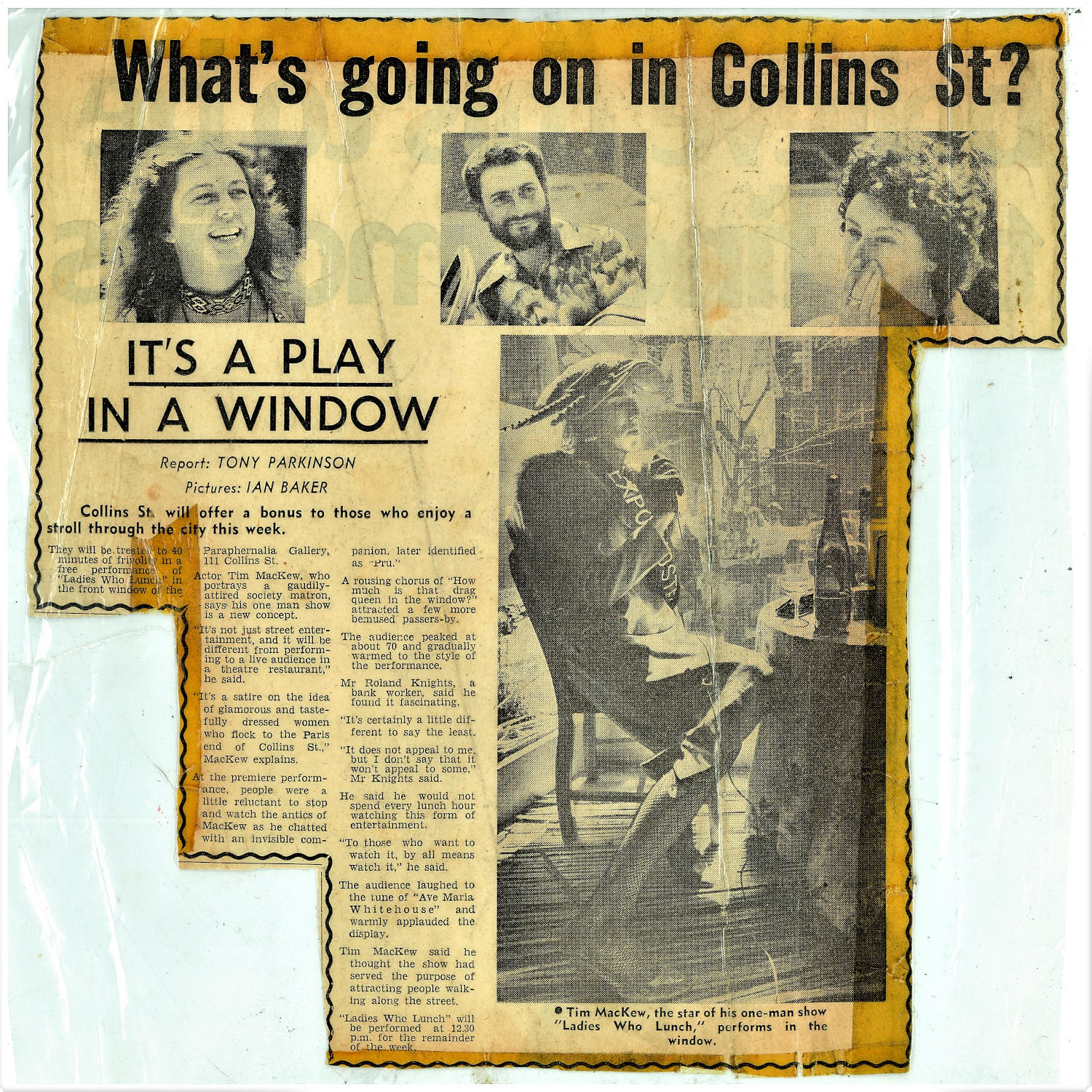 1978 The Sun Article - Paraphernalia Gallery Collins Street - Tim Mckew Performance Art Window Show The Ladies Who Lunch
"I was, as they say, Out of the closets and on to the streets ... taking my activism to the general public, to the midday shoppers on Collins Street, to the coal face, where it needs to be!"
As a political and satirical art activist in the 70s, Tim quickly became known as a queer trailblazer not only in Melbourne, but both nationally and internationally. 
"...with my pianist David Evans [RIP] who has passed away from AIDS, I...took these shows on tour, to cities including Sydney, London, Gay Festivals in Berlin, Hamburg  and Amsterdam, where my shows enjoyed much critical success."
Through the help of Tim and other activists of the time, the views of homosexuality gradually changed in Aus. Upon arriving home from Europe in 1981, the country he left had changed for the better. Describing how it felt when homosexuality was decriminalised, Tim says
"I felt freedom, freedom!  it was an extraordinary moment I will never forget, to be gay, to participate in gay love, that the physical act of love was no longer a crime punishable by law, nor is queer love a sin, but it is a gift...
...one could sense the yoke of millennia of oppression, hate and ignorance lift from our collective queer shoulders, there was a major shift in our collective queer  consciousness , everyone was in party mode, there was a palpable shift, mentally and spiritually...
...I remember I cried with joy and celebration. My gay community felt empowered yes and liberated. It was huge milestone but we still had a long way to go."
At home the world felt like it was changing, but overseas there was still work to be done, so Tim took to be the voice for other countries. Possibly Tim's most risky cabaret/activism to date was in 1998 in Shanghai, China, performing without the permission from the Cultural Bureau, 
"to encourage the gay community of Shanghai to be bold, saying to them that one day change will come, they will not have to hide anymore and they would have their own Mardi Gras through the streets of Shanghai!"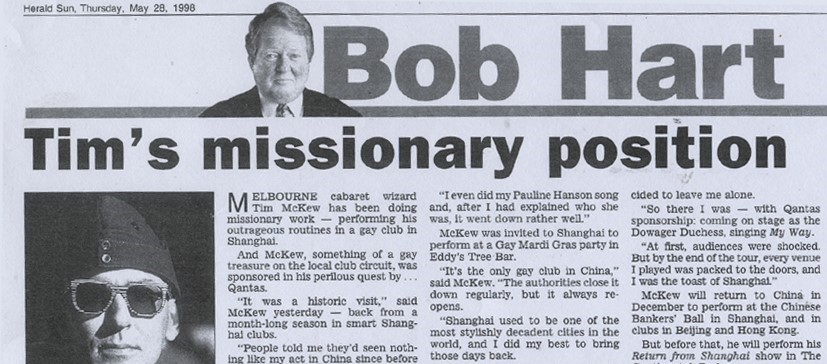 Herald Sun 1998 on Shanghai
Tim continues his work today, and has been performing the songs and stories of Noel Coward on stage for the past 16 years, from the Midsumma stage all the way to New York. Tim will be proudly celebrating Melbourne Pride on 13 February, and we honour the work he has done for the queer community and in shaping the road to pride we are on today.
"...my generation planted the seeds and broke the ground in the 70s and 80s and because of that I am proud to say, we have the flourishing diverse queer culture we enjoy today, where homosexuality is legal with nationwide queer festivals, pride marches and finally gay marriage and now a fabulous Pride Centre here in Melbourne, and I am sure there is more to come." - Tim McKew