Sign singing, music and vibrations!
This is a bilingual show presented in Auslan and English.
A music performance designed for Deaf people, about Asphyxia's experience of being Deaf, queer, chronically ill and needing to use a wheelchair. After a devastating event, Asphyxia's life suddenly changed irrevocably. Using music and Auslan, Asphyxia tells a unique and personal story. These songs chronicle her journey to healing, filled with love, loss, discrimination and humour.

Performed by Asphyxia with a live band featuring Sarah Ward, Bec Matthews and Erica Pringle, this rollicking musical show is presented in Auslan and English with projection art, vibrations and captioning.

Despite being Deaf, four years ago Asphyxia began writing her own music. Navigating the challenges of learning musical conventions in a teaching world that relies on listening, Asphyxia collaborated with several musicians to find a way to make music accessible to herself... and others who are Deaf and hard of hearing. Through experimentation and consultation with other Deaf and hard of hearing music-lovers, Asphyxia has explored a method of arranging music so that it is pleasurable for hearing-aid wearers and those with cochlear implants, and can be optimally felt through sound vibrations.

If you are d/Deaf/Hard of hearing, this show is an opportunity to explore with us how music can be made accessible. If you are hearing, join us to find out how Deaf people experience music.

Wheelchair users are welcome and can sit with their people, and we'll have cushions for anyone who fancies to lie down on the floor during the show. (Yes! That's a thing! People with orthostatic intolerance do like a good lie down.)
Post-show Q&A - Thu 2 Feb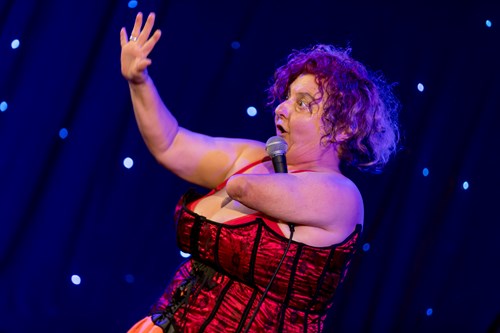 After the opening night there will be a 30 minute conversation with the creators of Stranger Than Usual, Asphyxia, Sarah Ward and Bec Matthews, chaired by Kath Duncan. The team will discuss their approaches to the making process and take questions from the audience.
Chair Kath Duncan is a 60-something writer, activist and raconteur with many decades of feminist and disability pride under her belt.
The conversation will be Auslan Interpreted
This work is Commissioned by Midsumma and Produced by Midsumma and Fat Fruit. 
Accessibility
Dates & Times
| | |
| --- | --- |
| NOTE | This is a bilingual show - all sessions presented in Auslan & English |
| WHEN | 2-4 Feb | Thu-Sat 8pm | Doors open 7:15pm |
| DURATION | 1hr |
Location
Abbotsford Convent - Magdalen North Laundry
1 St Heliers St, Abbotsford
Get directions
Train
Hurstbridge/Mernda line to Victoria Park
Bus
200, 207 to Clarke/Johnston St
You might also be interested in...
Book Now