Winner of the inaugural QPAS Fast Track Award - Woolf, Written by Patrick Livesey, Co Created and Co Directed by Christian Cavallo and Dan Graham.
In its seventh year the Queer Playwriting Award Showcase was presented over two nights by Midsumma and Gasworks Arts Park to elated audiences and a panel of industry professionals. Each year creators of new or developing works of theatre are invited to submit their proposals for consideration. Eight works were selected by the industry panel and invited to present a 15 minute staged reading across two nights at Gasworks Arts Park as part of Midsumma Festival 2022. From the shortlist, four works were chosen to extend their excerpts for consideration in the Finalists' Showcase on 22 March.  
For the first time, Gasworks Arts Park and Midsumma Festival will recognise the brilliance of accelerated works by Bravo Arts, and their stage readings of Woolf - A queer adaptation of Edward Albee's iconic play 'Who's Afraid of Virginia Woolf?', exploring themes of family and domestic abuse through a queer lens.
The recognition is awarded with the inaugural QPAS Fast Track Award.
"We are so thrilled to be the inaugural recipients of the Fast Track Award. To be recognised and supported in this way was not expected at all, but such a wonderful surprise! We look forward to being able to present Woolf to audiences with support from QPAS, Gasworks and Midsumma in the near future." Christian Cavallo - Bravo Arts, co-producer of Woolf.
Midsumma and Gasworks Arts Park are extremely excited to acknowledge the growth in number of submissions from across Australia, and the quality of works for the 2022 Queer Playwriting Award program.
"Supported by overwhelming audience feedback and with Midsumma's generous support, we are proud to announce the inception of the Fast Track Award. This Represents our commitment to support this work, as well as our belief in its readiness and suitability for a full public presentation at Gasworks." Marisa Cesario – Programming Coordinator, Gasworks 
The panel felt strongly that Woolf met the QPAS brief and criteria so well, and that the work is in such safe and accomplished creative hands, we were delighted to offer an opportunity to Bravo Arts to present a fully realised production at Gasworks in Midsumma 2023 or 2024.
Woolf, Written by Patrick Livesey, Co Created and Co Directed by Christian Cavallo and Dan Graham. Performed at QPAS by Chris Beckey, Brooke Lee, Kurt Pimblett and Will Conyers.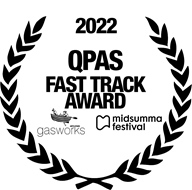 Read about the Queer Playwriting Award 2022 Finalists, who will compete in the Finalists Showcase on 22 March 2022.